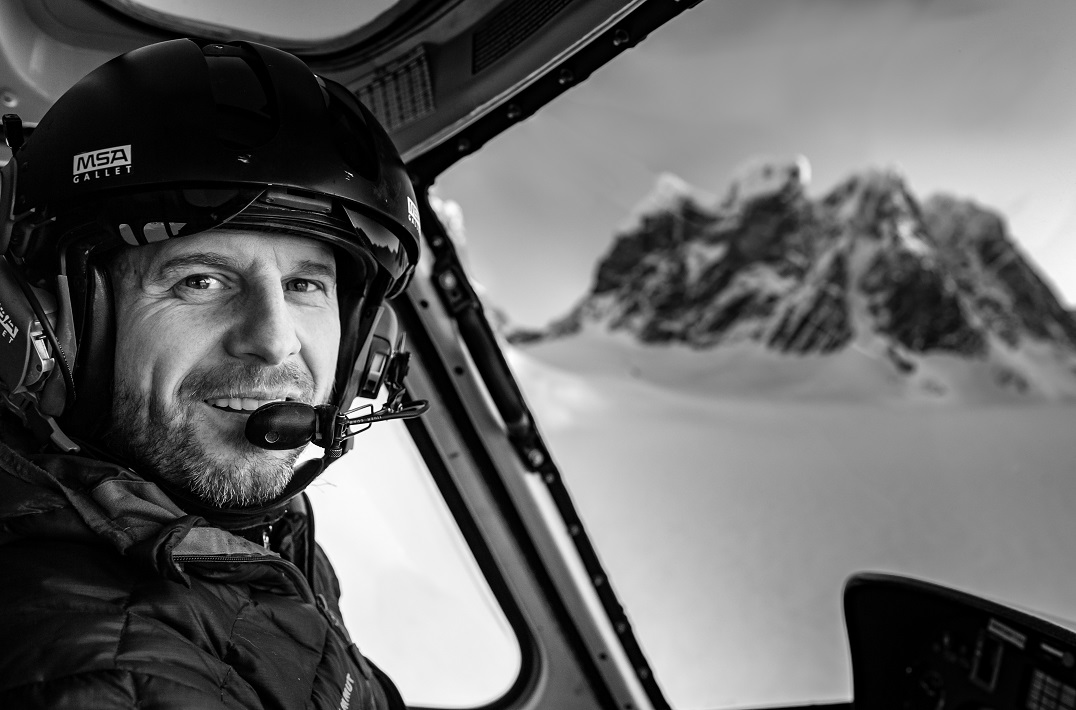 A man who loves his work, Andy Hermanksy. (Photo courtesy of Ron Gile)  

Meet Our Pilot, Andy.
We hope you never get to fly with him.

Many readers of Denali Dispatches will recognize the name Andy, a.k.a. Andreas, Hermansky.  Andy has served as primary pilot for Denali National Park's A-Star B3e helicopter contract with TEMSCO Helicopters since 2010. For the past ten seasons, he has flown over 2,500 hours for Denali National Park, largely in support of the park's mountaineering program.  His primary mission is to provide emergency search and rescue services in the austere environment of the Alaska Range.  Only a handful of pilots in the world possess the skill and experience to fly short-haul rescue missions above 17,000 feet elevation, let alone in the highly fickle weather and complex terrain of the Alaska Range.  Andy's short-haul artistry has been witnessed by only a very small audience of mountaineering rangers and the injured or sick climbers whose lives he has saved. 

Hermansky comes from a law enforcement background in Vienna, Austria. He began his training at the age of 15, working through the ranks as an officer, an undercover agent, and for a short while, as a detective.  When offered an opportunity in his late 20's to train as a helicopter pilot at the Police Academy Flight Program in Vienna, he jumped on it.  Unfortunately, after about 3 months in the program, his supervisor essentially told him "You don't have what it takes" and kicked him out of the program.  Andy decided that supervisor was mistaken.  He borrowed some money from a friend and went to the United States where he earned his pilot's license in Titusville, Florida.  Andy admits it wasn't easy, the biggest obstacle was that he was learning English at the same time he was learning to fly.  To make matters worse, his instructor's thick Irish accent was near impossible for Hermansky to understand.  One of his biggest challenges was simply talking on the radio to the flight tower. 

Fast forward a couple decades of commercial flying, and it's clear that Andy Hermansky "has what it takes."  In September 2018, he was named National Park Service Aviator of the Year and received the Department of the Interior 'In Flight Action Award', the latter of which recognizes outstanding airmanship and courage in an emergency situation and the prevention of injury to personnel.  And if those two awards weren't enough, Hermansky was then named the Pilot of the Year by industry peers at the Helicopter Association International.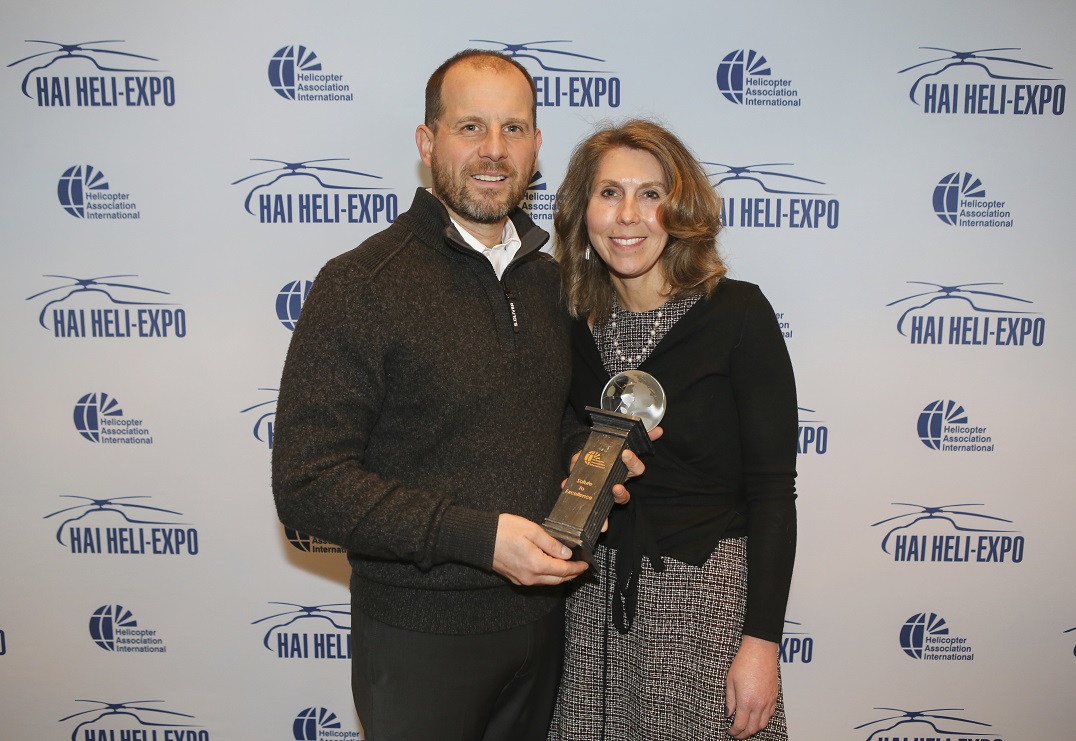 Andy Hermansky, shown here with his partner Suzanne Rust, was presented his HAI Pilot of the Year Award at the Heli-Expo in Atlanta, Georgia on March 4, 2019, on his birthday.  (Photo courtesy of HAI Heli-Expo)

All three awards were prompted by a single remarkable achievement supported by a career's worth of safe, solid flying. In August 2018, a fixed wing airplane crashed in the Alaska Range. Per the NPS Aviator of the Year award verbiage, "As part of the rescue and recovery effort, Andy piloted a short-haul operation of unprecedented duration and difficulty. The entire mission lasted 51 minutes during which the ranger never disconnected from the rope due to the absence of stable terrain and rapidly evolving weather. Andy held hover at the ridge above the crash site and repositioned the ranger multiple times. […] During this mission the unstable aircraft and environmental hazards were compounded by 2.5 feet of new snow, recent avalanches adjacent to the wreckage and ongoing cloud development on the ridge where Andy worked."

Asked what his most memorable flight mission was, Andy quickly responds "the short-haul of Jerry O'Sullivan". On May 12, 2011, in his second year as rescue pilot for the park, Hermansky's flight skills saved the life of an injured Irish climber at 19,600 feet on Denali, the highest short-haul rescue ever performed in North America.  O'Sullivan broke a leg when his 4-person rope team fell near the summit ridge of Denali, leaving him unable to walk.  With high winds kicking up and the team's communication devices not working, the team's guide secured O'Sullivan in a bivy sack while he descended to the 17,200-foot camp with the other two clients to initiate a rescue.

Winds gusted to 120 mph throughout the day, and the helicopter was unable to safely fly above 14,200 feet. The rescue team feared the worst considering O'Sullivan's summit day was now 32 hours long, 19 of which were spent alone at 19,600 feet -- injured, unable to move, and with minimal protection from the brutal winds and frigid early season temperatures.  However, that evening the winds 'subsided' to 60 mph, gusting to 80 mph, and he made an initial reconnaissance flight up to the Football Field.  The wind was still blowing strong, "but it was a good wind" according to Hermansky.  He first flew alone to the site, verified the location, and then to the tearful delight of everyone listening, he announced over the radio that the climber was alive and waving to him.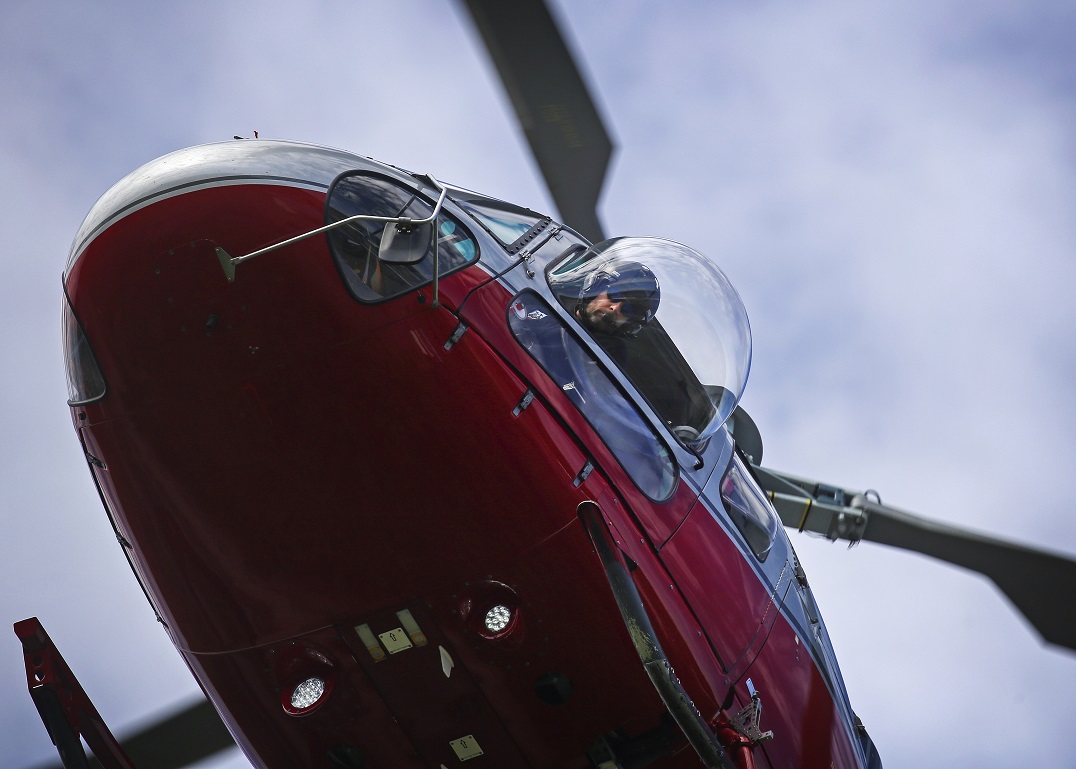 Hermansky peers out the bubble window on the TEMSCO A-Star B3e helicopter at the terrain below. (NPS Photo Emily Mesner)

Even at sea level, short-haul rescues are considered high risk operations. A short-haul at 19,600 feet was unprecedented, so the rescue operation proceeded cautiously. After one more reconnaissance flight with a ranger on board to visually assess what the injured climber's capabilities were, Andy was given the green light to proceed.  With tears in his eyes, jaw shaking, and adrenaline pumping, Andy returned to the climber with a rescue basket secured to the end of a 200-foot rope.  As he hovered overhead at 19,800 feet in the thin air, O'Sullivan climbed into the basket.  Once the patient appeared secure, Andy short-hauled him down to the Kahiltna Basecamp to an awaiting air ambulance. O'Sullivan's injuries were extensive. In addition to his broken leg, he suffered severe frostbite on all extremities that would ultimately result in amputation. But he was alive to tell the tale. Immediately after dropping O'Sullivan off at Basecamp, Hermansky returned to the upper mountain for what turned out to be a short-haul body recovery; one of O'Sullivan's fellow rope mates never made it down to high camp, having succumbed to altitude-related illness at Denali Pass.

Rescue flights of that magnitude are gratefully few and far between, but in a given season, Andy lends aviation support to between 10 to 15 search and rescues at Denali National Park, everything from re-supplying spent oxygen bottles at 14,200-foot camp, evacuating sick climbers, to short-haul flights of rescuers, rescuees, or both.  During the Denali contract, Hermansky says he loves working with the ranger team, which he considers like a family.  But he also relishes the balance he gets in off season, the ability to manage flight missions on his own from start to finish.  In winter, Hermansky resides in Juneau, Alaska, flying a range of what he calls 'utility' flights for TEMSCO, such as airplane recoveries, animal capture, flying external loads for logging, construction, etc. He also flies heli-skiers into the remote backcountry peaks of Southeast Alaska.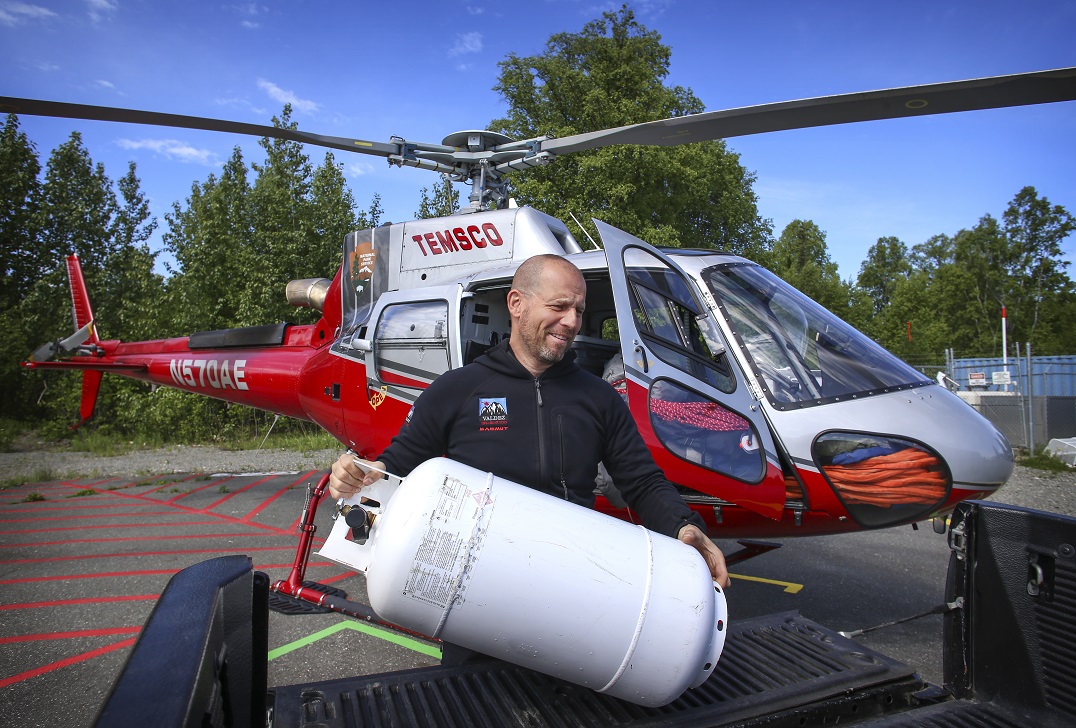 Andy unloads the helicopter at the Talkeetna State Airport after a re-supply flight.  (NPS Photo / Emily Mesner)

When not flying, Hermansky's latest passion is the building industry, particularly energy efficient design and construction.  He's a gear junkie who possesses a surprising amount of his own heavy machinery, and he loves to spend a day doing dirt work, fixing up old junkers, running a lathe, fabricating tools, and milling lumber.  Most of the time he spends puttering or digging, he is simply doing favors for friends and neighbors.  This next year, however, Andy hopes to build a home in Talkeetna and eventually start living here year-round.  His friends and co-workers are all quite sure he's got what it takes.