Most of the snow has melted out in the backcountry, but some snow and ice do remain in the steeper canyons that receive little sunlight. These areas can exist at any elevation throughout the park but are generally avoidable. Still, be prepared when choosing your route.
Water sources on rocky alpine ridges are scarce, though dropping just a few hundred feet in elevation is usually enough to find seeps, creeks, and melt-ponds. Creeks and rivers in the lower elevations are flowing at normal rates.
The Fourth of July holiday week and weekends are busy times for the park. If planning to visit the backcountry during this time, please be patient during the permitting process, and come prepared with second and third choices for destinations within the park - many of the backcountry units are full.
The weather has been good throughout the season and has led to a lot of very successful trips. July can be the wettest time of year in Denali, so don't forget your rain gear when packing for your trip.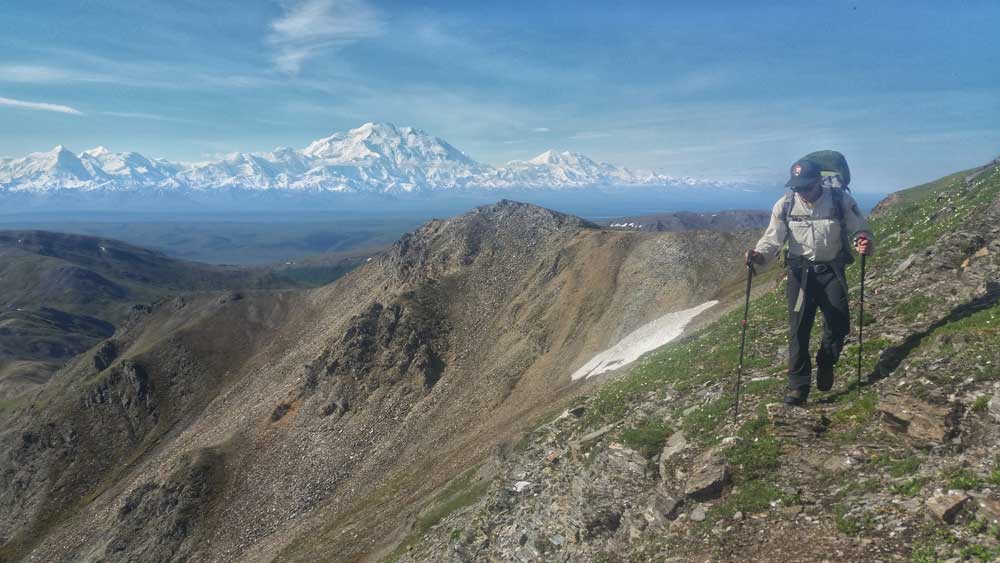 Ranger Jaz looks toward Denali on a recent backcountry operation in the Kantishna Hills. NPS Photo