Sunday, June 13th, 2021.  11:30 pm - 14,200'.
The midnight sun sits out of sight below the West Buttress. Hunter and Foraker are lit up in the alpenglow. As I step out of the NPS communications tent I catch my breath and soak it all in. It's another stunningly beautiful night on Denali, only this one is a little different. There are over 150 people camped in the basin, poised and ready to take advantage of tomorrow's favorable weather forecast and make the climb up the fixed lines and along the ridge to high camp. There, they will play the waiting game and hope that the winds allow for passage to the summit. Some will go regardless and pay the price of poor decision making while many others will find success in the thin air. The line between the two narrows above 17,000'.  
The zipper to the tent sounds behind me and a man steps out. He stops and scans the landscape. The month-old stubble is mixed with gray but can't hide his thin lipped, pursed grin. He's taken in the beauty of this exact scene hundreds of times in this very spot and the wisdom that comes with years of patrolling this mountain shows in the twinkle of his eyes. There is fulfillment and excitement in his gaze this evening, and perhaps some longing.
Dave Weber has been a Denali climbing Ranger and our lead medic for over 12 years. But that's only his summer day job. Dave spends most of his year in Salt Lake City, where he's a flight medic and rescuer for Intermountain Life Flight, and more importantly where his wife and daughter live. In 2018, the Utah Bureau of Emergency Medical Services named him Paramedic of the Year. You may have also come across him teaching avalanche courses, technical rope rescue seminars or wilderness medicine. You may have even hired Dave to guide you up a mountain at one point. Before Denali, Dave was a climbing ranger on Mt. Rainier.  I could go on, but a quick Google search would be more fitting. He's a fixture on Denali for climbers, guides, and rangers alike and has shaped this program in ways that few can. His lifelong experience in the mountains combined with a career in flight paramedicine have merged to create an indispensable skill set to this program. With his uncanny and natural ability to teach, his patience and his relaxed and easy-going demeanor, Dave is a next level operator and has shaped and mentored many Denali rangers, including myself. I have spent the last 15 years working seasonally for the National Park Service in various parks under various job titles and struggle to think of someone with greater influence on a program than Dave.
But tonight, is different. It marks the culmination of Dave's time here at Denali. Tomorrow, Dave will make the descent with his team down around Windy Corner, across the Polo Fields, down Motorcycle Hill, thru 11k camp, past Kahiltna Pass, down ski hill to Camp 1 and finally down the lower Kahiltna Glacier and up Heartbreak Hill to Base Camp. This will be the last time as a Denali Ranger. Dave and I share a love for the country Americana resonance of Jason Isbell and lyrics creep into my head …
from the sky, the highway's straight as it could be...
He's transitioning from one climbing program to another in the Park Service, a move not uncommon in our line of work and one that brings him closer to home for the summer months.
…Been in the sky so long, seems like the long way home…
The song continues.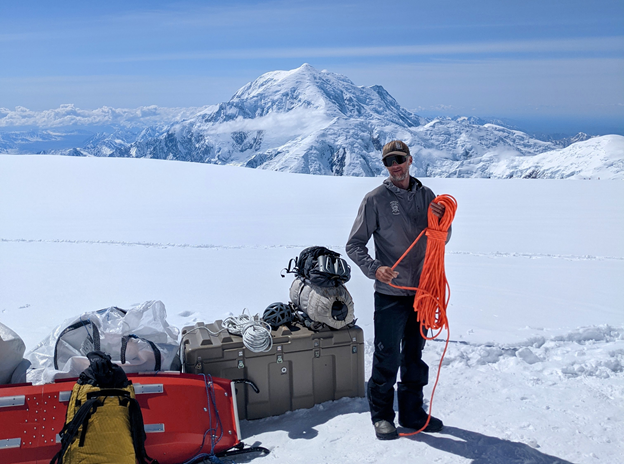 Dave gearing up for a final descent from 14 to base camp
(NPS Photo / Travis Baldwin)
As rangers, we are tasked with rescues and emergency medical care within the park boundary. On the West Buttress these often manifest as patients with altitude and cold related pathologies and so we train and review these issues frequently. That said, due to the relatively small volume of patients that each ranger sees we rely strongly on our available resources, often consulting our medical protocols and our experts - who include our Medical Director, and of course, Dave. Yesterday, I selfishly took advantage of Dave, and it wasn't the first time.
I'm currently halfway thru my West Buttress patrol and have an incredible patrol team including a new Denali ranger, a longtime Rainier climbing ranger, an Air Force PJ from the 212
th
(our team medic) and a longtime friend and climbing partner now with the Alaska State Troopers. Over the past ten days we have climbed up to the Park Service camp at 14,200' stopping at all the traditional camps and incorporating various training along the way. I focus on rope rescue because it's a perishable skillset that requires practice. Dealing with a crevasse fall or having to move a non-ambulatory patient in steep terrain are both likely situations we could find ourselves in that would require some basic competence. Medical training is the other side of the training coin that I had been intentionally putting off, knowing that I would be sharing camp with Dave at 14K. Having my crew listen to me lecture on high altitude cerebral and pulmonary edema is sort of like learning to play a new song on the guitar; the notes might all be there, but the syncopation is off and the complicated chorus needs repetition and practice. But yesterday, I had Dave sit the crew down and go over typical patient histories associated with HACE, HAPE and frostbite as well as symptoms and treatments. It's a highly polished product that leaves an impression on the audience. I take notes throughout, desperately trying to capture the simplicity and flow with which he explains these ailments. I even get a voice recording of the lecture – which is not the first time.
During Dave's talk and almost on cue, several climbers come over to our camp with both superficial and deep frostbite from a recent summit attempt. Dave seamlessly incorporates this show and tell component of the lesson as if it was planned, and our crew gathers around the patients like a scene from SCRUBS as Dave points out markers that indicate severity and depth of tissue damage. I'm still not sure how he timed those patients so well.
As we step out of the tent in the fading light, I get Dave to stand for a picture. My first shot captures Foraker in the background. "Not Foraker, get Hunter - my nemesis" He refers to 2 previous attempts to climb the Moonflower, having gotten shut down at the first ice band. I shift positions and get the correct mountain in the picture. I look at the shot and wish I had brought my good camera. Hunter glows orange in the background but Dave is washed out and grainy. It's probably what he wanted anyway.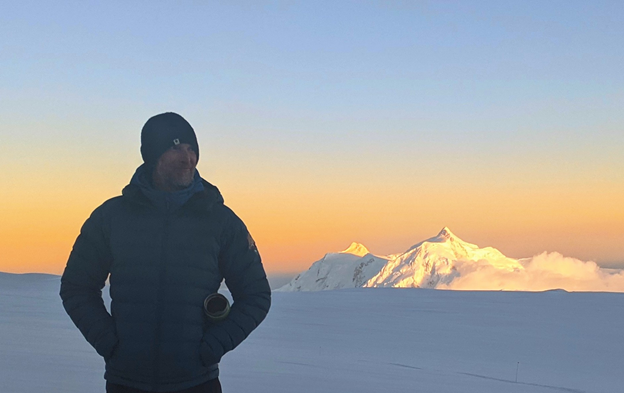 Dave's Final night at 14K as a Denali Ranger. 
(NPS Photo / Travis Baldwin)
I've spent the last 4 seasons sharing a house in Talkeetna with Dave and a few other rangers during the climbing season when we are not on the mountain. It's been a special time and I would be remiss to not reflect on the importance this experience has had in shaping our team and understanding Dave. I have often been impressed with Dave's level of athleticism, his discipline and drive to become better – he was, after all, a division 1 college swimmer. After long days of early season training in Talkeetna he was often first to suggest getting a run in or hitting the gym, sometimes even before work. However, one aspect of his life that has always perplexed me is his diet. I have gone weeks seeing Dave eat nothing but white rice, pretzel sticks, pizza pockets, highly processed cereal, Starbucks Frappuccino and Mountain Dew. It's almost as if his body is so finely tuned and regulated that he thrives on a high altitude West Buttress diet of processed food and to come off of this diet would starve his body of enriched wheat flour, Thiamin Mononitrate, Riboflavin, vegetable oil and sugar. The correlation between these ingredients and performance at high altitude has not yet been studied but is anecdotally evident here. Maybe I've been going about it all wrong.
Next season will be different around here.  The Talkeetna ranger staff is resilient, talented, skilled, and full of incredible people who will step up to fill the void. But it is a very large void, and he will be missed dearly. Opportunity awaits.
I consider myself fortunate to call Dave a friend and value the time we've spend together in and out of the mountains. As Dave enters a new job at Jenny Lake, I'm grateful that our paths will continue to cross in the Tetons where my wife and I spend some of our summer. The hut that I guide out of sits a stone's throw from the Park Service hut at the head of Garnet Canyon between the Middle and Grand Tetons. And while I don't wear the green and gray of the Park Service in those mountains, it is reassuring knowing he is and having another friendly, familiar face on the trail. I look forward to roping up with Dave again soon. 
And for those climbers out there in our National Parks who toe the line of good decision making and fall short, or for those who just have bad luck, you might become well acquainted with a Park Service Climbing Ranger. Consider yourself lucky if Dave shows up on scene.