| | | |
| --- | --- | --- |
| TODAY'S STATS |     Denali     | Mt. Foraker |
| Registered Climbers | 975 | 10 |
| Climbers Currently On Mountain | 92 | 5 |
| Completed Climbs | 5 | 0 |
| Number of Summits | 0 | 0 |
| Summit Percentage | 0% | 0% |
The Walter Harper Talkeetna Ranger Station also maintains a daily automated statistics phone line, so if this blog is lagging behind and you need up-to-date registration numbers, call (907) 733-9127.
Mountain Weather

Quick report from Basecamp:  7,200-foot camp got about a foot of new snow overnight, with overcast skies this morning.  Rangers at 11,000-feet report a couple days of blowing snow.  Conditions are improving throughout the day on Thursday.


Weather station telemetry data from Basecamp and the 14K camp are now transmitted hourly to the MesoWest website, including temperatures, wind speed, wind direction, snowfall, and solar radiation.  MountainWeather.com compiles a Denali Weather page, complete with links to the MesoWest telemetry data, the National Weather Service Denali Climbing Forecasts, as well as links to FAA webcams. 

Click here for the National Weather Service Denali Climbing Forecast

Click here for the FAA webcam on the Kahiltna Glacier. 

 
Route Conditions
 
Reports indicate at least three teams have made it to 14,200-feet on the West Buttress. So far, the trail reviews are mixed:  Squirrel Hill is described as 'snowy and fine'.  Windy Corner is characterized as blue and icy, with crevasses that have pulled in a few climbers, most to the knees or waist, but at least one popped through over their head.
The Ruth Gorge received about a foot of new snow in the past several days.  
Ranger Update
NPS 14K Patrol #1
(Preston) The patrol has remained at 11,000 feet due to blowing snow.  They did make an acclimatization run to Windy Corner (see conditions report above) over the weekend.  When weather permits, they will move up to the 14,200-foot camp. 
NPS 14K Patrol #2
  (Coady) Ranger Melis Coady and her team of 4 VIPs (Charlie Procknow, Anitra Winkler, Hannah Trim, and Sam Newbury) had intended to fly into the Range on Tuesday, but were grounded a couple extra days in Talkeetna due to unflyable weather  The team just flew into Basecamp Thursday afternoon, two days late.  Their plan is to hit the ground (glacier) running instead of hanging out at basecamp a night or two.  Rumor has it there will be plenty of trail-breaking.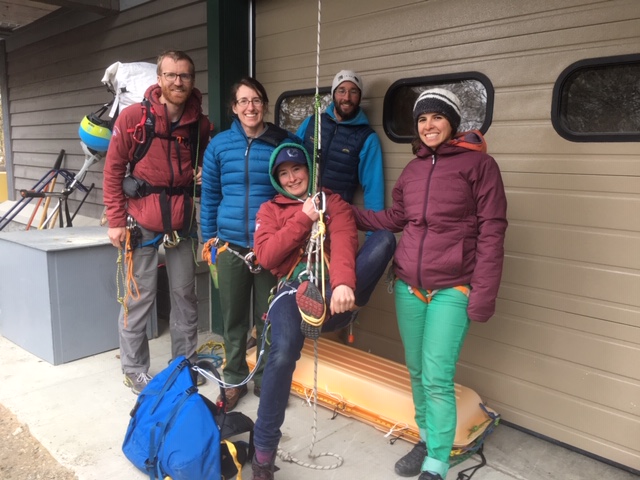 NPS 14K Patrol #2 from left to right: VIP Dr. Charlie Procknow, Ranger Melis Coady, VIP Anitra Winkler, VIP Sam Newbury, and VIP Hannah Trim.  (NPS Photo) 
NPS 7K Patrol #1
(Robinson) The NPS basecamp infrastructure is now in place.
NPS AKR Patrol #2
(Gault/Baldwin)  Rangers Pat Gault and Travis Baldwin flew out of the Ruth Gorge today, Thursday.  Snowy weather and poor visibility impacted their ambitious climbing plans. They ski toured up to 747 Pass on the only nice day they had.  Not much activity in the Gorge to speak of, only one other group was camped in the Gorge.  
Photo of the Day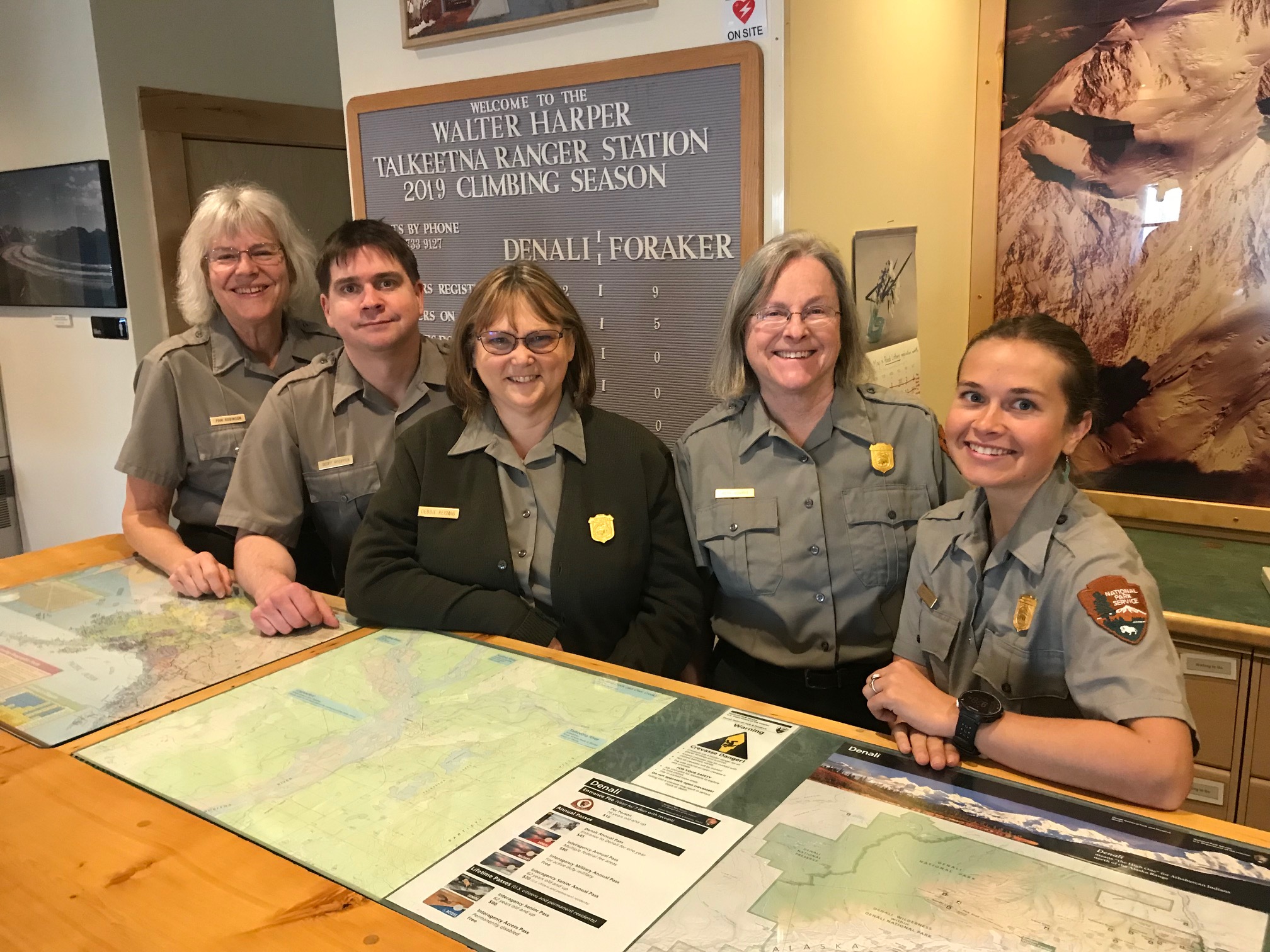 Meet the smiling faces that welcome mountaineers to the Walter Harper Talkeetna Ranger Station!  In addition to serving on the welcoming committee, the front desk crew registers the climbers, prepares permits, CMCs, collects park entrance fees, schedules orientations, wrangles climbing rangers, prepares statistics, answers the phones, and answers a mind-blowing array of visitor questions.  All with grace and style!  From left to right, the 2019 staff includes Pam Robinson, Geoff Pfeiffer, Supervisor Debbie Reiswig, Beth Howard, and Becca Stenerson.