Though not our favorite option, this season we will be producing weekly Field Reports (as opposed to almost-daily) to provide updates from the Alaska Range.  Please tune in each week for conditions reports, statistics, images, and news from the mountains. 
| | | |
| --- | --- | --- |
| TODAY'S STATS - 5/15/21 |     Denali     | Mt. Foraker |
| Registered Climbers | 849 | 29 |
| Climbers Currently On Mountain | 187 | 15 |
| Completed Climbs | 1 | 0 |
| Number of Summits | 0 | 0 |
| Summit Percentage | 0% | 0% |
The Walter Harper Talkeetna Ranger Station also maintains a daily automated statistics phone line, so if this blog is lagging behind and you need up-to-date registration numbers, call (907) 733-9127.
Mountain Weather

(Saturday, May 15) Gabby at basecamp reports:  "good morning. bright and clear, hardly a cloud in sight. 7mph down glacier winds. 17 degrees"

Weather station telemetry data from 7K and 14K are transmitted hourly to the MesoWest website, including temperatures, wind speed, wind direction, snowfall, and solar radiation.  MountainWeather.com compiles a Denali Weather page, complete with links to the MesoWest data, the NWS Denali Climbing Forecasts, as well as links to FAA webcams. 

Click here for the National Weather Service Denali Climbing Forecast

Click here for the FAA webcam on the Kahiltna Glacier. 


Ranger Reports
West Buttress / Denali
Reports are coming in that the West Buttress saw its first summits of the season yesterday (5/14) by a AMS/Navy Seal team. (They have yet to fly back to Talkeetna to check back, so their summits are not recorded in the stats yet.)  In other exciting news, a grey fox was sighted climbing Ski Hill yesterday.
Condition reports from the field:
Lower glacier already getting problematic above 7,800-feet, particularly for this early in the season. Snowpack seems less supportable than normal for mid-May.  Reports of random, unusual punch-ins. 
The cracks on Ski Hill at 7,800-feet are already open and huge, with thin snow bridges. Crack at 8,900 is a doozie.
Melt-freeze conditions down low.  Snow getting hammered by the sun, i.e. melting during the day, freezing up overnight, skiing not so nice.
NPS 14K Patrol #1
 - (Beren and Bomba) Now that Jake and Chelsea have 14K camp largely in place, including Wifi, the station received its first (only slightly editted!) email report of the season: 

"Morning all-  Just a quick update on the state of affairs at 14.  Camp is filling in and an AMS team summited yesterday. Lots of people waiting patiently for fixed lines before they go higher than 14.   14 Camp is pretty much in. All radios, WiFi, tents, etc are up and working.    We cached 400 m of fixed lines at the base of the area formerly known as the fixed lines yesterday. We plan to split teams and have a crew go to 17 to cache and check out the scene and another team work on the lines to minimize exposure of falling mountain to the workers. We will keep you posted." 
Translation - Reportedly no semblance of the former fixed lines remained in place since the 2019 season. Usually there are repairs to be made..but this year will involve an entire new installation.(
NPS Ranger Jake Beren, NPS Ranger Chelsea Bomba, VIP Leilani Bruntz, VIP Nadav Oakes, VIP Luke DeMuth, and VIP Dr. Charlie Duke.)
NPS 14K Patrol #2
- (Erickson)  The second patrol of the season flew into Basecamp early evening Wednesday, May 12.  Lead Denali Mountaineering Ranger Chris Erickson is leading the patrol, ably accompanied by his counterpart from Grand Teton National Park (GRTE), Lead Climbing Ranger Chris Bellino.  Other patrol members include GRTE climbing ranger Cody Evans, Volunteer-in-Parks (VIP) Chris Berdoulay, and VIP Jonah Olson.  After a day spent at Basecamp for crevasse rescue training, they team headed upward, and by Saturday evening are expected to reach 11,000-camp where they will rest for several days.  Highlights so far:  Grey fox sightings; psyched to be carrying kettlebells and an ab machine up the mountain to squeeze in extra workouts on rest days.  
NPS 7K Patrol #1 -
 (Oken)  Ranger Chrissie Oken and VIP Sam Aaronson enjoyed a well-rounded patrol mix of heavy labor and peaceful ski patrols.  NPS 7K camp is open for business. Chrissie and Sam flew out Saturday, May 15 after a job well done!
NPS 7K Patrol #2
 (Dalpes) Ranger Mik Dalpes and VIP Meghan Seifert return to the hills with their second patrol together of the season (first patrol was in the Ruth), flying into basecamp on Saturday, May 15.   
***

Park staff is saddened to report a second fatal accident in the Alaska Range this season. From the news release dated May 14, 2021:
 
Falling Ice Debris Kills One, Injures Another off the Ruth Glacier

One climber was killed and another injured in Denali National Park and Preserve the morning of Thursday, May 13.  A hanging serac, or block of glacier ice, dislodged from a peak off the West Fork of the Ruth Glacier, hitting the two-person rope team as they began their climb of the west face of Reality Ridge at approximately 5:00 AM.

The surviving climber, 31-year-old male from Logan, Utah, was knocked unconscious by the impact.  When he regained consciousness, he located his partner and determined that the 32-year-old male from Rigby, Idaho had died in the accident.  The surviving climber then alerted park officials using an InReach satellite communication device at approximately 6:00 AM.  Despite significant injuries, the surviving climber managed to move to a location outside of the debris zone to await rescue.

Denali National Park's high altitude helicopter pilot and two mountaineering rangers flew to the accident site just past 7:00 AM.  The rangers evacuated the injured climber to a safer location on the Ruth Glacier where they provided emergency medical treatment before returning to Talkeetna State Airport.  The patient was transferred to an air ambulance for further medical care. The helicopter pilot and two mountaineering rangers attempted to return to the accident site midday Thursday, however clouds had moved into the area.  Mountaineering rangers returned to the site Friday, May 14 and recovered the climber's remains via short-haul.
 
***

Photos of the Week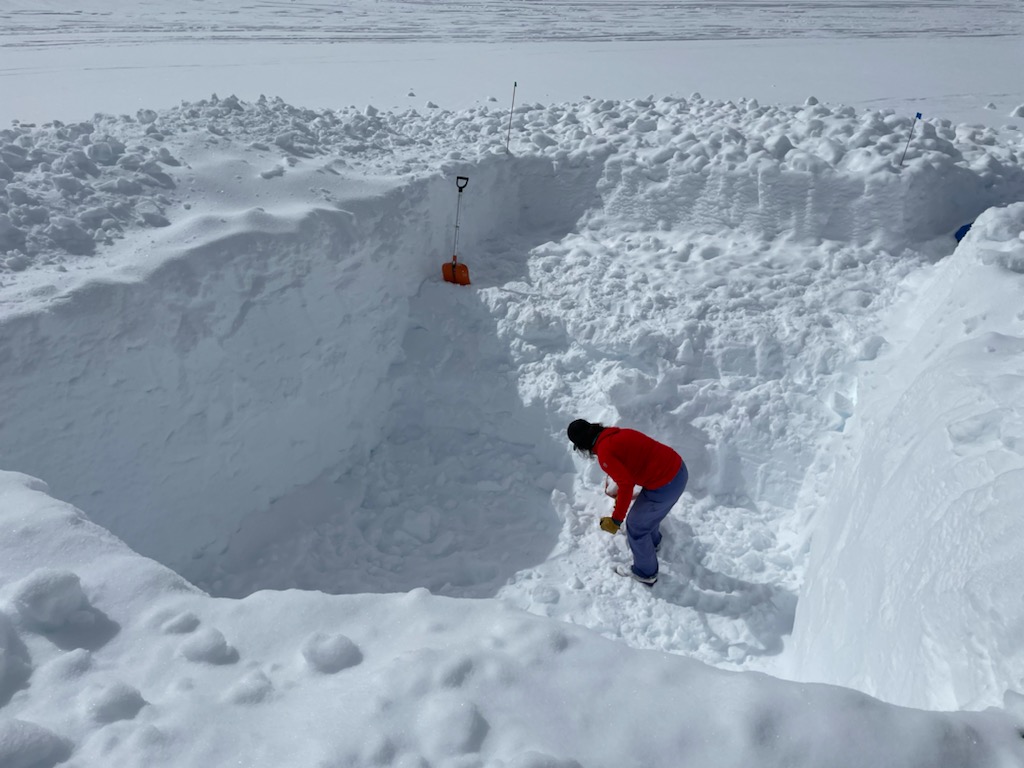 VIP Sam Aaronson continues digging the deep hole that will serve as the 7K NPS tent foundation, wondering periodically 'Is this what I signed up for?!'  (NPS Photo/Chrissie Oken)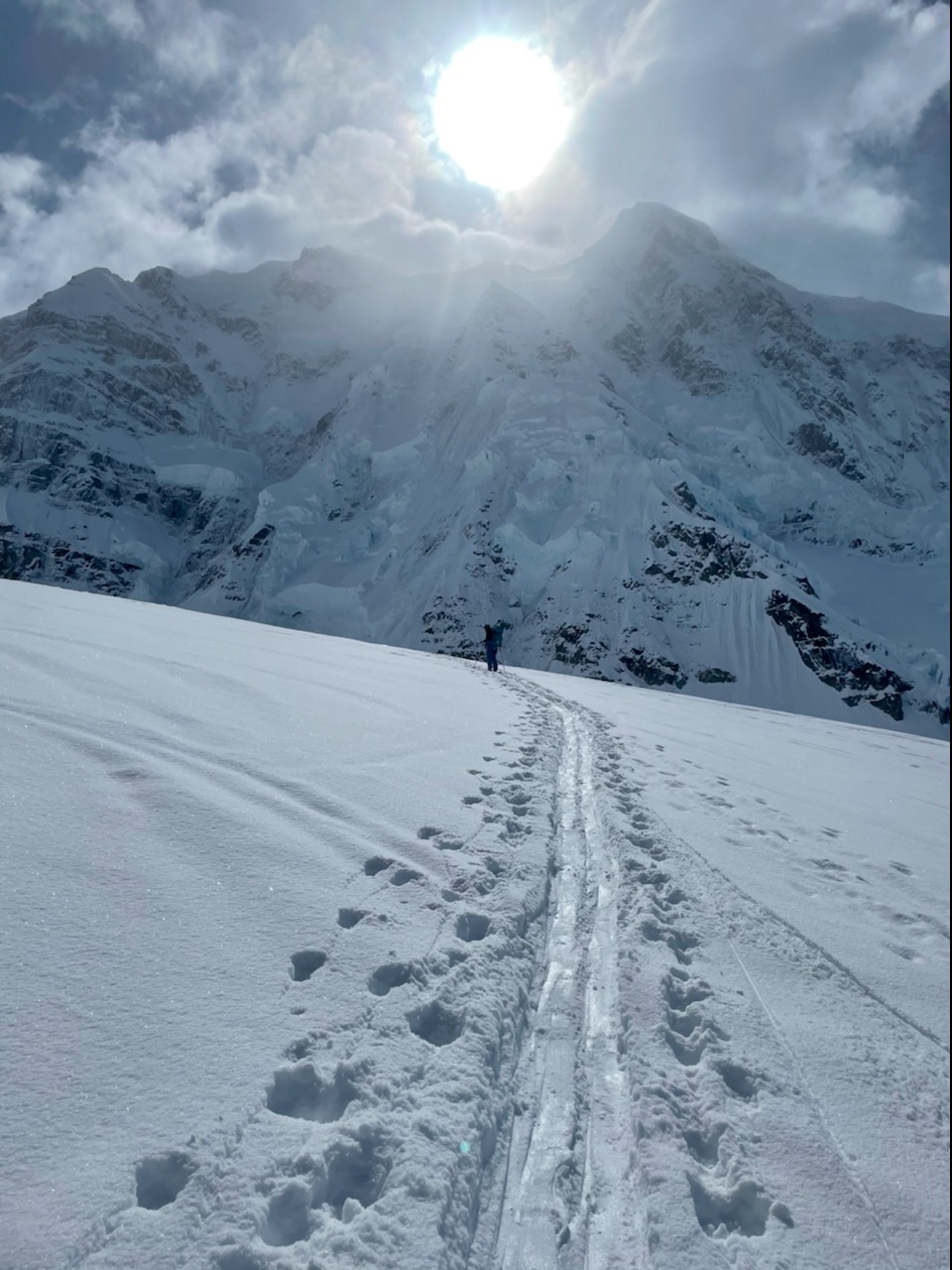 Once the tent foundation was dug, Sam and Chrissie enjoy a sunny afternoon patrol of Ski Hill east of basecamp, the North Buttress of Mount Hunter in the backdrop. (NPS Photo/Chrissie Oken)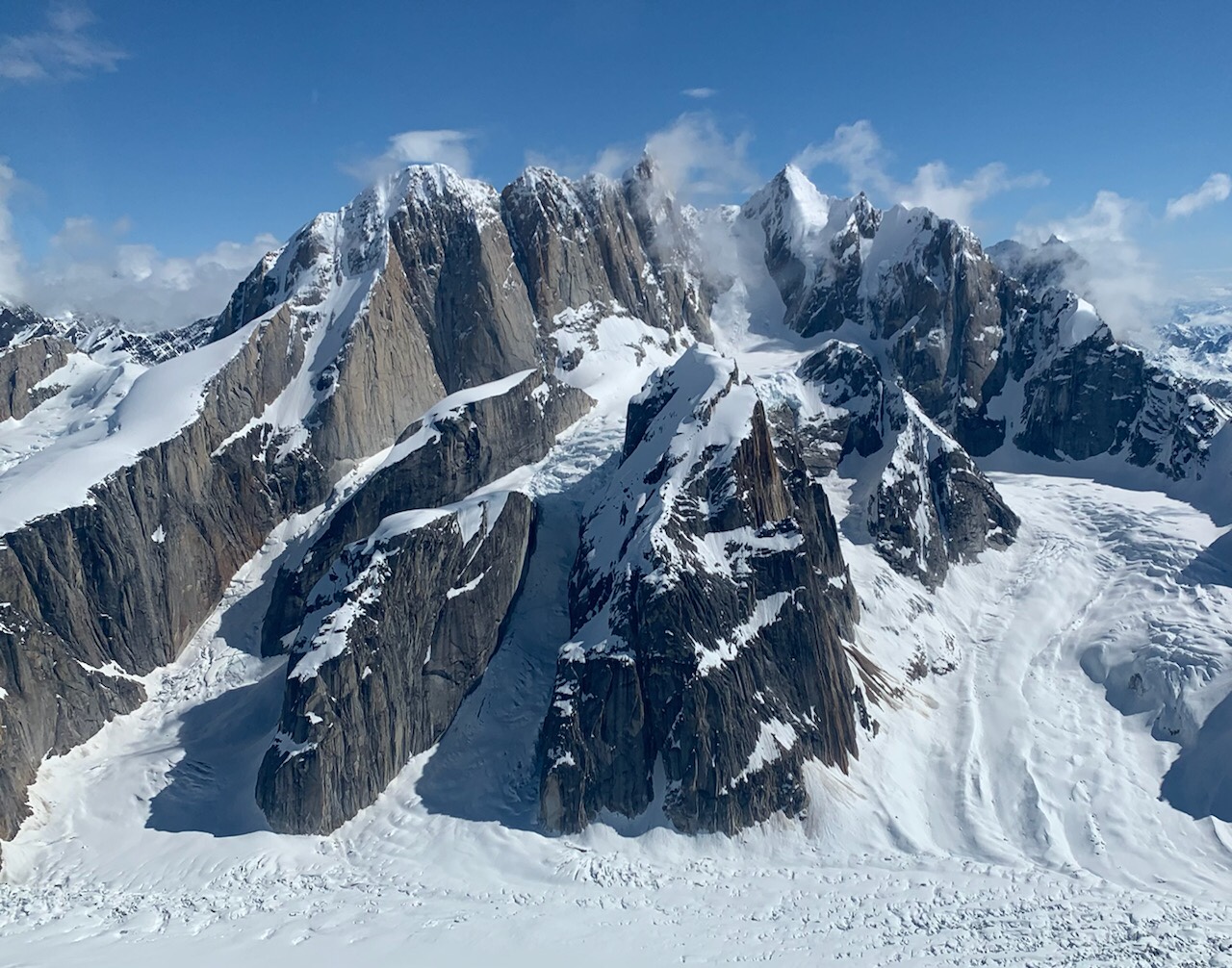 Stunning view of the Moose's Tooth on a beautiful spring day.  (NPS Photo/Galen Dossin)