| | | |
| --- | --- | --- |
| TODAY'S STATS |     Denali     | Mt. Foraker |
| Registered Climbers | 790 | 30 |
| Climbers Currently On Mountain | 54 | 7 |
| Completed Climbs | 1 | 0 |
| Number of Summits | 0 | 0 |
| Summit Percentage | 0% | 0% |
The Walter Harper Talkeetna Ranger Station also maintains a daily automated statistics phone line, so if this blog is lagging behind and you need up-to-date registration numbers, call (907) 733-9127.
Mountain Weather

Lisa's Morning Weather report:  "Overcast to 10k. 5 to 10 mph downglacier winds. No new snow overnight. 20 degrees. Maybe 1 inch snow total for storm."

Weather station telemetry data from 7K and 14K are transmitted hourly to the MesoWest website, including temperatures, wind speed, wind direction, snowfall, and solar radiation.  MountainWeather.com compiles a Denali Weather page, complete with links to the MesoWest data, the NWS Denali Climbing Forecasts, as well as links to FAA webcams. 

Click here for the National Weather Service Denali Climbing Forecast

Click here for the FAA webcam on the Kahiltna Glacier. 


Ranger Reports
This in a couple days ago from Lisa at 7K:  "Had our first summit of Hunter via North Buttress and Isis Face was climbed by a new variation, but didn't go to summit. So no Denali summit so far."
NPS 14K Patrol #1
 - (Beren and Bomba)  Patrol #1 is camped at 11,000-foot camp in good spirits. Getting some snow. One team ahead of them on the West Buttress.  They went for an acclimatization ski today, though turned around as weather did not look great higher up.  (
NPS Ranger Jake Beren, NPS Ranger Chelsea Bomba, VIP Leilani Bruntz, VIP Nadav Oakes, VIP Luke DeMuth, and VIP Dr. Charlie Duke.)
NPS 7K Patrol #1 -
 (Oken)  Over the past couple days, Ranger Chrissie Oken and VIP Sam Aaronson have been building muscle digging the large hole that will serve as the foundation of the NPS Basecamp operations tent. Basecamp Lisa helped corrall some willing volunteers to help in the effort.  With the shovels set aside for the moment, today they are starting to unpack and take some inventory of camp gear.  
***For more tales from the hill, check out Denali Rescue Volunteers (DRV) on Facebook and Instagram.***

Photo(s) of the Day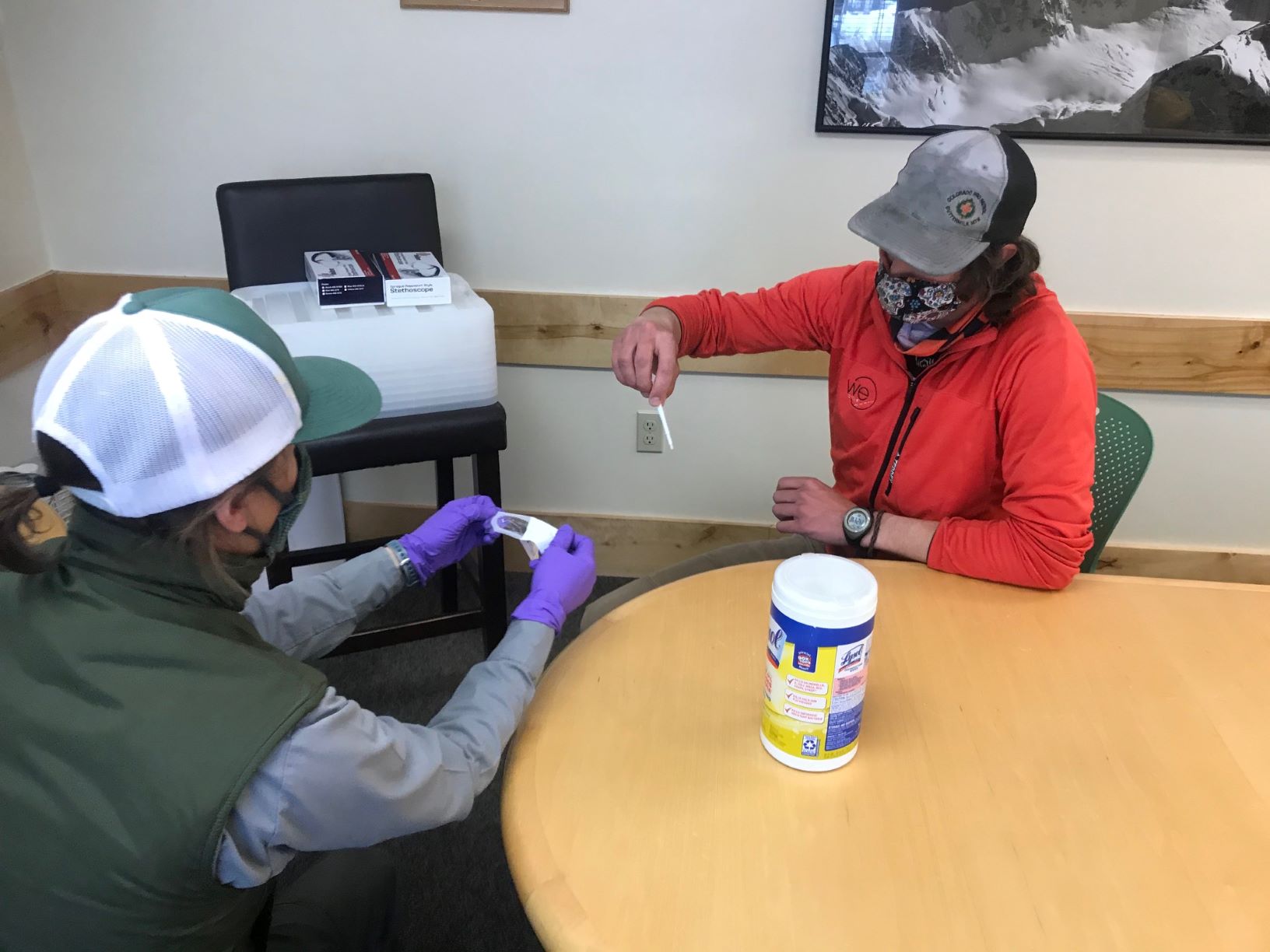 NPS mountaineering ranger Mik Dalpes assists mountaineering patrol volunteer (VIP) Luke DeMuth prepare for a self-swab COVID-19 test in the Walter Harper Talkeetna Ranger Station.  As components of the park's COVID safety protocols, all NPS patrol members are fully vaccinated prior to departure; additionally, all patrol members must test negative for COVID-19 before flying into the Alaska Range.  (NPS Photo/M. Gualtieri)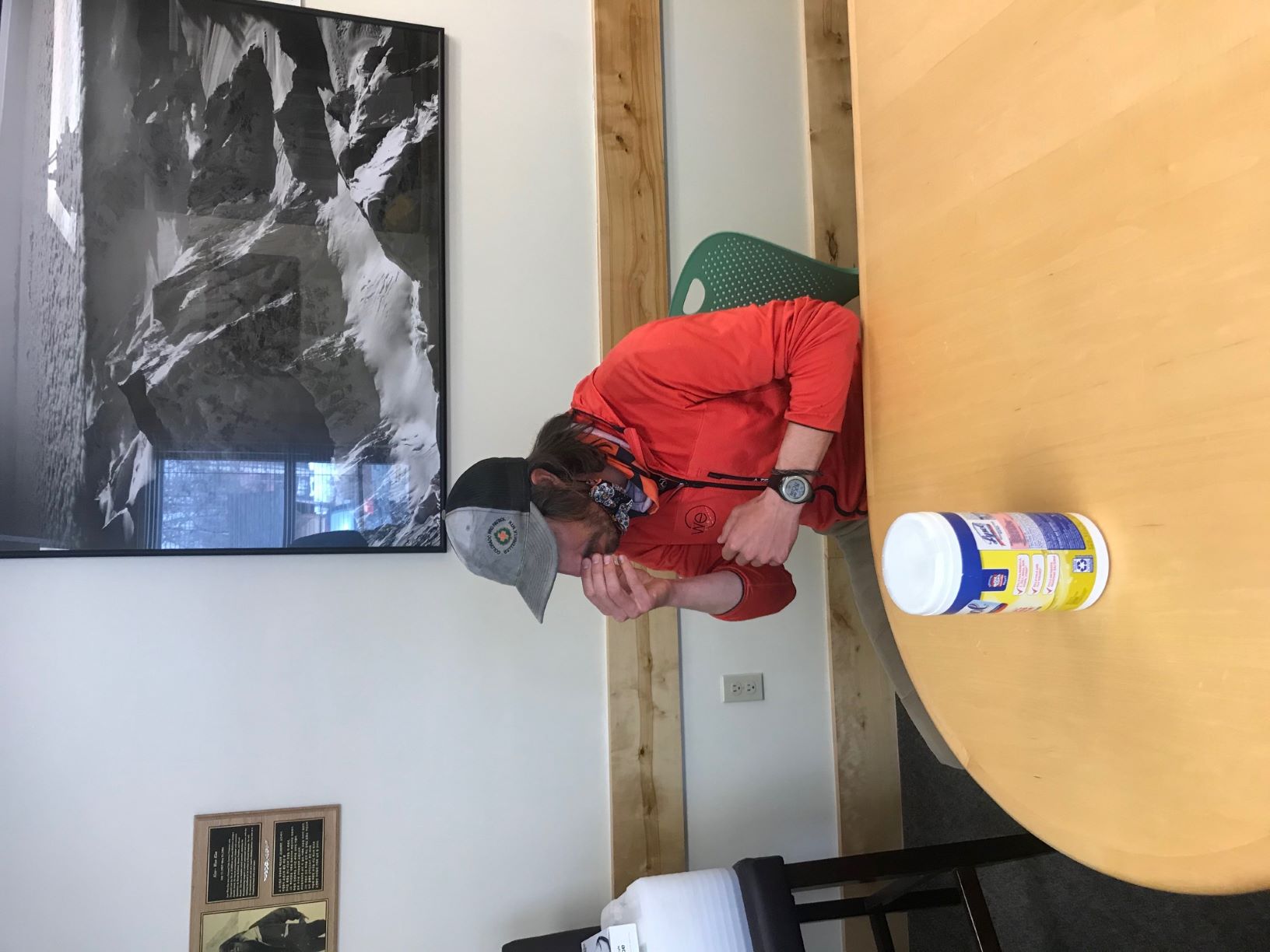 The unpleasant part.  (NPS Photo/M. Gualtieri)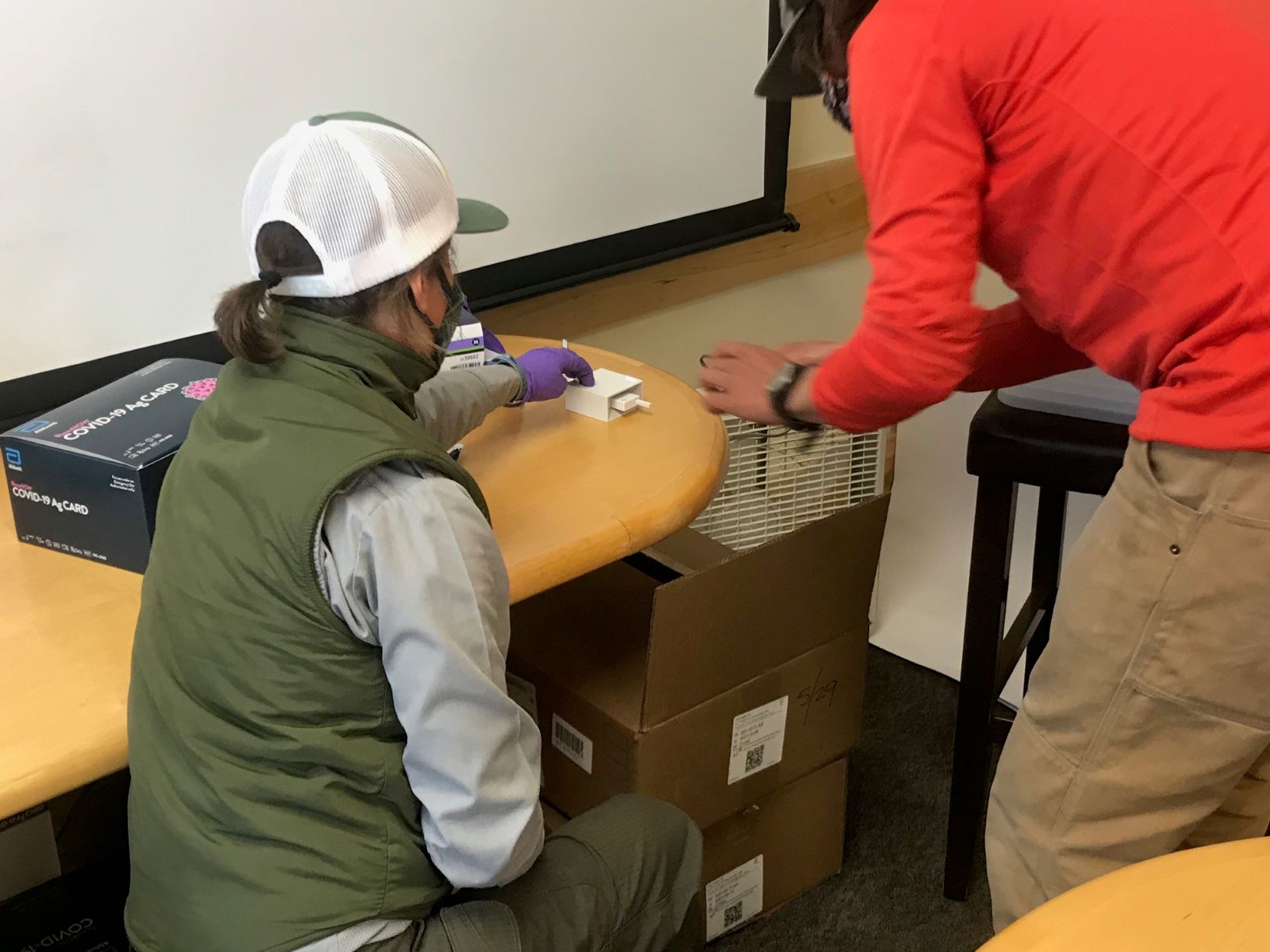 Instant gratification from the COVID-19 testing apparatus, aka the swab reader, aka the Cue.  A negative test result immediately prior to fly-in, in conjunction with a fully vaccinated patrol, will help ensure staff and visitor safety on Denali.  (NPS Photo/M. Gualtieri)