| | | |
| --- | --- | --- |
| TODAY'S STATS | Mt. McKinley | Mt. Foraker |
| Registered Climbers | 835 | 11 |
| Climbers Currently On Mountain | 62 | 2 |
| Completed Climbs | 2 | 2 |
| Number of Summits | 1 | 2 |
| Summit Percentage | 50% | 100% |

The Walter Harper Talkeetna Ranger Station also maintains a daily automated statistics phone line, so if this blog is lagging behind and you need up-to-date registration numbers, call (907) 733-9127. 

Weather Report
Light snow is falling at Basecamp this morning.  As of 8 a.m., less than an inch had accumulated, though today's forecast calls for up to 6 inches.  Winds are calm.  Barometric pressure was steady at 30.03.  The temperature was 21 F (-6 C).  
In the last 24 hours at 7,200-feet:
Low temp: 12 F (-11 C) 
High temp: 28 F (-2 C)
Winds 2 mph from the east, with maximum gusts to 6 mph from the northeast
National Weather Service forecast  

Ranger Update
NPS Denali Patrol #1 (Erickson, Westman, 2 PJ's, 4 VIPs) camped again last night at 11,000-feet on the West Buttress.  They report evidence of a large serac that released sometime over the winter to the southeast of 11k camp.  Additionally, yesterday the patrol clearly excavated and marked a deep crevasse designated for human waste disposal approximately 100 yards south of the 7,800-foot camp.    
The mountaineering VIPs for NPS Denali Patrol #2 arrived in Talkeeena this morning.  Ranger Mik Shain will lead the four member patrol, with an anticipated fly-on date of Saturday, May 9.
An important mission is afoot today at the Walter Harper Talkeetna Ranger Station, one that involves complex planning, contingency operations, and more sleepless nights than most search and rescue operations. Today the mountaineering rangers and support staff will be educating and entertaining 90 third grade students who are taking the train up to Talkeetna from the lower Valley.  The multi-phased operational plan is being orchestrated by rangers Joey McBrayer, Dan Corn, Joe Reichert, Roger Robinson, and Robert Zimmer.  Hasty teams will be situated at multiple locations around town, including the ranger station, the local museum, community hangar, and a special appearance by the A-Star helicopter and pilot Andy Hermansky at the downtown Talkeetna ballfield.  And as the show must go on, Ranger Dave Weber will be conducting today's climber orientations. 
And tomorrow, we will be visited by 60 kindergarteners...
Route Conditions
The lower glacier is good shape, with typical spring snowpack.  Looking at higher elevations, rangers estimate the upper mountain appears snowier than in recent years.  Though time will tell, bands that are normally covered in blue ice are covered in snow this year. 
NPS staff fielded a phone call on Tuesday from an early season team that reached the 14,200-foot camp.  As is not wholly uncommon for the first teams of the season, they reported multiple crevasse falls (involving multiple teams) between Windy Corner and the cache site just above Windy Corner.  The falls ranged from just punching through to the waist, on up to a 40-foot free-hanging fall.  All parties were extricated by teammates, with no injuries reported.
In follow up to a post from a couple days ago regarding routes climbed around the Kahiltna Glacier thus far this spring, the first reported ascent of the Mini-Moonflower was recorded in our Route Conditions binder at the front desk (no names were left).  The team did get past the crux pitch, via the left variation. 

Photo of the Day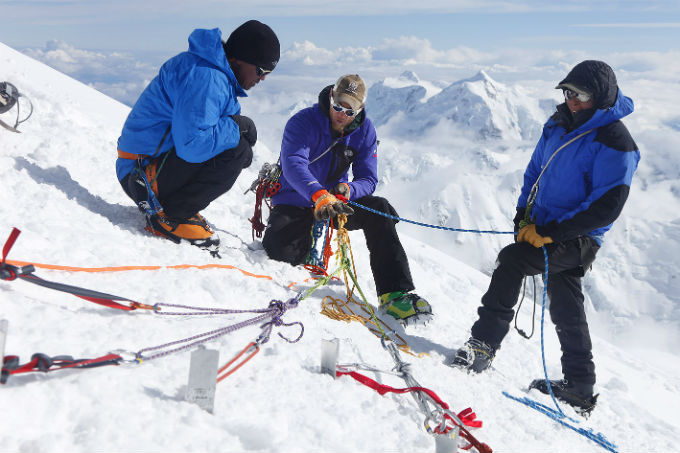 Ranger Dave Weber conducts some rescue training at 16,400-feet on Denali during a 2012 patrol with Nepalese volunteers Panuru Sherpa and Mingma Sherpa.  (Photo courtesy of VIP Menno Boermans.)