| | | |
| --- | --- | --- |
| TODAY'S STATS |     Denali     | Mt. Foraker |
| Registered Climbers | 923 | 8 |
| Climbers Currently On Mountain | 51 | 5 |
| Completed Climbs | 5 | 0 |
| Number of Summits | 0 | 0 |
| Summit Percentage | 0% | 0% |
The Walter Harper Talkeetna Ranger Station also maintains a daily automated statistics phone line, so if this blog is lagging behind and you need up-to-date registration numbers, call (907) 733-9127.
Mountain Weather

Quick report from Basecamp:  Monday morning, camp was in a whiteout, with 3 to 4 new inches of snow overnight.  Snow was still falling at time of report, 11:00 am on Monday. 

Weather station telemetry data from Basecamp and the 14K camp are now transmitted hourly to the MesoWest website, including temperatures, wind speed, wind direction, snowfall, and solar radiation.  MountainWeather.com compiles a Denali Weather page, complete with links to the MesoWest telemetry data, the National Weather Service Denali Climbing Forecasts, as well as links to FAA webcams. 

Click here for the National Weather Service Denali Climbing Forecast

Click here for the FAA webcam on the Kahiltna Glacier. 

 
Route Conditions
 
Reports indicate at least three teams have made it to 14,200-feet on the West Buttress. So far, the trail reviews are mixed:  Squirrel Hill is described as 'snowy and fine'.  Windy Corner is characterized as blue and icy, with crevasses that have pulled in a few climbers, most to the knees or waist, but at least one popped through over their head.
Down around Basecamp, conditions on surrounding peaks is described as 'generally dry', i.e. not much ice has formed yet.   
Ranger Update
NPS 14K Patrol #1
(Preston) The patrol is currently camped at 11,000 feet, getting 'crushed', which sounds bad but mostly means hunkering down in tents waiting for the current storm to pass  They did make an acclimatization run to Windy Corner (see conditions report above) over the weekend.  When weather permits, they will move up to the 14,200-foot camp. 
NPS 14K Patrol #2
  (Coady) Ranger Melis Coady heads up next, with 4 Volunteers-in-Parks (VIPs) on her crew, including Charlie Procknow, Anitra Winkler, Hannah Trimm, and Sam Newbury.  The team flies into the Alaska Range tomorrow, May 7, assuming weather cooperates.
NPS 7K Patrol #1
(Robinson) Ranger Roger Robinson flew into basecamp on Sunday to begin his FINAL patrol of his 40-season NPS career!  Yes, Roger retires at the end of this season, and fellow staff are frantically trying to download his 40 years of cumulative mountain (and ranger station!) wisdom.  Roger has been on basecamp set up patrol for the past decade or so, and he's decided to spend this last patrol with some of his favorites: mega volunteers Lance and Cami Taysom, along with their daughter Jena Taysom.  Roger and the Taysoms are joined by Denali backcountry ranger Nathan Ziegler.  Together, the crew will assemble the 7K camp infrastructure and communications platform.  As of blog posting time Monday, a climbing course from Alaska Pacific University (APU) was at basecamp, helping Roger and crew dig the big foundation pit for the Basecamp tent.
NPS AKR Patrol #2
(Gault/Baldwin)  Rangers Pat Gault and Travis Baldwin flew to the Ruth Gorge on Saturday, with dreams of great weather and multiple climbing objectives. We'll hear back from them in the days to come.  
Photo of the Day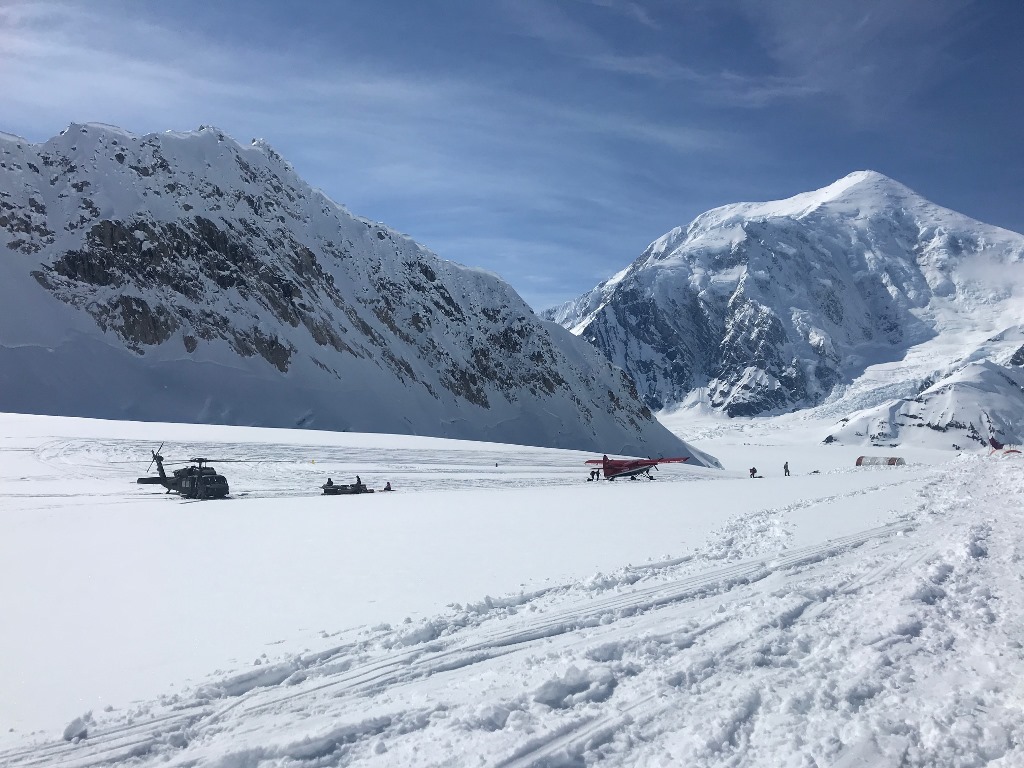 An early season view of the Southeast Fork of the Kahiltna Glacier.  In the foreground, one of several US Army Blackhawk helicopters from Fort Wainwright provided invaluable assistance with NPS camp insertion this season.  Further downglacier, an Otter drops off climbers, and further still is the roof of basecamp manager Lisa Roderick's weatherport home.  (NPS Photo / Jake Beren)