| | | |
| --- | --- | --- |
| TODAY'S STATS |     Denali     | Mt. Foraker |
| Registered Climbers | 785 | 30 |
| Climbers Currently On Mountain | 37 | 4 |
| Completed Climbs | 0 | 0 |
| Number of Summits | 0 | 0 |
| Summit Percentage | 0% | 0% |
The Walter Harper Talkeetna Ranger Station also maintains a daily automated statistics phone line, so if this blog is lagging behind and you need up-to-date registration numbers, call (907) 733-9127.
Mountain Weather

Lisa Roderick at Basecamp reported early morning fog and scattered low clouds. She had partial views of Foraker and Crosson.  By 8:45 am or so, the fog burned off to reveal a gorgeous clear day at 7K.


Weather station telemetry data from 7K and 14K are transmitted hourly to the MesoWest website, including temperatures, wind speed, wind direction, snowfall, and solar radiation.  MountainWeather.com compiles a Denali Weather page, complete with links to the MesoWest data, the NWS Denali Climbing Forecasts, as well as links to FAA webcams. 

Click here for the National Weather Service Denali Climbing Forecast

Click here for the FAA webcam on the Kahiltna Glacier. 


Ranger Reports
Give us another day or two to collect more detailed field conditions reports from the West Buttress -- but so far the general feeling is that the route is in good shape, i.e. normal conditions for this time of year.  
***
We are deeply saddened to report a tragic start to the 2021 season, as 28-year-old Mason Stansfield of Ouray, Colorado died in a crevasse fall off the Eldridge Glacier on Monday, May 3.  Stansfield, a professional guide with multiple Denali guiding seasons under his belt, was on a private trip when the fatal accident occurred.  
Link here
for more information on the incident.   
***
NPS 14K Patrol #1
 - (Beren and Bomba)  Patrol #1 is making steady progress toward 14,200 camp. Word on the street is they camped at 9,500 last night and will move to 11,000 camp today or tomorrow.   (
NPS Ranger Jake Beren, NPS Ranger Chelsea Bomba, VIP Leilani Bruntz, VIP Nadav Oakes, VIP Luke DeMuth, and VIP Dr. Charlie Duke.)
NPS AKR Patrol #1
- (Dalpes)  Mountaineering ranger Mik Dalpes and Volunteers-in-Parks (VIP) Meghan Seifert have been patrolling the Ruth Amphitheater and environs since May 1 -- contacting backcountry users, exploring the Gorge and the Amphitheater.  The team should fly out later today and we'll be sure to report about the conditions they encountered in the Ruth as well some photos.   
NPS 7K Patrol #1 -
 (Oken)  Delayed by 24 hours due to weather, Mountaineering Ranger Chrissie Oken and Volunteer-in-Parks (VIP) Samantha Aaronson flew onto the Kahiltna to set up the NPS Basecamp operations.  Once they get the phone up and operational, we hope to report more conditions reports from lower elevations.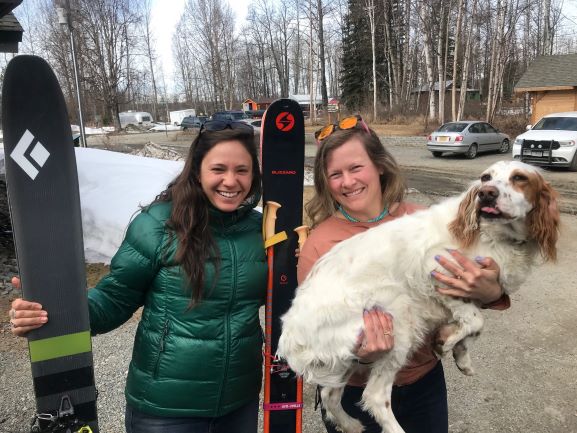 The NPS Basecamp operations will be set into motion by VIP Sam Aaronson and NPS ranger Chrissie Oken, seen here with Ody (short for Odysseus, short for 'Handsome Flight Risk')
***For more tales from the hill, check out Denali Rescue Volunteers (DRV) on Facebook and Instagram.***

Photo of the Day
 
The Sultana Bananas (on left) finish up their briefing at the Walter Harper Talkeetna Ranger Station. The all female team is the first expedition to attempt Mount Foraker this season.  (NPS Photo / Chelsie Valetta)