Though not our favorite option, this season we will be producing weekly Field Reports (as opposed to almost-daily) to provide updates from the Alaska Range.  Please tune in each week for conditions reports, statistics, images, and news from the mountains. 
| | | |
| --- | --- | --- |
| TODAY'S STATS - 6/4/21 |     Denali     | Mt. Foraker |
| Registered Climbers | 984 | 28 |
| Climbers Currently On Mountain | 487 | 12 |
| Completed Climbs | 214 | 13 |
| Number of Summits | 93 | 3 |
| Summit Percentage | 44% | 23% |
The Walter Harper Talkeetna Ranger Station also maintains an almost daily automated statistics phone line, so if this blog is lagging behind and you need up-to-date registration numbers, call (907) 733-9127.
Mountain Weather

Saturday, June 4, 8 AM InReach report from Lisa Roderick at 7K:  "morn! clear & sunny, 7 mph down glacier winds, 26 degrees!"


Weather station telemetry data from 7K and 14K are transmitted hourly to the MesoWest website, including temperatures, wind speed, wind direction, snowfall, and solar radiation.  MountainWeather.com compiles a Denali Weather page, complete with links to the MesoWest data, the NWS Denali Climbing Forecasts, as well as links to FAA webcams. 

Click here for the National Weather Service Denali Climbing Forecast

Click here for the FAA webcam on the Kahiltna Glacier. 


Ranger Reports

West Buttress / Denali conditions
Today's report from Dave at 14K:  "Conditions range from pretty firm to ice between the top of Motorcycle Hill to Windy Corner.  Good snow in 14 basin and then back to firm from the fixed lines and above.  Many teams heading up yesterday and today to try and catch the current summit weather window."
Despite the high numbers of climbers on Denali as the season peaks, it was a gratefully quiet week on the mountain. Even with a 6.1 earthquake the evening of Sunday, May 30 that set off quite a sound and sky show of avalanches around the Alaska Range. The following are the only incidents of note over the past 7 days:
After over 24 hours of treatment, the NPS evacuated a HAPE patient that arrived in 14 camp last Saturday.  The same flight evacuated a climber suffering from significant back pain.
 
A climber fell an estimated 150 yards while descending the lower Autobahn towards high camp. Three guides in high camp responded to the fallen climber, who had reportedly lost consciousness for a brief duration.  Luckily, he regained consciousness and was able return to high camp with the guides, with minimal injury.  The climber had been travelling roped with his partner, but had unclipped as they neared high camp.
 
A climber with frostbitten toes received several days of treatment from rangers at 14 camp, then he descended on his own accord to basecamp.
 
A climber developed symptoms of HAPE on descent from the summit, despite a gradual ascent and feeling strong throughout the expedition, a reminder that altitude illness can sometimes impact anybody, anytime.
NPS 14K Patrol #2
- (Erickson)  After an extra-lively patrol full of rescue-rangering and providing medical care, the team flew off the mountain on June 2.  Like ships passing in the night, they did not get a chance to overlap with Dave Weber's patrol at 14 camp.  Thank you for the long hours and great work!  
(DENA Ranger Chris Erickson, GRTE Ranger Chris Bellino, GRTE Ranger Cody Evans, VIP Chris Berdoulay, VIP Jonah Olson.)
NPS 14K Patrol #3
- (Weber)  The team spent a few extra days on the lower mountain due to a snowstorm, but eventually made it up to 14K just in time to wave goodbye to Chris Erickson as he flew off into the sunset.  So as of June 2, there's a new sheriff in town at 14 camp.  So far, so good -- a couple quiet days in camp have allowed for the patrol to get situated. 
(DENA Ranger Dave Weber, BLCA Ranger Steve Kay, GRTE Ranger Jon Politis, VIP Shane Treat, VIP Eric Robbins) 
NPS 14K Patrol #4 (Baldwin/Oken)
  Rangers Travis Baldwin and Chrissie Oken are off to the races, already pulling into 9,600-foot camp today.  The team flew into basecamp on June 2, feeling strong and taking advantage of fine weather.  Travis and Chrissie are joined by returning mountain VIP Jed Purcell; former Mount Rainier/North Cascades mountaineering ranger, first time VIP Scott Barrier; and Alaska Air National Guard Pararescuer (PJ) Chris Krebs.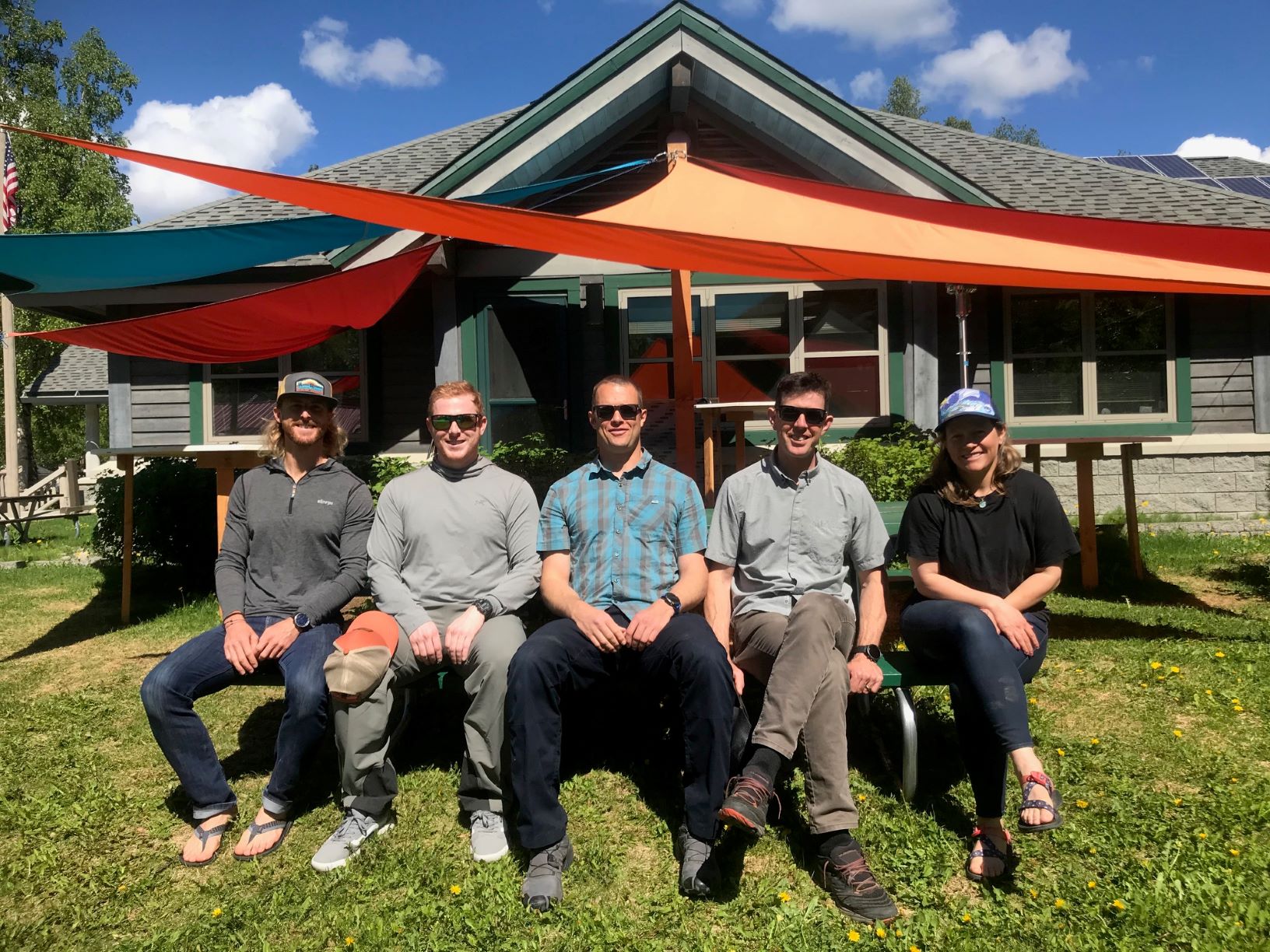 Patrol Four from left to right: Scott Barrier, Chris Krebs, Jed Purcell, Travis Baldwin, Chrissie Oken (NPS Photo)
NPS 7K Patrol #3 and #4  
Ranger
Joe and the Mock Weavers traded places with Ranger Jake Beren and his volunteer Ian Hatchett on Tuesday, June 1.  The Kahiltna Basecamp is a bustling airport this time of the season, seeing an increasing number of tired, sunburnt, but happy faces pulling into camp.
Learn more about Denali Rescue Volunteers, an organization that helps make Denali National Park and Preserve's mountaineering operations whole! Thank you for all that you do each season, from helping equipping our volunteers, housing them before and after patrols, and supporting our recruitment process! 

Photos of the Week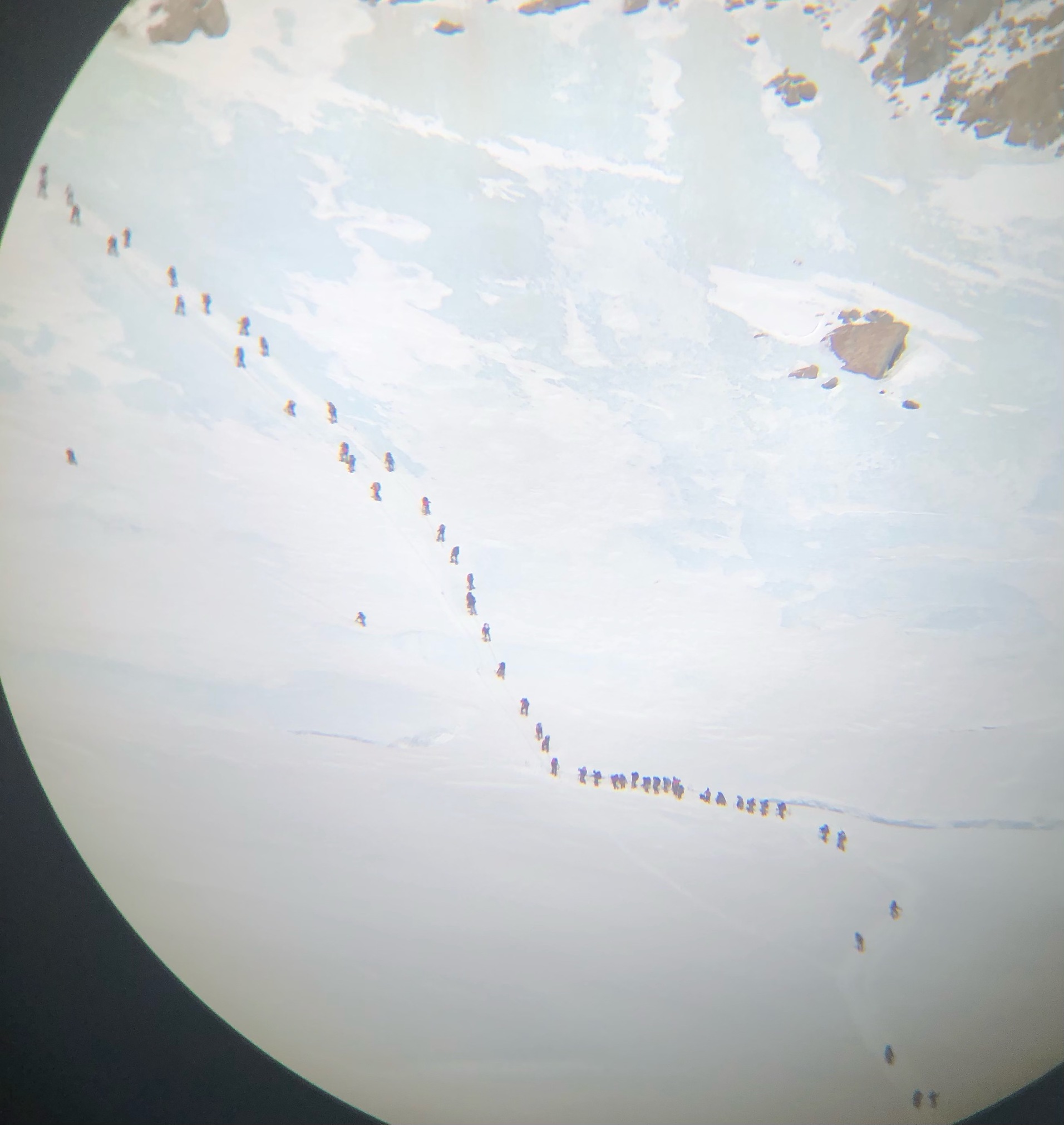 View of the fixed lines through a spotting scope from 14 camp, taken Sunday, May 30, after a several day storm.  (NPS Photo/Erickson)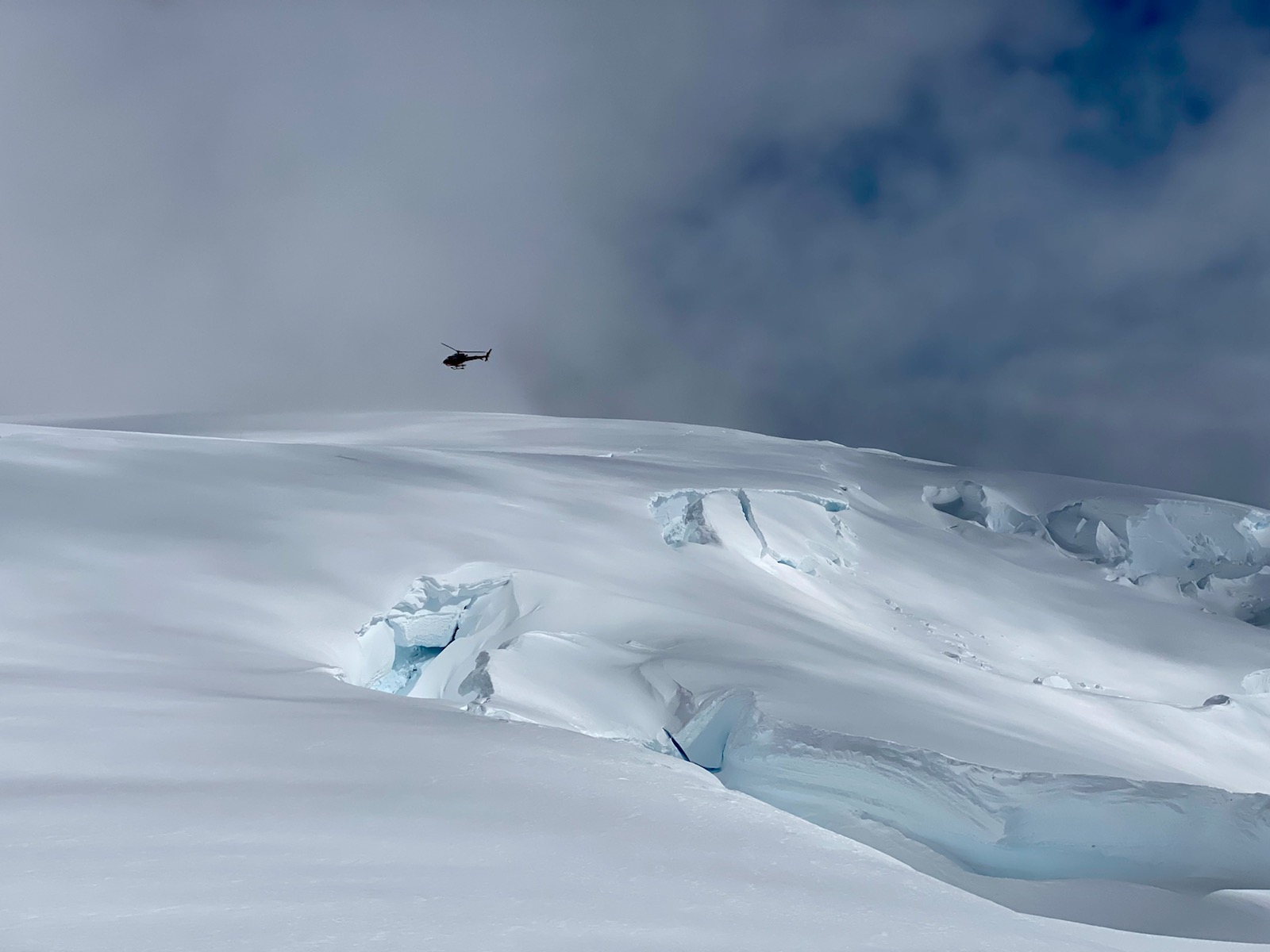 Helicopter on approach to 14 camp, as viewed from Windy Corner (NPS Photo/David Weber)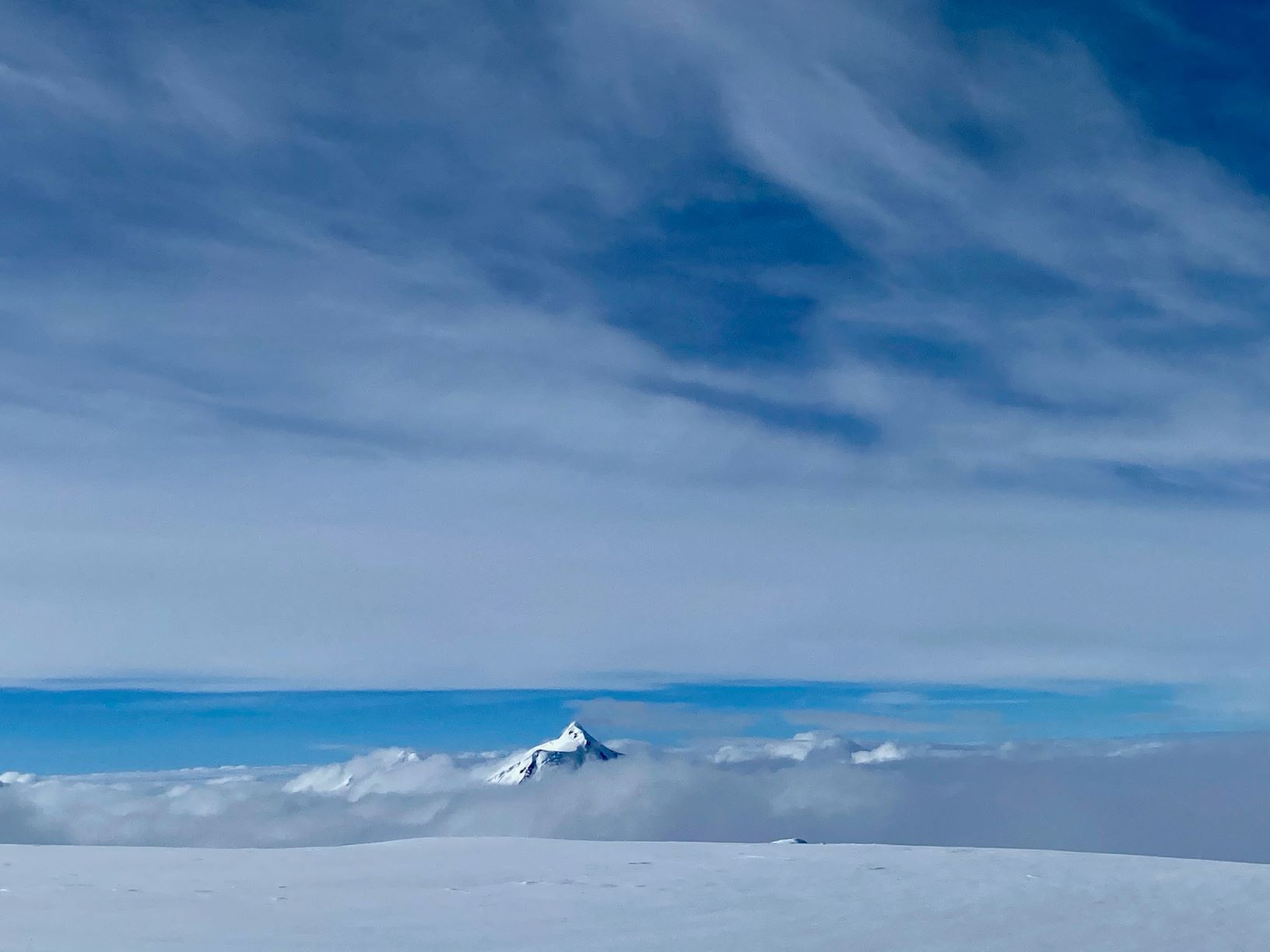 Mount Hunter peaks through the cloud layers.  (NPS Photo/David Weber)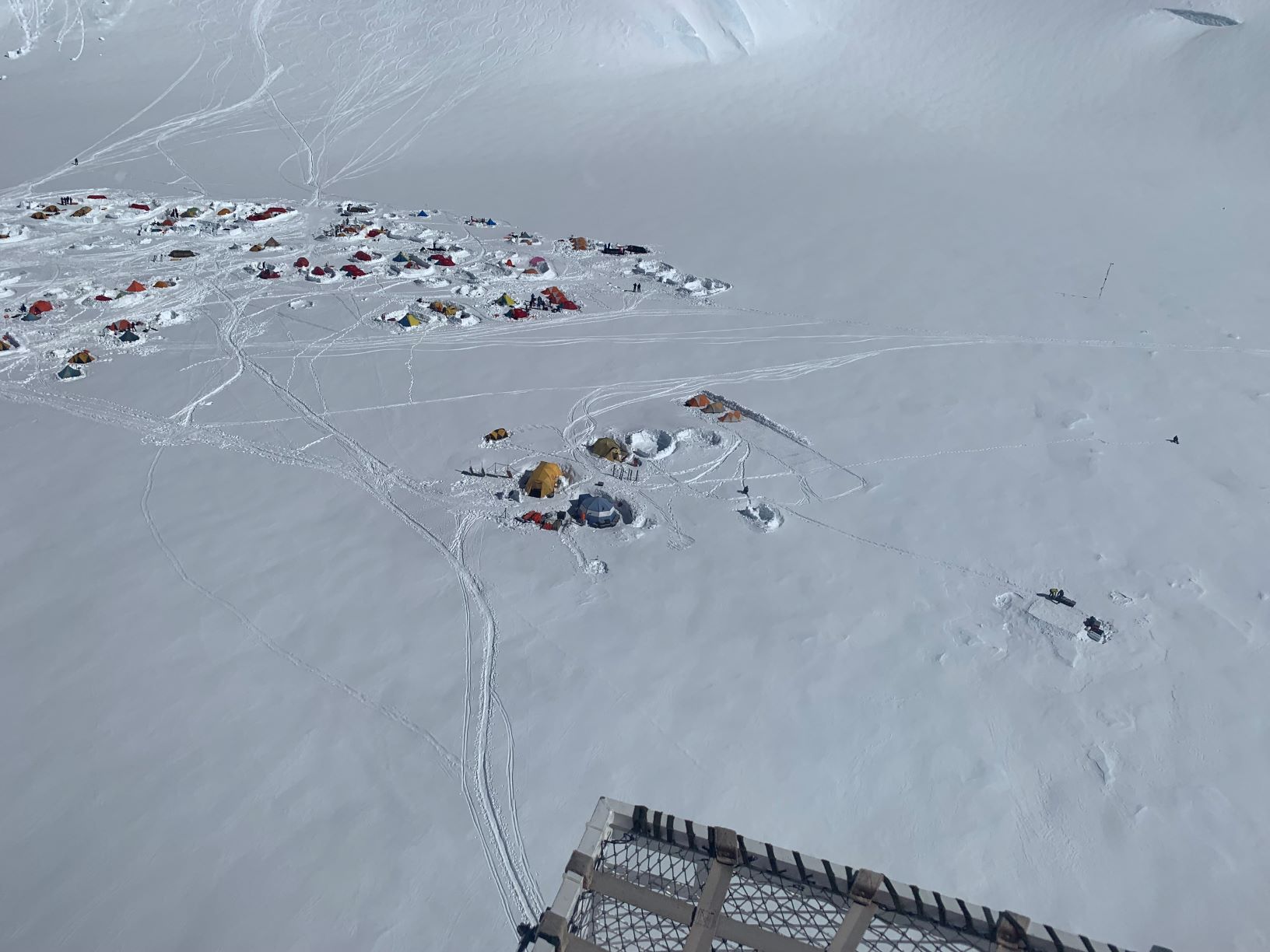 Aerial view of the 14,200-foot camp during on a routine helicopter re-supply on Saturday, June 5.  (NPS Photo/Joe Reichert)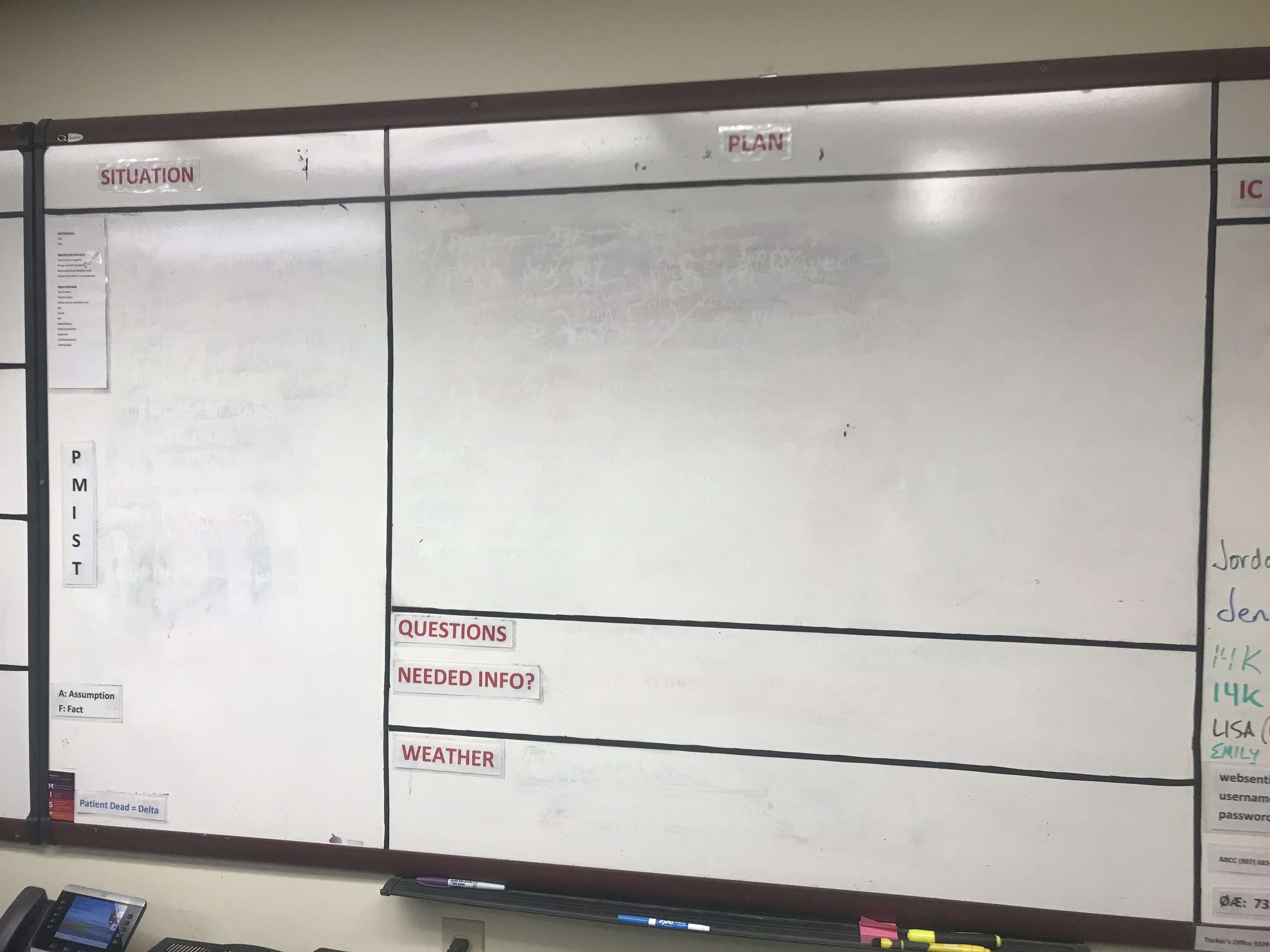 Sometimes the nicest view during the climbing season is a clean whiteboard in the Talkeetna Ranger Station's SAR Room. A clean whiteboard (even when it never gets truly clean anymore) means there are no climbers in distress. (NPS Photo)