| | | |
| --- | --- | --- |
| TODAY'S STATS |     Denali     | Mt. Foraker |
| Registered Climbers | 1,005 | 7 |
| Climbers Currently On Mountain | 564 | 1 |
| Completed Climbs | 128 | 6 |
| Number of Summits | 27 | 0 |
| Summit Percentage | 21% | 0% |
The Walter Harper Talkeetna Ranger Station also maintains a daily automated statistics phone line, so if this blog is lagging behind and you need up-to-date registration numbers, call (907) 733-9127.
Mountain Weather

Click here for today's National Weather Service Denali Climbing Forecast.  

And here for the Kahiltna webcam:  https://avcams.faa.gov/  

7,200 camp:  Lisa was sitting in a whiteout at basecamp this morning, but had recorded only trace amounts of new snow overnight. Wind was calm, with gusts of 14 mph kicking up out of the west.  
In the last 12 hours:
Current temp (8 am): -4 C (25 F)
High temp:  -4 C  (25 F)
Low temp: -6 C  (21 F)
14,200 camp:   Clear skies overhead, with some eye level clouds sitting to the south of camp. No new snow overnight, and winds were calm with gusts to 5 mph from the northeast.
In the last 12 hours:
Current temp (8 am): -22 C (-8 F)
High temp: -21 C  (-6 F)
Low temp: -24 C  (-11 F)
 
Ranger Update
 
NPS Denali (14K) Patrol #2: 
(Rgr McBrayer, VIP Desmond, VIP Martin, VIP Ramos-Leon, VIP Weinberg)  Patrol is camped at 17,200 feet, with lots of company.  Monday was a big summit day, with calm, clear conditions continuing yesterday and today. Rumor has it the patrol was heading to the summit today, barring any diversions.  
NPS Denali (14K) Patrol #3: 
(Rgr Erickson, VIP Bracher, VIP Mock, VIP Weaver)  Chris counted exactly 107 individual tents at 14 camp today, not including NPS tents. Whatever per-tent multiplier you pick, it still means its peak population time on the mountain.   
NPS Denali (14K) Patrol #4:
  (Rgr Chenoweth, NPS Loso, NPS Sykes, VIP Kreiger)  Patrol #4 arrived at 14 camp on last night after completing the installation of the weather-monitoring station 11,000 feet. They commenced digging anchors for the 14,200-foot camp weather station today, and hope the equipment is operational by Friday. Then they will head back down to basecamp to set up the weather station for 7,200 feet. 
NPS Denali (14K) Patrol #5:
  Ranger David Weber heads into the Alaska Range today with several returning Volunteers-in-Parks (Shane Treat, Jenna Malone, and Brian Scheele), one first time mountaineering volunteer (Jonathan Byers), and one Air National Guard Pararescueman (PJ) from Anchorage (Matt Kirby).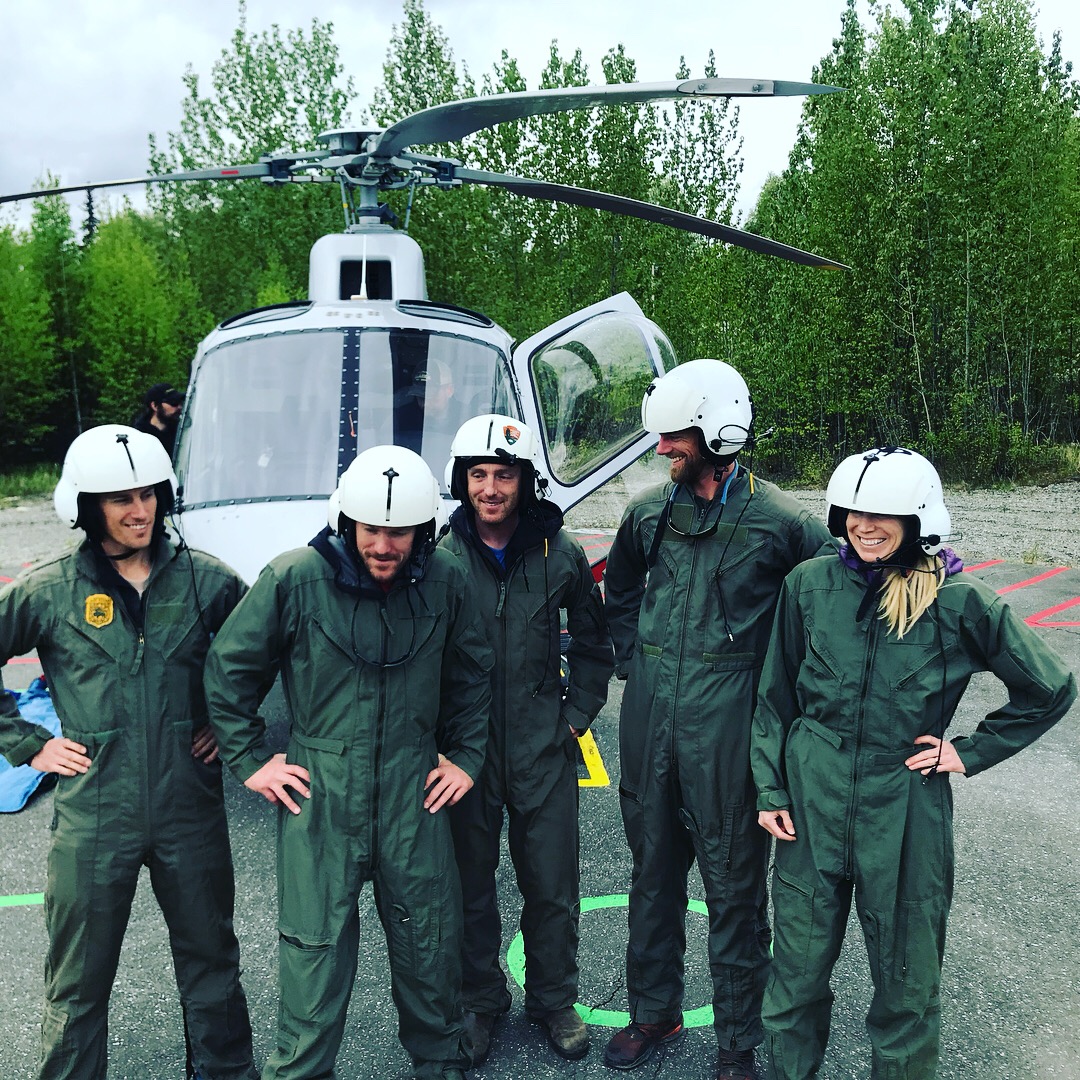 Introducing 14K Patrol #5, from left to right: PJ Matt Kirby, VIP Brian Scheele, VIP Shane Treat, VIP Jonathan Byers, VIP Jenna Malone.  NPS Photo-David Weber
NPS Basecamp (7K) Patrol #3:
  (Rgr Coady, VIP Wadsworth)  Melis and Peter are mixing it up, meeting and greeting climbers at basecamp as well as ski-patrolling the lower glacier and various approach routes.   
Route Conditions
 
Most routes on
Denali
remain in excellent travelling condition, as per recent blog entries.  Climbers are still generally moving on a day schedule.
A couple teams recently returned from climbs of the
West Ridge of Mount Hunter
in the past few days, reporting "Wonderful climb, early season conditions, lots of snow" and "deep stable snow conditions", respectively.  (One team left an excellent, detailed route description in the Conditions Report binder at the front desk.)  (May 20>28)
Bacon & Eggs
has 'solid ice. Really fun route. V threads were in." (May 2>24)
"Climbed
SW Ridge of Frances
in 13 hours. Super fun, boot pack was in." (May 2>24)
"Climbed
Kahiltna Dome via North Ridge
. Climbed to 11,000 feet, found wind loaded slopes on NW side of ridge, and wind scoured slopes on SE side of ridge.  Heavily crevassed, snow bridges are unsupported." (May 20>26)
"
Harvard Route on Mount Huntington
– Left approach unusable, right approach has a sagging snow bridge that might go soon.  Shrund challenging, pass on left below the toe of the buttress left of access couloir. Snow mostly ok, some unconsolidated, some nevé.  Rock/mixed pitches good, belays often buried. Enough snow at the nose to pitch a bivy tent.  Mixed pitch after the nose has nevé over rock, challenging.  We bailed at the junction with the West Face Couloir, solid v-threads all the way down.  Good nevé downclimb below, cross shrund down avalanche path."     
Photo of the Day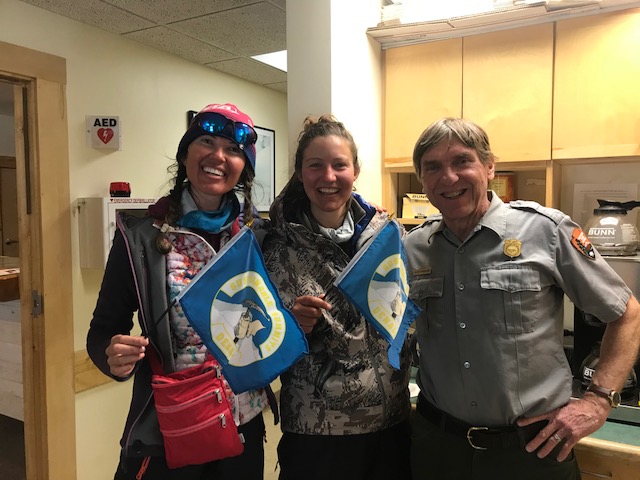 Team 'Curious Compass' members Amanda Burrill and Naomi Schware were two of the first climbers on the mountain this late April. In addition to breaking a lot of trail in deep snow on their way to the summit, they performed a full pack out of human waste, meriting the Sustainable Summits flag and words of thanks and congratulations from legendary mountaineering ranger Roger Robinson!  NPS Photo - Melis Coady.