| | | |
| --- | --- | --- |
| TODAY'S STATS |     Denali     | Mt. Foraker |
| Registered Climbers | 785 | 30 |
| Climbers Currently On Mountain | 26 | 4 |
| Completed Climbs | 0 | 0 |
| Number of Summits | 0 | 0 |
| Summit Percentage | 0% | 0% |
The Walter Harper Talkeetna Ranger Station also maintains a daily automated statistics phone line, so if this blog is lagging behind and you need up-to-date registration numbers, call (907) 733-9127.
Mountain Weather

Weather station telemetry data from 7K and 14K are transmitted hourly to the MesoWest website, including temperatures, wind speed, wind direction, snowfall, and solar radiation.  MountainWeather.com compiles a Denali Weather page, complete with links to the MesoWest data, the NWS Denali Climbing Forecasts, as well as links to FAA webcams. 

Click here for the National Weather Service Denali Climbing Forecast

Click here for the FAA webcam on the Kahiltna Glacier. 


Ranger Reports
In the first Denali rescue of the season, a climber with high altitude pulmonary edema (HAPE) was evacuated from approximately 14,200 feet on the mountain's East Buttress on Saturday, May 1.    Not to be confused with the West Buttress, the three-member team flew into the Ruth Glacier on April 26 to attempt this rarely climbed route. The teammates notified the park of the illness via InReach the morning of May 1. In clear but somewhat turbulent conditions, the park's A-Star B3e helicopter pilot Andy Hermansky and South District Ranger Tucker Chenoweth landed on a flat plateau not far from the team's location. Following evacuation and medical evaluation, the patient was released from NPS care.  
NPS 14K Patrol #1
 - (Beren and Bomba)  The first upper mountain NPS patrol of the season flew into the Kahiltna Basecamp on Saturday, May 1.  Led by NPS mountaineering rangers Jake Beren and Chelsea Bomba, the six-member team will undergo the heroic feat of breaking trail and setting up 14K camp for the season.  The team will ease their way upward in the next week or two.  All camp infrastructure is sitting in the 14K basin, waiting for the eager shovellers to arrive -- including Beren, Bomba, and four hardy Volunteers-in-Parks, seen here at the Talkeetna State Airport prior to departure.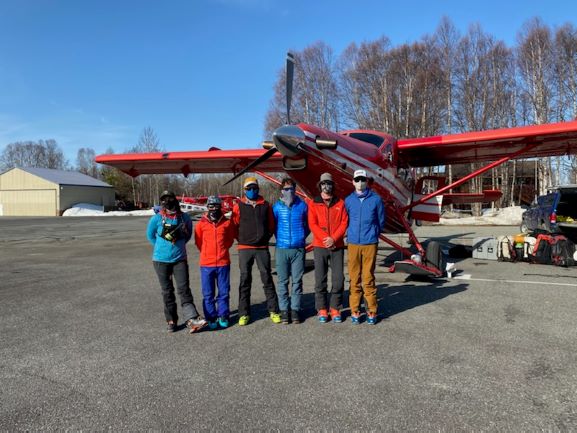 First NPS Patrol of the season consists of, from left to right, Mountaineering Ranger Chelsea Bomba, VIP Leilani Bruntz, Mountaineering Ranger Jake Beren, VIP Nadav Oakes, VIP Luke DeMuth, and VIP Dr. Charlie Duke.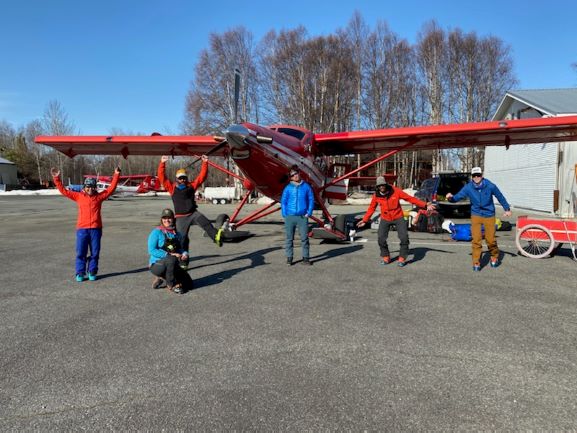 First Patrol of the season, unmasked but keeping their distance!  What's it spell?  I'm not so sure, but it must be secret code something.
NPS 7K Patrol #1 -
 (Oken)  On deck for a May 4 flight into the Kahiltna Glacier to commence setting up the NPS Basecamp operations is Mountaineering Ranger Chrissie Oken and Volunteer-in-Parks (VIP) Samantha Aaronson.  We'll introduce them in the days to come!  
***For more tales from the hill, check out Denali Rescue Volunteers (DRV) on Facebook and Instagram.***

Photo of the Day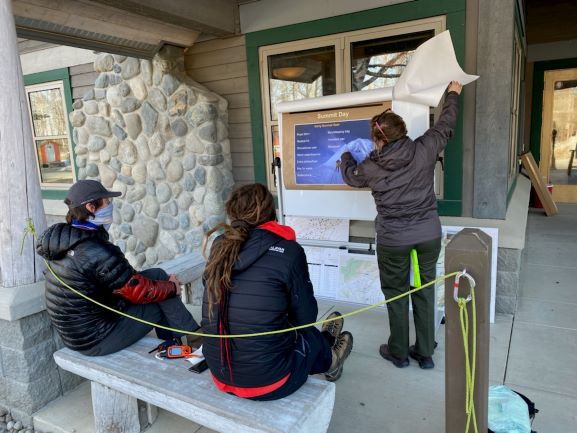 Who really wants to sit indoors and watch a Powerpoint program on a sunny day anyway? Mountaineering Ranger Chrissie Oken makes some summit day reminders to two early season climbers headed up Denali.  In 2021, COVID-19 procotols mean all climber orientations will be held out-of-doors, masked.
 (NPS Photo / Chelsie Valetta)