| | | |
| --- | --- | --- |
| TODAY'S STATS |     Denali     | Mt. Foraker |
| Registered Climbers | 1,127 | 12 |
| Climbers Currently On Mountain | 551 | 0 |
| Completed Climbs | 137 | 11 |
| Number of Summits | 27 | 0 |
| Summit Percentage | 19% | 0% |
The Walter Harper Talkeetna Ranger Station also maintains a daily automated statistics phone line, so if this blog is lagging behind and you need up-to-date registration numbers, call (907) 733-9127.
Mountain Weather

Quick rundown:  Gorgeous weather today - blue sunny skies and calm winds. 

Weather station telemetry data from 7K and 14K are transmitted hourly to the MesoWest website, including temperatures, wind speed, wind direction, snowfall, and solar radiation.  MountainWeather.com compiles a Denali Weather page, complete with links to the MesoWest data, the NWS Denali Climbing Forecasts, as well as links to FAA webcams. 

Click here for the National Weather Service Denali Climbing Forecast

Click here for the FAA webcam on the Kahiltna Glacier. 

 
Ranger Update
Denali NP staff both on the mountain and at the ranger station are mourning the loss of two Anchorage-based NPS friends with close ties to the South Distrct. NPS Regional Aviation Manager Jeff Babcock and NPS Regional Safety Officer Eric Benson have both had a big impact on the safety of our aviation and rescue program, both directly and indirectly.  Both perished on a personal cross-country flight on Monday evening.  They will be greatly missed. 
https://fireaviation.com/
NPS 14K Patrol #2
  (Coady)  Patrol #2 is down to four people as one volunteer flew out of the range yesterday, accompanying a patient with frostbite injuries.  The remaining crew went back up to high camp yesterday, and today they have their sights on the North Summit.  Estimates indicate upwards of 100+ climbers at high camp, many of whom were headed to the summit today.
NPS 14K Patrol #3 -
(Erickson/Baldwin)
The medical tent has been comparatively quiet this week, considering the numbers of climbers on the mountain. Most ailments have been minor, with the exception of the previously mentioned patient with frostbite who was evacuated from 14K yesterday. Also flown off 14K yesterday was an illegal drone that was confiscated by NPS rangers. Today, Erickson and VIP Baker ascended to high camp for extra coverage up high. Baldwin, VIP Stratman, and PJ Stieble are holding down the fort at 14,200 feet until Patrol #4 reaches camp.
NPS 14K Patrol #4
 - (Weber)  Patrol #4 left 7,800-foot camp this morning, with plans to sleep at 11,000 feet tonight. 
NPS 14K Patrol #5
- (Gault) Patrol #5 was stuck an extra day in Talkeetna town, so just flew into Basecamp yesterday, May 28.  Shortly after arrival, they mobilized, along with the two Basecamp volunteers, to assess and transport an injured skier who fell descending the Kahiltna Queen near basecamp.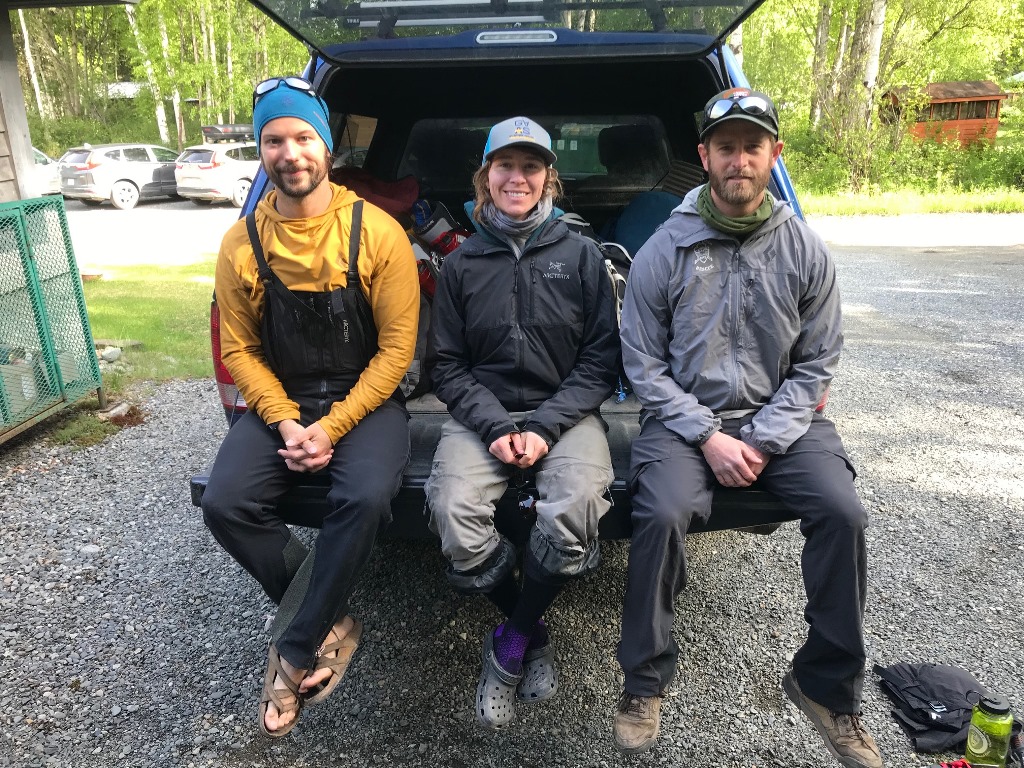 VIP Eric Wickenheiser, VIP Karsen Cullen, and NPS Ranger/Paramedic Pat Gault. (NPS Photo)
NPS 7K Patrol #4
 - (Reichert) Similar to Gault's 14K patrol, the 7K patrol spent an extra night in Talkeetna, flying into Basecamp yesterday.  Volunteers Katherine and Kirby promptly headed to the base of the Kahiltna Queen with Gault's patrol, assisting in the ground tranpsort of a fallen skier. The injured skier was later flown from Basecamp to Talkeetna in the park helicopter.  

Photo of the Day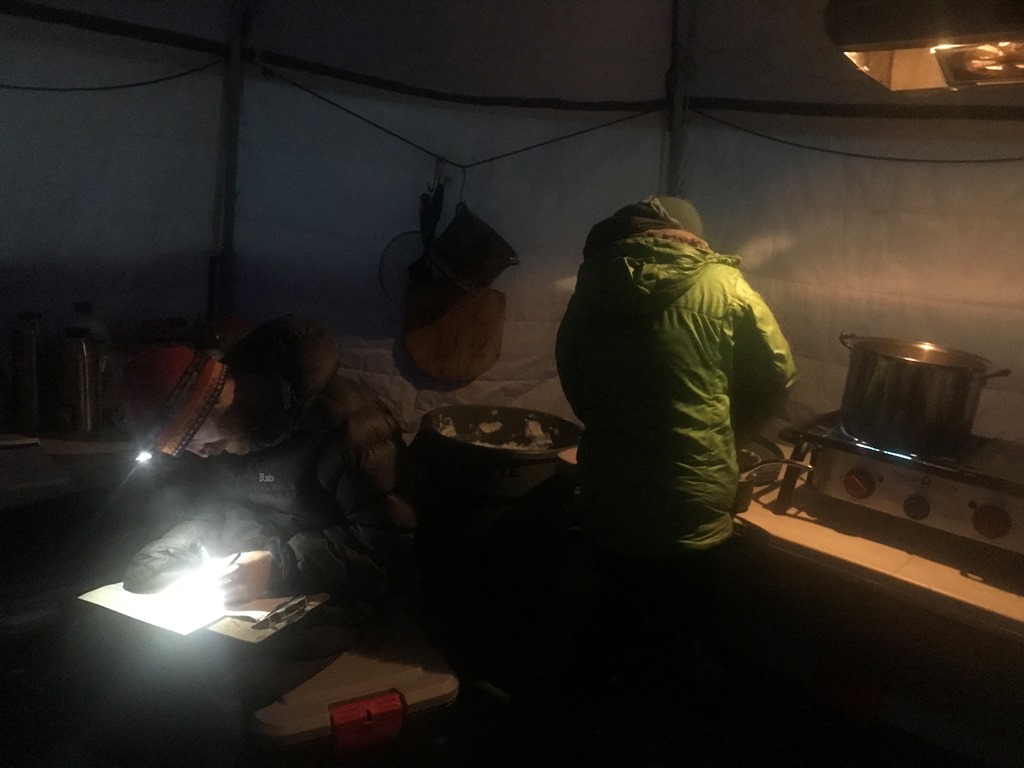 Two NPS volunteers working a night shift last week...one prepares patient care documentation while the other warms a bag of IV fluids.  NPS Photo / Melis Coady