| | | |
| --- | --- | --- |
| TODAY'S STATS |     Denali     | Mt. Foraker |
| Registered Climbers | 997 | 9 |
| Climbers Currently On Mountain | 525 | 3 |
| Completed Climbs | 86 | 6 |
| Number of Summits | 19 | 0 |
| Summit Percentage | 22% | 0% |
The Walter Harper Talkeetna Ranger Station also maintains a daily automated statistics phone line, so if this blog is lagging behind and you need up-to-date registration numbers, call (907) 733-9127.
Mountain Weather

Click here for today's National Weather Service Denali Climbing Forecast.  

The Kahiltna webcam is working:  https://avcams.faa.gov/  The Ruth webcam is unlikely to be operational this spring/summer season.

7,200 camp:  There were a few clouds in the sky this morning, but all mountains were visible. Wind was blowing out of the east at 6 mph with gusts to 14 mph out of the northeast. No new snow.
 
In the last 12 hours:
Current temp (8 am): -4 C (25 F)
High temp:  -1 C  (30 F)
Low temp: -7 C  (19 F)
14,200 camp:   Clear skies, wind out of the west at 3 mph out of the northeast, with a maximum wind speed of 5 mph.  A trace of snow was recorded overnight.
In the last 12 hours:
Current temp (8 am): -24 C (-11 F)
High temp: -20 C  (-4 F)
Low temp: -24 C  (-11 F)
 
Ranger Update
 
NPS Denali (14K) Patrol #2:
  (Rgr McBrayer, VIP Desmond, VIP Martin, VIP Ramos-Leon, VIP Weinberg)  The patrol is now camped at the 17,200-foot camp.  Today they were going to Denali Pass to assess the pickets on the Autobahn, and perhaps climb higher if the opportunity presented itself.
NPS Denali (14K) Patrol #3: 
(Rgr Erickson, VIP Bracher, VIP Mock, VIP Weaver)  Chris Erickson's patrol is holding down the fort at 14,200-feet, in view of 'tons' of climbers moving up and down the fixed lines.
NPS Denali (14K) Patrol #4:
  (Rgr Chenoweth, NPS Loso, NPS Sykes, VIP Kreiger)  The patrol is currently camped at 11,000 feet.  
NPS Basecamp (7K) Patrol #2: 
 (Rgr Reichert, Rgr Gault, VIP Cooper, VIP Glaser)  Joe and the two volunteers flew off the mountain yesterday, after finally enjoying several days of glorious weather.  
NPS Basecamp (7K) Patrol #3: 
 Ranger Melis Coady and Volunteer Peter Wadsworth flew into basecamp yesterday. Melis and Joe (ranger from Patrol #2) spent a beautiful Sunday afternoon completing 'Typical Terrain' training with helicopter pilot Andy Hermansky, practicing short-haul hook-ups and transports on several peaks in and around basecamp.   
Route Conditions
 
Denali route conditions are reported as "stellar".  Down low, the trail is well-wanded and snow bridges are strong. A few days of snow has covered up much of the blue ice, lending to easier, safer travel both around Windy Corner and at higher elevations.  Pickets on the Autobahn are now plentiful, with placement at most every 60 meters, thanks to the first wave of independent climbers and guides who filled in any gaps in coverage.    
Photo of the Day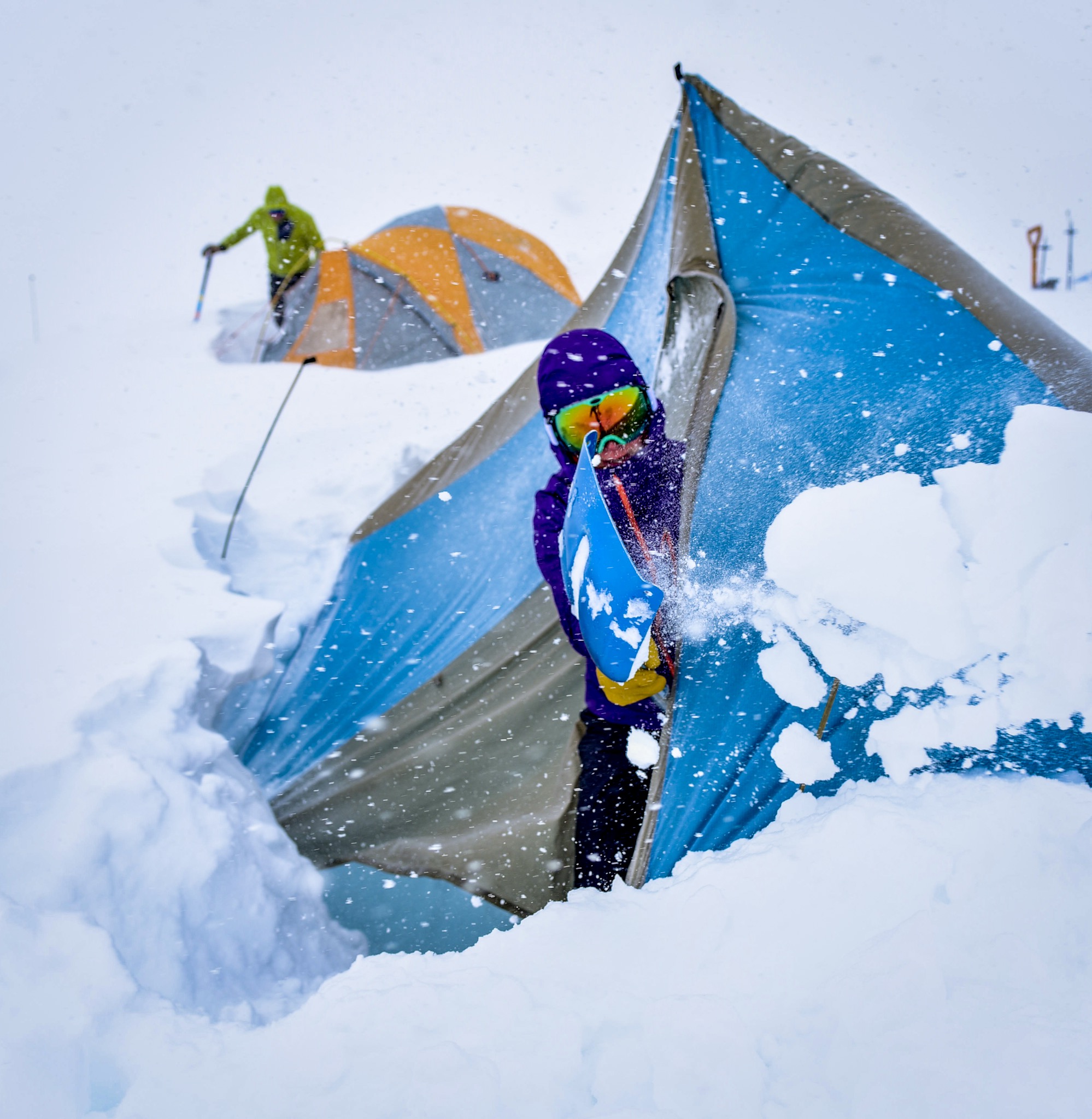 Climber Kate Rutherford digs deep at 7,800 feet during one of the heavy snowstorms of early May.  Photo courtesy of Mark Postle.