| | | |
| --- | --- | --- |
| TODAY'S STATS |     Denali     | Mt. Foraker |
| Registered Climbers | 1,100 | 12 |
| Climbers Currently On Mountain | 518 | 0 |
| Completed Climbs | 112 | 11 |
| Number of Summits | 9 | 0 |
| Summit Percentage | 8% | 0% |
The Walter Harper Talkeetna Ranger Station also maintains a daily automated statistics phone line, so if this blog is lagging behind and you need up-to-date registration numbers, call (907) 733-9127.
Mountain Weather

Quick rundown:  Today is "nicer than it has been, but still not flyable."  Its been snowing and blowing the last day and a half, but as of today at 14K, it was just blowing, i.e. clear but gusty.  Down at Basecamp, they are are shoveling out the 4" to 6" of snow they got overnight. Visibility still limited.

Weather station telemetry data from 7K and 14K are transmitted hourly to the MesoWest website, including temperatures, wind speed, wind direction, snowfall, and solar radiation.  MountainWeather.com compiles a Denali Weather page, complete with links to the MesoWest data, the NWS Denali Climbing Forecasts, as well as links to FAA webcams. 

Click here for the National Weather Service Denali Climbing Forecast

Click here for the FAA webcam on the Kahiltna Glacier. 

 
Route Conditions
 
Patrol #2 reports the Autobahn is good shape, with pickets in place.  
Ranger Update
NPS 14K Patrol #2
  (Coady)  Melis' patrol is spent a couple nights at high camp, but descended to 14K camp on Saturday afternoon due to the forecast of strong winds, along with most of high camp. Which proved helpful, in light of the general liveliness at 14K.   
NPS 14K Patrol #3 -
(Erickson/Baldwin)
Patrol #3 had a busy weekend at 14K, hosting over 200 climbers in camp during the recent snow and wind storm. The general vibe around camp is that teams are feeling pinned and anxious for good weather to ascend to high camp. The patrol assessed a handful of minor ailments/injuries at the medical tent, plus they tended to one climber with moderate frostbite to 9 fingers following a long summit day push.  The rangers and volunteers also dealt with a couple climbers who needed a place to stay after their tent was damaged by snow walls that collapsed under strong winds on the 16K ridge.  Last but definitely not least, rangers at 14K, 7K, and back home in Talkeetna were also exasperated to lose two nights sleep to 3 separate false alarm InReach activations in a 24 hour period. More to come on that topic...
NPS 14K Patrol #4
 - (Weber)  Patrol #4 spent the whole weekend at Basecamp, which proved helpful from a communications perspective as NPS is still troubleshooting 14K telephone issues. Considering the numbers on the mountain now, as well as the snow and wind, having reliable (and redundant) communications between Talkeetna and the mountain camps is critical.  (The phone works at 7K, but very spotty at 14K...but help is reportedly on its way.)  Dave and his crew will head up the trail later today, as both Patrol #5 and a Basecamp patrol take over.
NPS 14K Patrol #5
- (Gault) Patrol #5 is a small but mighty one.  Ranger Pat Gault is joined by two volunteers, Karsen Cullen and Eric Wickenheiser, both of Anchorage.  If weather cooperates, they will fly to Basecamp today, and move up the mountain fairly close on the heels of Patrol #4, providing additional NPS resources during the busiest period of the season.
NPS 7K Patrol #4
 - (Reichert) Ranger Joe Reichert, who already popped into 7K for a couple unscheduled days last week for better basecamp coverage, is heading back in for his 'scheduled' patrol, along with returning VIPs Kirby Senden and Katherine Cooper.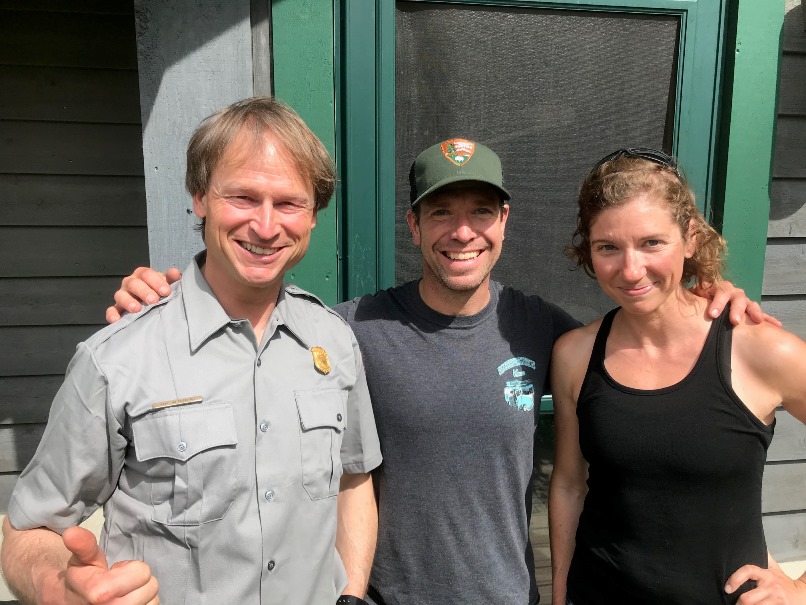 Ranger Joe Reichert, VIP Kirby Senden, and VIP Katherine Cooper  (NPS Photo)

Photo of the Day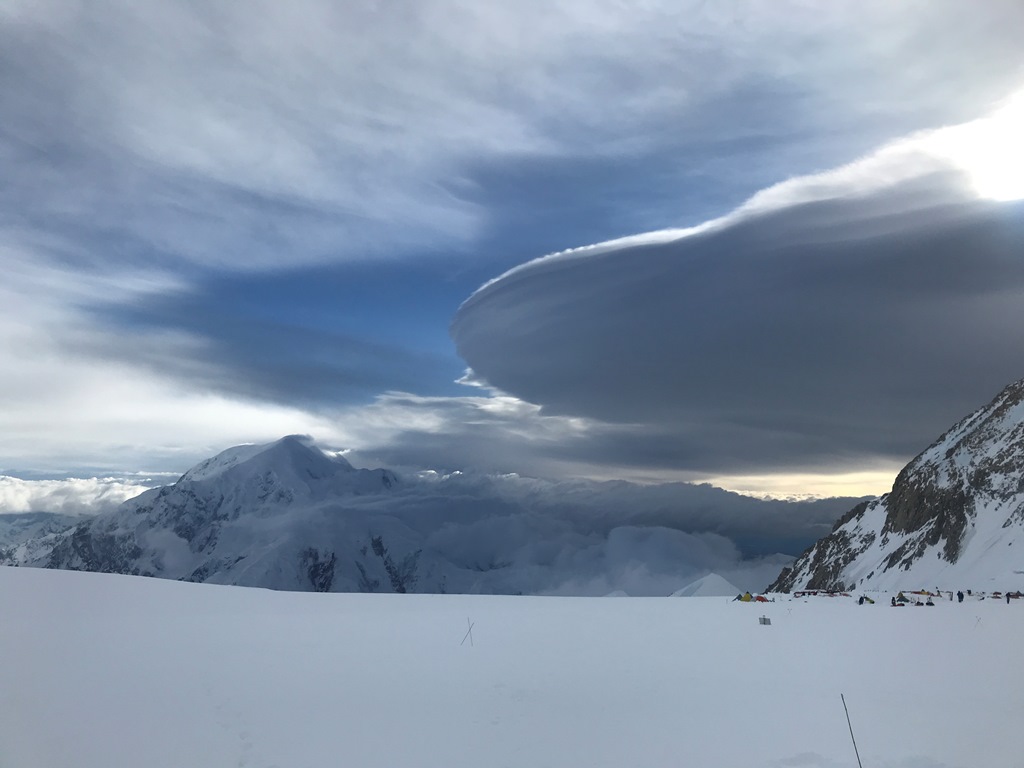 A cold front meets a warm front over the 14,200-foot camp. Don't need to be a meteorologist to know that the weather is about to change.  (NPS Photo / Melis Coady)