| | | |
| --- | --- | --- |
| TODAY'S STATS | Mt. McKinley | Mt. Foraker |
| Registered Climbers | 944 | 11 |
| Climbers Currently On Mountain | 445 | 3 |
| Completed Climbs | 56 | 4 |
| Number of Summits | 1 | 4 |
| Summit Percentage | 2% | 100% |

The Walter Harper Talkeetna Ranger Station also maintains a daily automated statistics phone line, so if this blog is lagging behind and you need up-to-date registration numbers, call (907) 733-9127. 

Weather Report
14,200 feet - Teams camped at 14,200-feet spent the weekend in a blizzardy whiteout, with heavy drifting and blowing snow.  The weather observations log for Saturday and Sunday indicated wind gusts peaking at 52 mph at 14K camp, with a storm total of 33 cm of new snow.  As of this morning (Monday), the snowfall had stopped, visibility was good, and winds at 14K had subsided, though it still appeared windy higher on the mountain.  
In the last 12 hours, 
Current temp:  1 F (-17 C)
Low temp: -2 F (-19 C) 
High temp: 5 F (-15 C)   
7,200 feet - Basecamp also experienced considerable winds this past weekend, with peak gusts of 36 mph from the northeast.  They accumulated a total of 2 to 3 cm of wet snow.  This morning, skies were overcast and light snow was falling.  Visbility was limited. 
In the last 12 hours at 7,200-feet:
Current temp: 30 (-1 C)
Low temp: 27 F (-3 C)
High temp: 30 F (-1 C)


National Weather Service forecast  

Ranger Update
NPS Denali Patrol #1 (Erickson, Westman, 2 PJ's, 4 VIPs) are packing to descend the mountain today, and fly out tomorrow.       
NPS Denali Patrol #2 (Shain + 3 VIPs) are at 14,200-foot camp.  Ranger Shain and VIP Sue Wolff will attempt to make a day trip to high camp today if winds higher on the ridge cooperate.  An estimated 100 to 150 climbers spent the stormy weekend at 14,200-feet.  The couple of teams that tried to go higher, all returned to camp due to high winds or snow.  Many teams were expected to head down the mountain today. 
NPS Denali Patrol #3 (Weber, 2 PJ's, 2 VIPs) camped at 11,000 feet last night, and were planning to ascend past Windy Corner up to the 14,200-foot camp today.
NPS Basecamp Patrol #2 (Reichert + 2 VIPs) will fly out tomorrow, swapping positions with ranger Dan Corn and one VIP.
The recovery mission for deceased climber Javier Callupan remains on hold until both ground and helicopter crews can safely work at 17,200-feet.

Route Conditions
> A portion of the trail was re-routed at Windy Corner. Climbers are advised to follow the wanded lower trail. This more direct route has fewer crevasses and avoids more of the rockfall zone. Nevertheless, climbers are cautioned there still are many crevasses in the vicinity of Windy Corner this season.
> The fixed lines on the Headwall are in good shape, and a few pickets were reportedly in place on the traverse to Denali Pass, although very few teams have made it that high this season.
Photo of the Day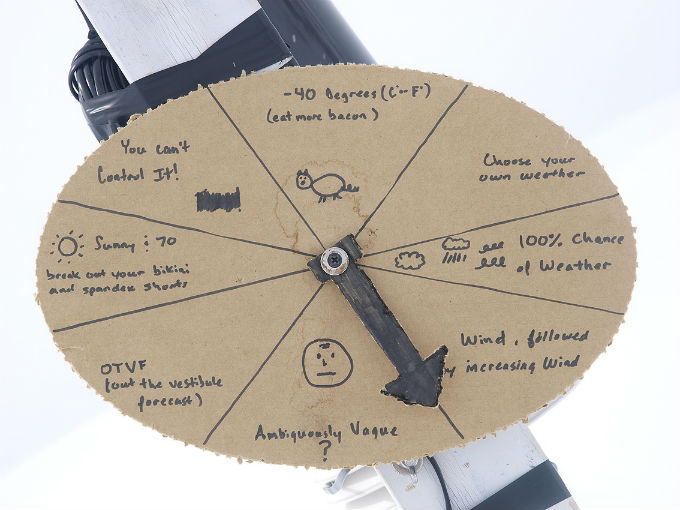 Forecasting weather on Mt. McKinley has always been a very difficult task, as indicated by this high-tech weather station found at 14,200-foot camp several years ago.  This season, the forecast has been consistently set to "Wind, followed by increasing wind".  (Photo courtesy of Menno Boermans.)