| | | |
| --- | --- | --- |
| TODAY'S STATS |     Denali     | Mt. Foraker |
| Registered Climbers | 958 | 9 |
| Climbers Currently On Mountain | 447 | 2 |
| Completed Climbs | 41 | 6 |
| Number of Summits | 2 | 0 |
| Summit Percentage | 5% | 0% |
The Walter Harper Talkeetna Ranger Station also maintains a daily automated statistics phone line, so if this blog is lagging behind and you need up-to-date registration numbers, call (907) 733-9127.
Mountain Weather

Click here for today's National Weather Service Denali Climbing Forecast.  

The Kahiltna webcam should now be working!  Give it whirl:  https://avcams.faa.gov/  The Ruth webcam, which was in beta testing mode the past two seasons, will need to be re-located; it is unlikely to be operational this spring/summer season.

7,200 camp:  Clear skies as far as the eye could see from Basecamp.  Winds were 2 mph out of the east, with gusts to 14 mph out of the south.  No new snow fell overnight, but through yesterday afternoon, the snow accumulation from the past several days of precipitation totalled 10 cm. 
 
In the last 12 hours:
Current temp (8 am): -8 C (17 F)
High temp:  -8 C  (17 F)
Low temp: -11 C  (12 F)
14,200 camp:   Gorgeous clear, cold day.  Although Joey can see plumes off the 16,200-foot ridge, winds were calm at 14K camp this morning, with high winds speed only at 4 mph out of the northeast.  Camp received 5 cm of new snow in the past 24 hours. 
In the last 12 hours:
Current temp (8 am): -24 C (-11 F)
High temp: -22 C  (-7 F)
Low temp: -26 C  (-15 F)
 
Ranger Update
 
NPS Denali (14K) Patrol #1:
  The crew just landed in Talkeetna after a job well done!
NPS Denali (14K) Patrol #2:
  (Rgr McBrayer, VIP Desmond, VIP Martin, VIP Ramos-Leon, VIP Weinberg)  Patrol has had a few back-to-back med patients in camp over the past several days. Today a couple VIPs took a day trip up the fixed lines, as that appears to be where all the action is: McBrayer estimates at least 15 rope teams headed up the ridge today.  Lots more expected to arrive at 14K from the lower mountain.  
NPS Denali (14K) Patrol #3: 
(Rgr Erickson, VIP Bracher, VIP Mock, VIP Weaver)  Erickson and crew are moving up today as well, they should be rounding Windy Corner and making it into 14K camp by the late afternoon.
NPS Denali (14K) Patrol #4:
  This 'mini' 2-week patrol headed into Basecamp today.  South District Ranger Tucker Chenoweth is joined by mountaineering ranger Jake Beren, NPS scientists Michael Loso and John Sykes, and returning VIP and nurse Korinne Krieger. In addition to providing additional ranger coverage during the busiest weeks on the mountain, this team will be installing three weather stations between Basecamp and 14 camp.  If all goes according to plan, these solar powered telemetry units will record temperature, windspeed, snow depth, and relative humidity. The goal is to provide a live feed of weather observations that can be accessed online by the public, NPS, and the science community.
NPS Basecamp (7K) Patrol #2: 
 (Rgr Reichert, Rgr Gault, VIP Cooper, VIP Glaser)  Ranger Pat Gault flew out of Basecamp today with 14K Patrol #1.  Joe and the two volunteers will remain in camp until Sunday.
Its Project Day!  With no search and rescues in progress, and great flying conditions at lower and mid-mountain elevations, several projects are underway: working with the FAA to put the finishing touches on the Kahiltna webcam; staging weather telemetry equipment on the lower and mid-mountain; clearing ice buildup off the Crosson Radio Repeater; and shuttling the Denali NP soundscape scientist to/from sound monitoring sites on the south side of the Alaska Range. Quite the flow chart: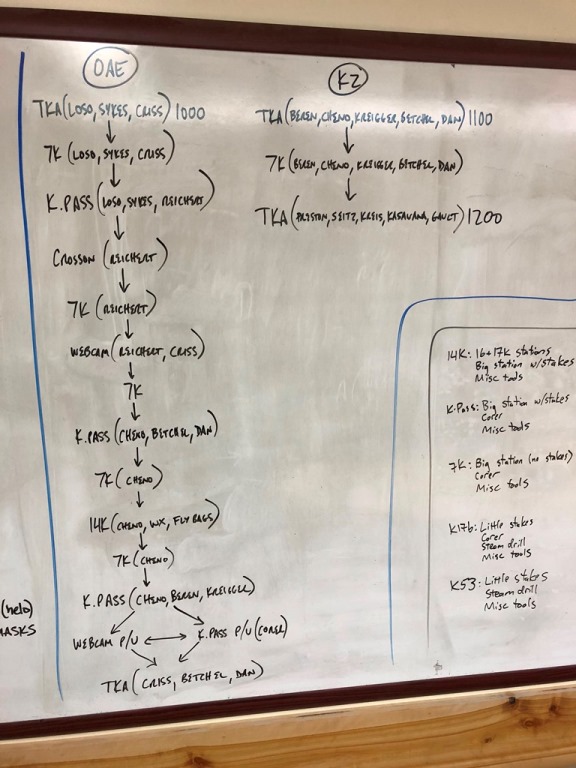 Route Conditions
 
Denali - At long last, a few teams are checking back at the Ranger Station today with summit tales. Denali route conditions are reported as "stellar".  Down low, the trail is well-wanded and snow bridges are strong. A few days of snow has covered up much of the blue ice, lending to easier, safer travel both around Windy Corner and at higher elevations.  Pickets on the Autobahn are now plentiful, with placement at most every 60 meters, thanks to the first wave of independent climbers and guides who filled in any gaps in coverage.    
Photo of the Day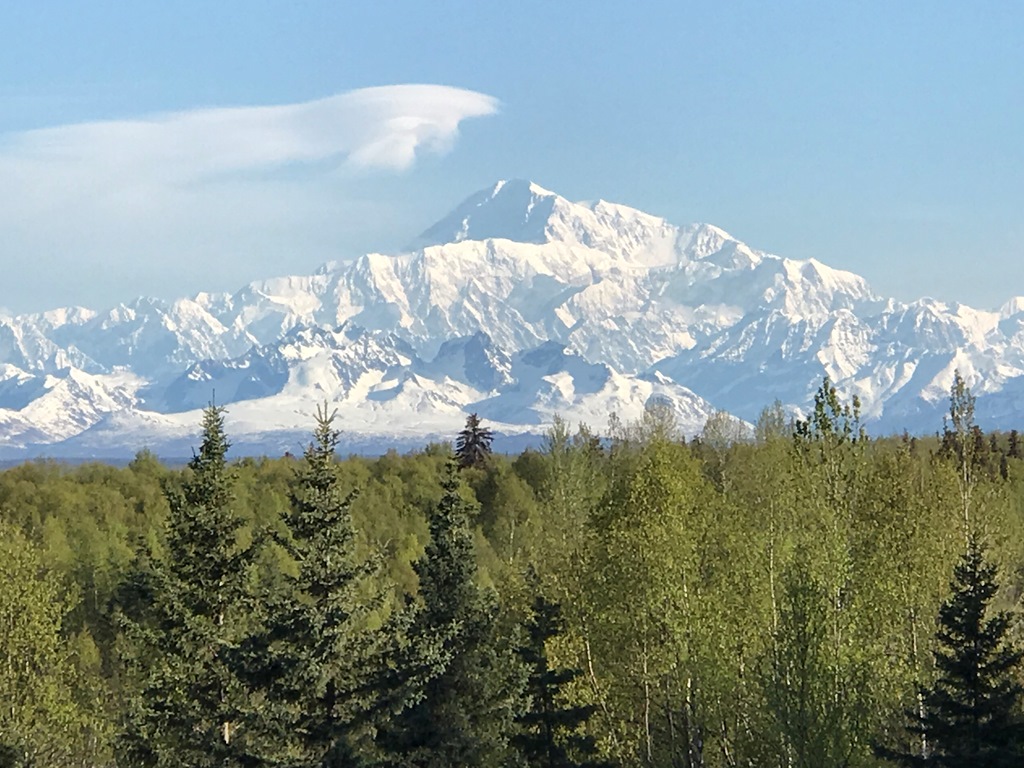 May 25, 8:00 am. The valley has finally turned green and the clouds shrouding Denali have lifted.  (NPS Photo-Gualtieri)