| | | |
| --- | --- | --- |
| TODAY'S STATS |     Denali     | Mt. Foraker |
| Registered Climbers | 949 | 9 |
| Climbers Currently On Mountain | 398 | 2 |
| Completed Climbs | 38 | 6 |
| Number of Summits | 2 | 0 |
| Summit Percentage | 5% | 0% |
The Walter Harper Talkeetna Ranger Station also maintains a daily automated statistics phone line, so if this blog is lagging behind and you need up-to-date registration numbers, call (907) 733-9127.
Mountain Weather

Click here for today's National Weather Service Denali Climbing Forecast.  

The Kahiltna webcam is now in place and will be operational shortly.  The Ruth webcam, which was in beta testing mode the past two seasons, will need to be re-located and re-tested; it is unlikely to be operational this spring/summer season.

7,200 camp:  :  Allison reports broken skies with a cloud ceiling at 14,000 feet.  Winds were generally calm, with occasional gusts to 9 mph out of the southwest.  Basecamp received a trace of new snow overnight.
In the last 12 hours:
Current temp (8 am): -4 C (25 F)
High temp:  -3 C  (27 F)
Low temp: -5 C  (23 F)

14,200 camp:   Clouds were scattered at 8 am today, with a cloud layer estimated at 13,000 feet. Similar to basecamp, winds were calm, but with gusts to 5 mph out of northeast.  No new snow.
In the last 12 hours:
Current temp (8 am): -21 C (-6 F)
High temp: -19 C  (-2 F)
Low temp: -22 C  (-8 F)
 
Ranger Update
 
NPS Denali (14K) Patrol #1:
  (Rgr Preston, Grand Teton Rgr Kreis, VIP Seitz, VIP Kasavana).  Preston, Kreis, and VIP Martin (from Patrol #2) were planning to climb the Upper West Rib today.
NPS Denali (14K) Patrol #2:
  (Rgr McBrayer, VIP Desmond, VIP Martin, VIP Ramos-Leon, VIP Weinberg)  Joey McBrayer in camp today, resting after the flurry of rescue activity, though several members of his patrol were acclimatizing on a day trip to 17K today. He reports between 6 to 12 climbers camped up at 17K last night, with another dozen or so headed up today in great conditions.  They haven't heard of any summits yet, but it was possible some occurred yesterday.
NPS Denali (14K) Patrol #3: 
(Rgr Erickson, VIP Bracher, VIP Mock, VIP Weaver) Following their rescue work on Sunday and Monday, Patrol #3 moved up to 7,800-foot camp on Monday night, then 9,800-foot camp on Tuesday night. Today they woke up at 9,800 feet, and may head to 11 camp tonight.
NPS Basecamp (7K) Patrol #2: 
 (Rgr Reichert, Rgr Gault, VIP Cooper, VIP Glaser)     
Route Conditions
 
West Buttress - Although no NPS patrol has gone above 17K as of this morning, they've received reports that the traverse to Denali Pass is in good shape in terms of picket placement and condition.  The fixed lines are now completely ice fee and in good shape. The 'poop crevasse' at 14,200 feet has been identified and marked. 
Mount Hunter North Buttress/Deprivation (May 20) "Climbed to first ice band (~ 1500 feet) in great conditions. The crux was very 'sheesy' (sp ?)  Steep unprotected snice climbing. Very little exposed rock."
Ruth Gorge (May 20)  "Ruth Gorge still snowing, snow conditions seem pretty bad, lots of avalanches and snow is getting heavy."
Ruth Gorge (May 9-16) "Ruth Gorge rained (.25 to .5 inch) on 5/10-11, followed by heavy wet snow. No re-freeze. Wet loose, wet slabs. Glide avalanches observed.
Little Switzerland (May 18) "Lots of snow this past four weeks ~6 meters. Be careful with avalanche and hiding crevasses, a lot in Italy's Boots and a few at bottoms of every mountain, but you can avoid them (except for Italy's Boots). Be careful south in the afternoon.  
Photo of the Day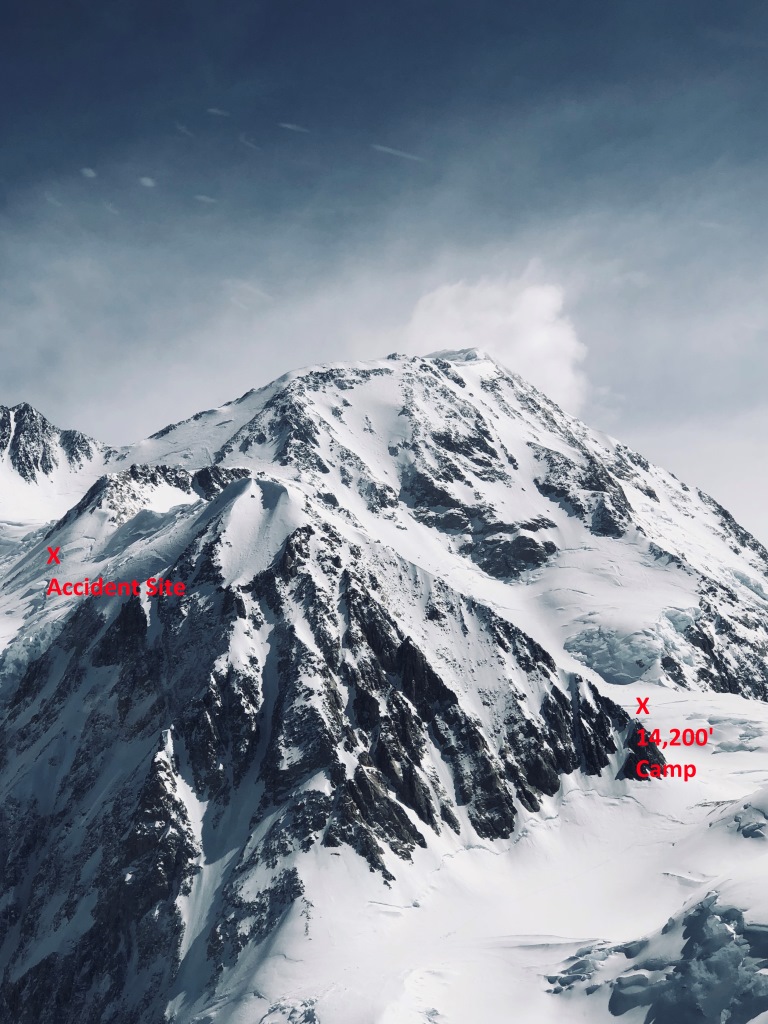 This image shows the location of Sunday's climbing fall relative to the 14,200 foot camp and the summit of Denali.  See Field Report, May 21 for more information.  (NPS Photo - David Weber)