| | | |
| --- | --- | --- |
| TODAY'S STATS |     Denali     | Mt. Foraker |
| Registered Climbers | 1,076 | 12 |
| Climbers Currently On Mountain | 390 | 6 |
| Completed Climbs | 48 | 5 |
| Number of Summits | 2 | 0 |
| Summit Percentage | 0% | 0% |
The Walter Harper Talkeetna Ranger Station also maintains a daily automated statistics phone line, so if this blog is lagging behind and you need up-to-date registration numbers, call (907) 733-9127.
Mountain Weather

Quick rundown:  Gorgeous skies, but definitely one of the windiest days this season with gusts at 14K clocked at 36 mph.  A big fat lenticular cloud is perched on the summit.

Weather station telemetry data from 7K and 14K are transmitted hourly to the MesoWest website, including temperatures, wind speed, wind direction, snowfall, and solar radiation.  MountainWeather.com compiles a Denali Weather page, complete with links to the MesoWest data, the NWS Denali Climbing Forecasts, as well as links to FAA webcams. 

Click here for the National Weather Service Denali Climbing Forecast

Click here for the FAA webcam on the Kahiltna Glacier. 

 
Route Conditions
 
Denali - West Buttress
Windy Corner still in challenging shape -- icy and exposed. Lots of crevasse falls and self-rescue at 13,200 feet.  
Upper mountain in good shape. Snowy. Fixed lines are out and in good shape. Rangers say the bergschrund's two steps are pretty straightforward to negotiate this year. 
Rumors abound that the first (and only) two summits of the year were recorded by two young Alaskans yesterday, but we won't count them here until the climbers come by and check back at the ranger station.  
And in other parts of the range...
Mount Huntington - West Face Couloir
(5/17 - 5/18, reported by Michael Levy and Quinton Burrows) "Bottom snow apron had constant fresh snow over the week before we climbed.  Got firmer higher up, but not by much. Crossed first rockband through a narrow WI3 couloir in the center. Very nice ice there and in the couloir proper.  Good v-threads to be had. Very cold!  Truned around about half way up the couloir. Downclimbed everything below base of couloir - firmer at night."
Ham & Eggs
(5/17)  "Ice missing from pitch 3 and A4 crux, deep snow on approach."
(5/17)  "Shin deep snow and avy debris on approach from last weeks new snow. Ice is on its way out, but climbable.  Did Pitch 7 ice crux - overhanging and _____.  Pitch 13 & 14 knee deep and a lot of work. Overall good conditions for late in year."
(5/18)  "Route in generally good condition, some wallowing on the higher pitches. On crux ice it is starting to disappear and would be hard to climb. Rock alternate route was difficult to located. Good route overall. Rappell routes are fantastic." (at least I think it says fantastic...)
Root Canal Glacier
(5/17, reported by Glciers Gone Wild) "We camped slightly upslope and our pilot urged other parties to camp farther back from the airstrip. (see: Route Alerts binder @ ranger station) due to potenial hazard of serace fall. Some crevasses started opening up, but still good snow cover."
Dan Beard
(left sometime ~ 5/17) "Heavy snow conditions, triggered 400 x 3 ft slab avalache from the second col that swept the valley. Turned around from there."
Moonflower Buttress - Deprivation
(5/18)  "Deep snow on the glacier. Hard to cross the bergshrund.  Hard thin ice on the under section. The crux pitch looks so difficult because of the very thin ice, so we escaped to the right side. After that was easy but the snow was so deep.  And the second day the weather got worse. We turned from 3rd band."  
Ranger Update
NPS 14K Patrol #1
(Preston)  Patrol #1 is glad they descended to 14 camp yesterday, as it is howling enough there today. High camp would have been brutal, and all are relieved that no teams are up high.  Frank and his VIPs will descend to basecamp tonight, with possible departure to Talkeetna tomorrow or the next day. 
NPS 14K Patrol #2
  (Coady)  Melis and crew spent the day building what's locally known as "Okonek-quality windwalls" around the NPS tents to protect from the current wind event.  The team, along with patrol #1, assisted a helicopter evacuation from 14K last evening of a climber-skier who suffered a dislocated hip. 
NPS 14K Patrol #3 -
(Erickson/Baldwin)
Patrol 3 will camp at 11,000 feet for the third night in a row. 
NPS 7K Patrol #3
- (Chenoweth)  Tucker, Mike, and Lia have been working on the basecamp weather station, adding some height to the 7K unit, as well as some additional instrumentation. They hope to do the same at 14K if weather allows, but that isn't looking likely in these winds.  
Photo(s) of the Day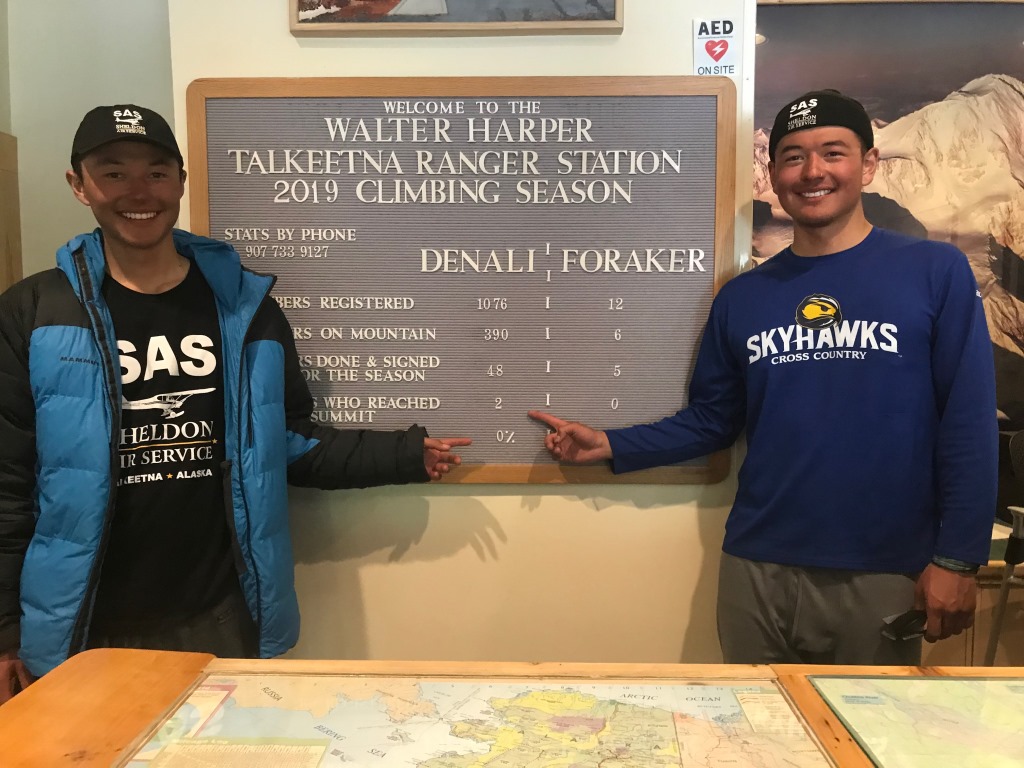 Wilson and Oliver Hoogendorn of Nome, Alaska were the first two -- and so far the only two -- mountaineers to reach the summit of Denali this climbing season.  The brothers (age 20 and 21, respectively) began their West Buttress climb on May 5.  They reached the summit on Sunday, May 19, and returned to Talkeetna today.  (NPS Photo / Geoff Pfeiffer)  
Wilson and Oliver Hoogendorn of Nome, Alaska are the first of the season to stand on top of the highest peak in North America.  Photo courtesy of the Hoogendorn brothers.