| | | |
| --- | --- | --- |
| TODAY'S STATS |     Denali     | Mt. Foraker |
| Registered Climbers | 934 | 9 |
| Climbers Currently On Mountain | 339 | 2 |
| Completed Climbs | 37 | 6 |
| Number of Summits | 2 | 0 |
| Summit Percentage | 5% | 0% |
The Walter Harper Talkeetna Ranger Station also maintains a daily automated statistics phone line, so if this blog is lagging behind and you need up-to-date registration numbers, call (907) 733-9127.
Mountain Weather

Click here for today's National Weather Service Denali Climbing Forecast.  

We realize we've been saying 'any day now' for a long time, but the Kahiltna webcam still awaits cooperative weather window for installation.  The Ruth webcam installation will follow if conditions permit.

7,200 camp:  :  Allison Groenleer is sitting in as basecamp manager for a week, allowing Lisa Roderick to take hot showers and watch the green leaves bud down in Talkeetna.  Allison reports a cloud ceiling at 13,000 feet this morning. Wind was 7 mph out of the east, gusting to 16 mh out of the southeast. There has been no new snow in the past day or two.
In the last 12 hours:
Current temp (8 am): -6 C (21 F)
High temp:  -4 C  (25 F)
Low temp: -9 C  (16 F)

14,200 camp:   Clouds were scattered, winds were generally calm at 8:00 am this morning, though gusts to 26 mph out of the southeast were observed. No new snow.
In the last 12 hours:
Current temp (8 am): -17 C (1 F)
High temp: -17 C  (1 F)
Low temp: -21 C  (-6 F)
 
Ranger Update
 
NPS Denali (14K) Patrol #1:
  (Rgr Preston, Grand Teton Rgr Kreis, VIP Seitz, VIP Kasavana).  Last few days the patrol worked on the fixed lines, which are now completely ice free from top to bottom.  They identified and mark the deep crevasse for human waste  at 14 camp.  Ranger Travis Baldwin, who will be going back up on patrol at the end of the season, flew off the mountain Sunday morning as scheduled. And then last evening, all rangers and VIPs were involved in the rescue incident noted below.  All rangers and volunteers and emergency-hired personnel demonstrated exceptional teamwork and judgement during the SAR, whether on ground rescue teams, patient assessment, or hauling gear. 
NPS Denali (14K) Patrol #2:
  (Rgr McBrayer, VIP Desmond, VIP Martin, VIP Ramos-Leon, VIP Weinberg)  The patrol was on a day trip up the fixed lines yesterday when a climbing party fell down to the Peters Glacier. Both last night and today, the full team helped pull off a challenging, but successful rescue.
NPS Denali (14K) Patrol #3: 
(Rgr Erickson, VIP Bracher, VIP Mock, VIP Weaver) Finally made it into the Alaska Range on Sunday morning, a couple days late. They weren't in camp long when two rescue events unfurled, one on the Mini-Moonflower near basecamp, and one up high on Denali.  Together with the personnel on BC Patrol #2, who likewise just flew in yesterday, they assisted in field and operational direction for the Mini-Moonflower rescue, and all three VIPs were members of the ground rescue team to the base of the route.  Today Chris remained in camp to facilitate the short-haul rescue and evac from the Peters Glacier, while the VIPs practiced crevasse rescue skills above basecamp.
NPS Basecamp (7K) Patrol #2: 
Rangers Joe Reichert and Pat Gault flew into basecamp with volunteers Katherine Cooper and Sarah Glaser.  Similar to 14K Patrol #3, not long after settling into camp, they oversaw BC operations for an evacuation of an injured climber on the Mini Moonflower. Today they remained in camp to facilitate the rescue and evacuation of the injured climber up on the West Buttress.   
Search and Rescue Activity
 
Evacuation - Broken Arm (May 20):  A party of two was hit by falling rock and ice debris while rappelling the Mini-Moonflower climbing route, located on a sub-peak of Mount Hunter.  Despite the fact one of the climbers suffered a broken upper arm, the pair was able to descend to the base of the route on their own.  The injured climber was evacuated to Talkeetna via helicopter and transferred to a ground ambulance for further care.
Short-haul and evacuation – Multiple traumatic injuries  (May 20-21):  A party of two was ascending the West Buttress route on Denali when they fell off the narrow ridge near 16,500 feet down to the Peters Glacier.  Although team was roped together, they were not clipped into any fixed protection.  The fall was witnessed by a guided party, who reported seeing one of the two climbers self-arresting or at least slowing the speed of the fall.  The witnesses immediately contacted the NPS to initiate a rescue.  Members of an NPS ranger patrol responded, but when they arrived at the fall site, visibility had deteriorated and winds picked up.  The patrol returned to the 14,200-foot camp to gather a larger rescue team and technical rescue equipment.  In the early morning hours of May 21, one of the two fallen climbers was spotted descending the fixed lines slowly. After assisting him into camp, the rangers learned that his partner was reportedly stable and awaiting rescue in a large, well-marked crevasse at approximately 15,800 feet on the Peters Glacier side of the ridge, but she was in considerable pain and could not safely ascend or descend.  That morning, multiple ground teams ascended the fixed lines to the ridge, and then descended to her location in the crevasse on the Peters Glacier.  At the same time, the NPS helicopter pilot flew to the site with a short-haul line and a rescue harness.  Rangers and volunteer medics on the ground crew assessed her and then rigged for the short-haul flight to the 14,200-foot camp.  There she was re-assessed and loaded in the helicopter for evacuation to Talkeetna, where she was transferred to a LifeMed air ambulance for further evaluation of head and back injuries.
Route Conditions
 
West Buttress - As mentioned above, the fixed lines are now completely ice fee and in good shape. The 'poop crevasse' at 14,200 feet has been identified and marked.
Mount Hunter North Buttress/Deprivation (May 20) "Climbed to first ice band (~ 1500 feet) in great conditions. The crux was very 'sheesy' (sp ?)  Steep unprotected snice climbing. Very little exposed rock."
Ruth Gorge (May 20)  "Ruth Gorge still snowing, snow conditions seem pretty bad, lots of avalanches and snow is getting heavy."
Ruth Gorge (May 9-16) "Ruth Gorge rained (.25 to .5 inch) on 5/10-11, followed by heavy wet snow. No re-freeze. Wet loose, wet slabs. Glide avalanches observed.
Little Switzerland (May 18) "Lots of snow this past four weeks ~6 meters. Be careful with avalanche and hiding crevasses, a lot in Italy's Boots and a few at bottoms of every mountain, but you can avoid them (except for Italy's Boots). Be careful south in the afternoon.  
Photo of the Day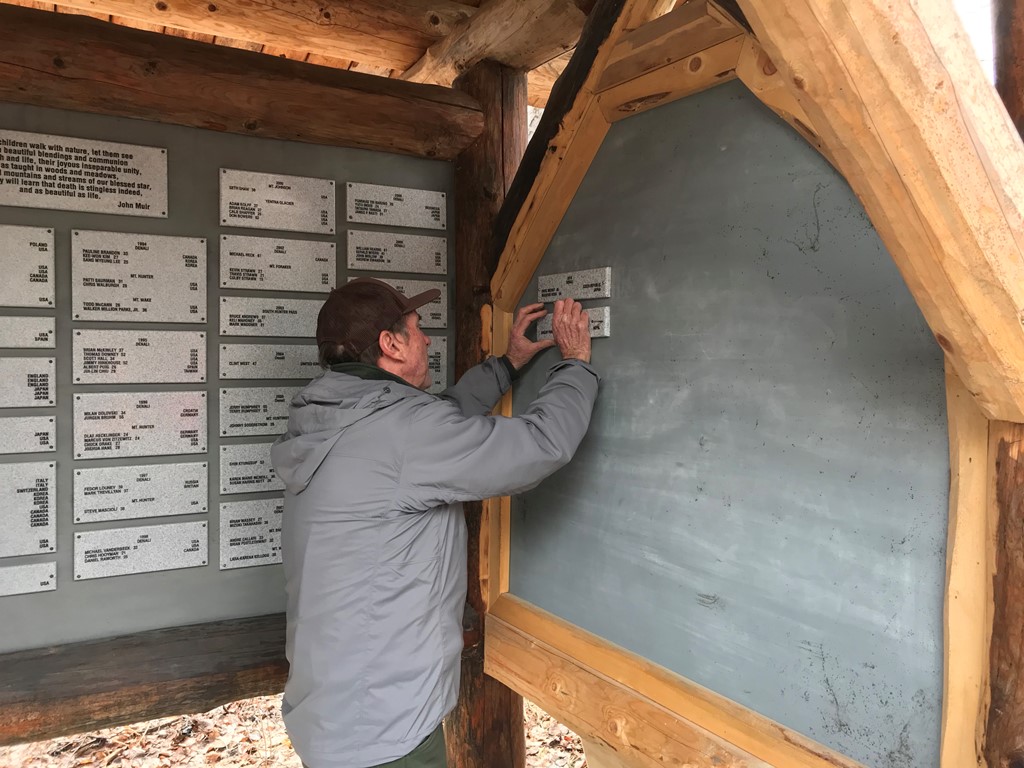 Ranger Roger Robinson affixes a placard on the Climbers Memorial at the Talkeetna Cemetery last week during a small ceremony.  Always a sobering event, the names of climbers who died in the mountains the prior season are added to the memorial wall. This season we honored the memory of Sanjay Pandit, a Nepalese climber who died of HAPE/HACE on Denali in June 2017.  (NPS Photo-Geoff Pfeiffer)