| | | |
| --- | --- | --- |
| TODAY'S STATS | Mt. McKinley | Mt. Foraker |
| Registered Climbers | 928 | 11 |
| Climbers Currently On Mountain | 341 | 0 |
| Completed Climbs | 19 | 4 |
| Number of Summits | 1 | 4 |
| Summit Percentage | 5% | 100% |

The Walter Harper Talkeetna Ranger Station also maintains a daily automated statistics phone line, so if this blog is lagging behind and you need up-to-date registration numbers, call (907) 733-9127. 

Weather Report
14,200 feet- A few high wispy clouds over camp today, but rangers can see a lenticular building over the summit.  They received 2 cm of snow yesterday, but no precipitation overnight.  Wind has been gradually building since 8 am, with occasional gusts to 18 mph from the southeast. 
In the last 12 hours, 
Current temp:  10 F (-12 C)
Low temp: 7 F (-14 C) 
High temp: 10 F (-12 C)   
7,200 feet - Lisa at Basecamp reports scattered clouds this morning, with winds of 7 mph from the east, gusting to 11 mph.  They received no snow yesterday, nor overnight.  With the above-freezing daytime temperatures, ranger Roger Robinson estimated that Basecamp was losing approximately one inch of snowpack per day due to melt and/or compacting of snow.
In the last 12 hours at 7,200-feet:
Current temp: 25 (-4 C)
Low temp: 23 F (-5 C)
High temp: 34 F (1 C)


National Weather Service forecast  

Ranger Update
NPS Denali Patrol #1 (Erickson, Westman, 2 PJ's, 4 VIPs)   As of a few minutes ago, the patrol is reconsidering a trip to high camp today due to steadily building winds.  This long stretch of strong wind and blowing snow at high elevations has turned around most expeditions so far this season, as well as delayed the high camp recovery mission for deceased climber Javier Callupan.     
NPS Denali Patrol #2 (Shain + 3 VIPs) is now positioned at 14,200-foot camp.  Patrol #2 confirm that Windy Corner is 'more cracked up' than usual.  
NPS Denali Patrol #3 (Weber, 2 PJ's, 2 VIPs) began their ascent of the West Buttress today.
NPS Basecamp Patrol #2 (Reichert + 2 VIPs) are settling into their first full day of patrol duties at 7,200-feet. 


****************


A heads-up from front desk staff:  This season, the park is strongly encouraging climbers to remove all human waste from the basecamp airstrips throughout the Alaska Range, i.e. the Kahiltna, Ruth, Eldridge, and Little Switzerland.  While historically, climbers have crevassed a portion of this waste, all of it should fly out this season in CMCs.


When you check in please be ready for an increased number of CMCs for your group to accommodate this removal policy. 

Climbers are reminded to put their used CMCs in a plastic or biodegradable bag for the flight out of the Range.  (#keeptheairplanesclean  -- just kidding!)
****************

Route Conditions
> Reports have come in from independent teams that there are a few pickets in place on the traverse to Denali Pass.
> High winds have scoured areas of the mountain, with more blue ice appearing below Windy Corner and on the Headwall.
> The fixed lines on the Headwall have been excavated and are now considered in good shape; 
> An above average number of crevasses to negotiate around Windy Corner this season;
> The trail this year goes high into the rockfall area between Windy Corner and 14,200-feet; and 
> As always, climbers should be aware of avalanche potential throughout the Alaska Range, particularly in light of recent and pending snow and wind.  See past Field Reports for more info.


Photo of the Day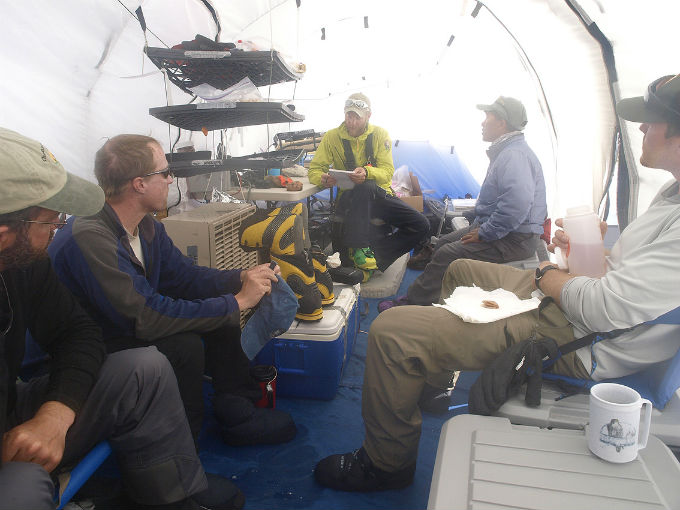 Here is a glimpse of what the 14,200-foot camp Communications Tent normally looks like as an NPS patrol plans their day.  Although this morning, up to 12 rangers, PJs, and VIPs were vying for a seat, as two patrols temporarily overlap as Patrol #1 awaits a weather window to move up the mountain.   (Photo courtesy for VIP Menno Boermans)