| | | |
| --- | --- | --- |
| TODAY'S STATS - 5/18/22 |     Denali     | Mt. Foraker |
| Registered Climbers | 1,110 | 17 |
| Climbers Currently On Mountain | 335 | 9 |
| Completed Climbs | 18 | 0 |
| Number of Summits | 0 | 0 |
| Summit Percentage | 0% | 0% |
The Walter Harper Talkeetna Ranger Station also maintains an almost daily automated statistics phone line, so if this blog is lagging behind and you need up-to-date registration numbers, call (907) 733-9127.

Although we have heard rumors of at least 4 summits of Denali last week, those teams are still out enjoying the mountains and have yet to check back in with Talkeetna Ranger Station staff.

Its getting a little quieter out there.  As of May 20, there are 24 registered backcountry users exploring the Alaska Range:
4 in Upper Kahiltna
13 in the Upper Ruth
2 on Mount Hunter
3 on the Tokositna Glacier
2 in Little Switzerland

Mountain Weather

Friday, May 20: Gabby Faurot at basecamp reports "severe clear here! light down glacier winds, 32degrees!"  

Weather station telemetry data from 7K and 14K are transmitted hourly to the MesoWest website, including temperatures, wind speed, wind direction, snowfall, and solar radiation.  MountainWeather.com compiles a Denali Weather page, complete with links to the MesoWest data, the NWS Denali Climbing Forecasts, as well as links to FAA webcams. 

Click here for the National Weather Service Denali Climbing Forecast

The FAA webcam on the Kahiltna Glacier -- Almost operational, still troubleshooting some internet connectivity issues. 

Conditions Reports

Heads up climbers, the snow on the lower Kahiltna has entered into it's seasonal transitional phase.  We are seeing temperatures above freezing for the first time at basecamp in the late afternoon (36 F 2C at 6pm) and freezing temperatures at night and into mid morning.   When the snowpack enters this phase the snow bridges covering crevasses are difficult to detect and become weak in the late afternoon evening.  Be diligent with your rope work, probe your camp sites and establish marked safe areas when unroped.     ~Tucker Chenoweth, South District Ranger

Other route observations from a bit further up the hill:
Ranger Chrissie Oken reports that Windy Corner and Squirrel Hill are in good shape, with nice bucket steps.
Rangers Alan and Galen report the fixed lines on the headwall are now 'good to go'.  Sections of damaged or worn rope have been replaced, both on the up and the down.

Continued COVID Caution

Still hearing plenty of reports of COVID in and around Talkeetna, Denali NP rangers strongly encourage preventative measures to ensure climbers don't contract the virus before their flight into the Alaska Range.  These measures include the CDC recommendations of staying up-to-date on vaccinations and boosters; wearing a mask when indoors; social distancing when possible; and washing hands frequently.
These precautions are especially important in the two weeks before your expedition start date and during your time in Talkeetna! You have likely invested a great deal of money, time, and energy into planning this expedition. Don't let COVID-19 ruin that investment.

COVID testing is available daily in downtown Talkeetna by the non-profit partner Denali Education Center (click for more info), however testing does not take the place of prevention.  The virus, particularly with the current variants, is not always detectable in asymptomatic individuals.

Search and Rescue 
 
In follow up to the May 18 news release regarding the fatal crevasse fall at the base of Mount Hunter, an NPS patrol team was successful in recovering the body of the deceased Japanese climber on Thursday, May 19. 

Ranger Reports
NPS 14K Patrol #1 (Dossin, Davis)  
Ranger Alan and VIPs Mary and Quinton moved up to high camp on Wednesday, May 18. Today, they are taking advantage of calm winds and heading towards the summit.  Ranger Galen and VIPs Chris and Auri are still at 14,200-foot camp, but intend to move up to high camp tomorrow, when Alan and team head down. 
NPS 14K Patrol #2 (Oken)
  Chrissie and her four VIPs made it to the 14,200-foot camp on Wednesday, May 18.  The last two days they have soaked in Galen's camp orientation seminar and have set to work fine tuning camp communications.
NPS 14K Patrol #3 (Baldwin/Ramos-Leon)
  Yesterday, all five patrol members were shuttled via helo to the crevasse fall accident site with speciality rigging equipment.  The team was able to successfully recover the remains of the deceased climber a rescue tripod.  First thing this morning, the team packed up camp and is moving up to the 7,800-foot camp.    
Denali Rescue Volunteers
We hope most climbers will have the pleasure of meeting Steve Mock, the president of Denali Rescue Volunteers, this season.  If not, they will surely feel his impact, whether they know it or not.  Steve has been a Denali mountaineering volunteer almost every season since 2014, including three 14K patrols and three 7K patrols. 
This season Steve arrived two weeks early for the NPS basecamp patrol he is leading, and he is never at rest.  Steve is spending every afternoon and evening giving interpretive programs about Denali mountaineering to guests at the McKinley Princess Wilderness Lodge, donating all proceeds to Denali Rescue Volunteers.  And then every morning, he drives down to Talkeetna and helps rangers with the orientation schedule, leading expedition check-ins for outbound teams. All the while, he helps further the DRV cause with maintaining new merchandise options, now available for sale at the Walter Harper Talkeetna Ranger Station through Alaska Geographic.  His tireless efforts help make the Denali VIP experience easier for both the volunteers and the National Park Service…and in turn, the overall climbing experience on Denali. 
Steve's other claims to fame include 10 years as Director of the Khumbu Climbing Center (alexlowe.org) which facilitates the KCC instructor exchange program with Denali and other climbing parks in the USA.  Steve is also a retired chemistry professor at University of Montana Western in Dillon, Montana.  Thank you for your invaluable contributions to the Denali climbing community, Steve, and to the international climbing community at large.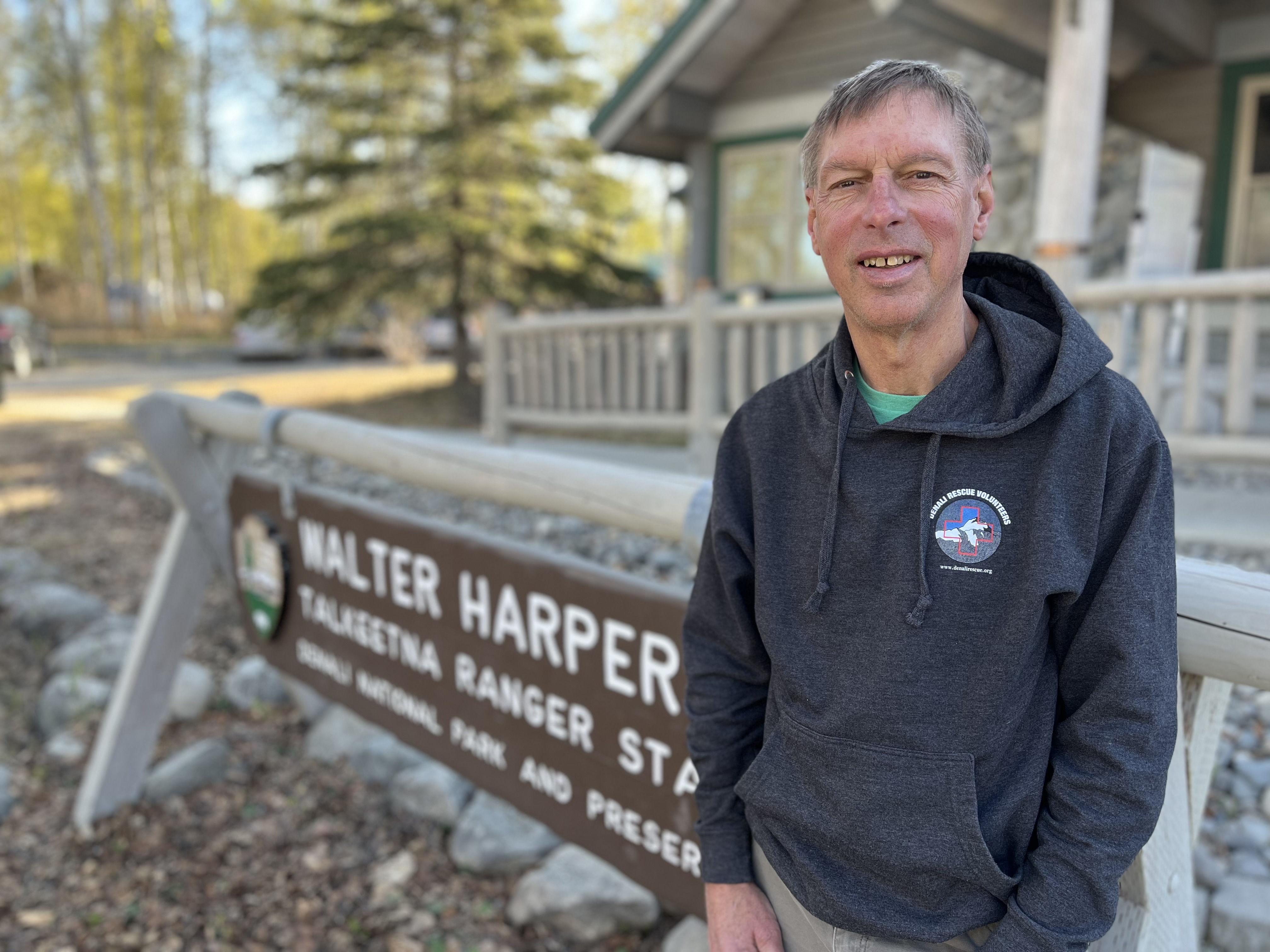 Steve Mock, president of Denali Rescue Volunteers.  (NPS Photo/Maureen Gualtieri)

Learn more about Denali Rescue Volunteers, an organization that helps make Denali National Park and Preserve's mountaineering operations whole! Thank you for all that you do each season, from helping equipping our volunteers, housing them before and after patrols, and supporting our recruitment process! 
Photo of the Day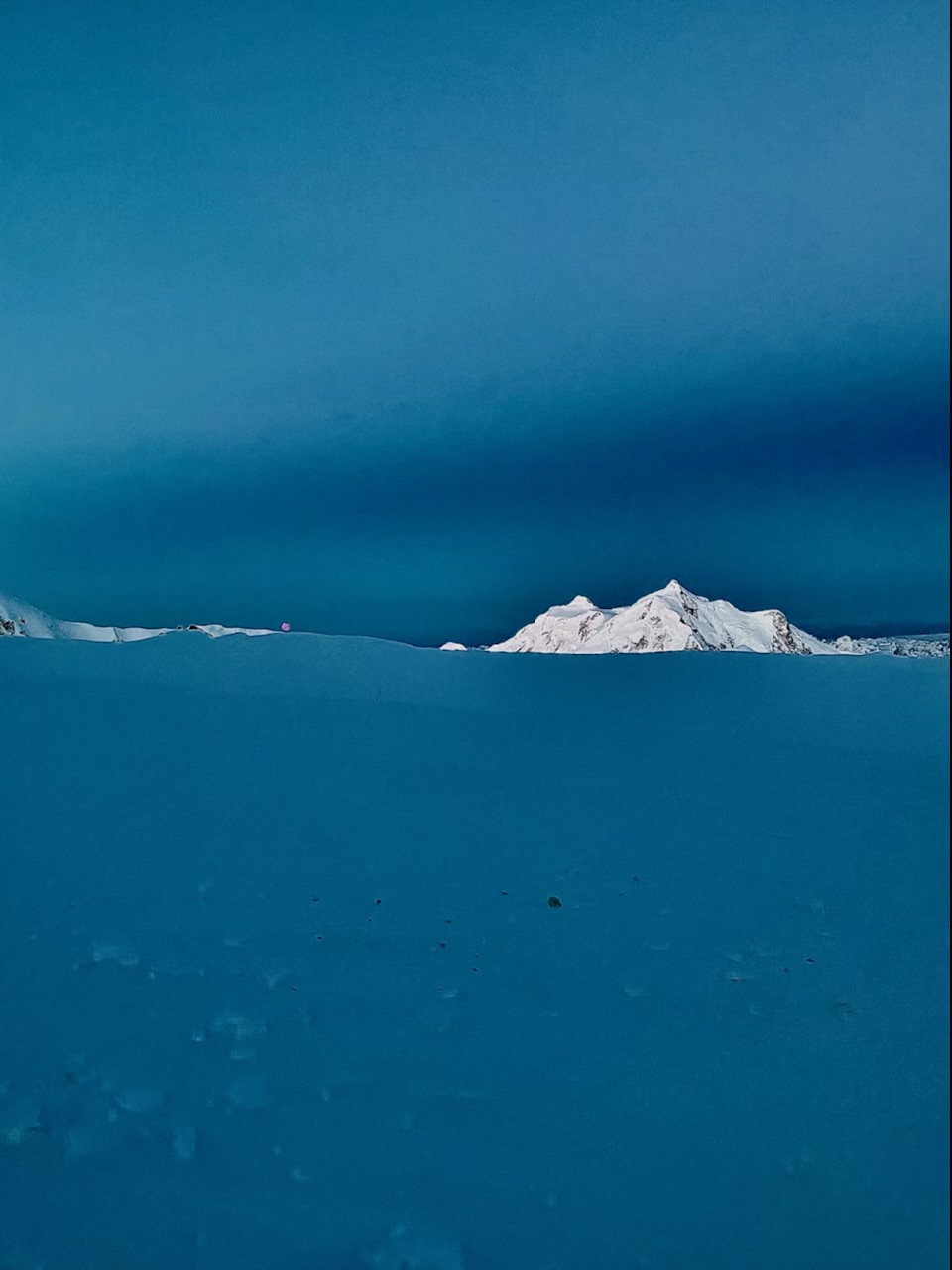 Distant moon setting on the horizon, illuminating the summit of Mount Hunter.  Image taken around 4:00 am Alaska time.  (NPS Photo/Chrissie Oken)