| | | |
| --- | --- | --- |
| TODAY'S STATS |     Denali     | Mt. Foraker |
| Registered Climbers | 1,065 | 12 |
| Climbers Currently On Mountain | 369 | 9 |
| Completed Climbs | 40 | 2 |
| Number of Summits | 0 | 0 |
| Summit Percentage | 0% | 0% |
The Walter Harper Talkeetna Ranger Station also maintains a daily automated statistics phone line, so if this blog is lagging behind and you need up-to-date registration numbers, call (907) 733-9127.
Mountain Weather

Quick rundown:  Nice weather early this morning gradually clouded over, bringing snow and wind to the mountain.

Weather station telemetry data from 7K and 14K are transmitted hourly to the MesoWest website, including temperatures, wind speed, wind direction, snowfall, and solar radiation.  MountainWeather.com compiles a Denali Weather page, complete with links to the MesoWest data, the NWS Denali Climbing Forecasts, as well as links to FAA webcams. 

Click here for the National Weather Service Denali Climbing Forecast

Click here for the FAA webcam on the Kahiltna Glacier. 

 
Route Conditions
 
Denali - West Buttress
Windy Corner still in challenging shape -- icy and exposed. Lots of crevasse falls and self-rescue at 13,200 feet.  
Upper mountain in good shape. Snowy. Fixed lines are out and in good shape. Rangers say the bergschrund's two steps are pretty straightforward to negotiate this year. 
Rumors abound that the first (and only) two summits of the year were recorded by two young Alaskans yesterday, but we won't count them here until the climbers come by and check back at the ranger station.  
And in other parts of the range...
Ham & Eggs
(5/17)  "Ice missing from pitch 3 and A4 crux, deep snow on approach."
(5/17)  "Shin deep snow and avy debris on approach from last weeks new snow. Ice is on its way out, but climbable.  Did Pitch 7 ice crux - overhanging and _____.  Pitch 13 & 14 knee deep and a lot of work. Overall good conditions for late in year."
(5/18)  "Route in generally good condition, some wallowing on the higher pitches. On crux ice it is starting to disappear and would be hard to climb. Rock alternate route was difficult to located. Good route overall. Rappell routes are fantastic." (at least I think it says fantastic...)
Root Canal Glacier
(5/17, reported by Glciers Gone Wild) "We camped slightly upslope and our pilot urged other parties to camp farther back from the airstrip. (see: Route Alerts binder @ ranger station) due to potenial hazard of serace fall. Some crevasses started opening up, but still good snow cover."
Dan Beard
(left sometime ~ 5/17) "Heavy snow conditions, triggered 400 x 3 ft slab avalache from the second col that swept the valley. Turned around from there."
Moonflower Buttress - Deprivation
(5/18)  "Deep snow on the glacier. Hard to cross the bergshrund.  Hard thin ice on the under section. The crux pitch looks so difficult because of the very thin ice, so we escaped to the right side. After that was easy but the snow was so deep.  And the second day the weather got worse. We turned from 3rd band."  
Ranger Update
NPS 14K Patrol #1
(Preston)  Patrol #1 was the only team at high camp yesterday, and in light of a poor weather forecast, they descended to 14 camp today in snow and wind.  No teams (NPS or otherwise) are currently above 14,200 feet.
NPS 14K Patrol #2
  (Coady)  Melis and crew report via InReach that "Patrol going great. Cold, snowy, but high energy team!"  They are currently at 14,200 foot camp, having spent the night caring for a medical patient who was evacuated from 14K via helicopter this morning at first light.
NPS 14K Patrol #3 -
(Erickson/Baldwin)
Patrol 3 is camped at 11,000 feet for the second night in a row.  On their ascent, they located the 10K weather station (using GPS and a metal detector) that got buried in deep snow over the winter. How deep you ask?  They dug 6 feet before uncovering the crossbar that sits atop the 30 foot pole. So somewhere between 30 and 40 feet.
NPS 7K Patrol #3
- (Chenoweth)  Camped at 7K.   
Photo(s) of the Day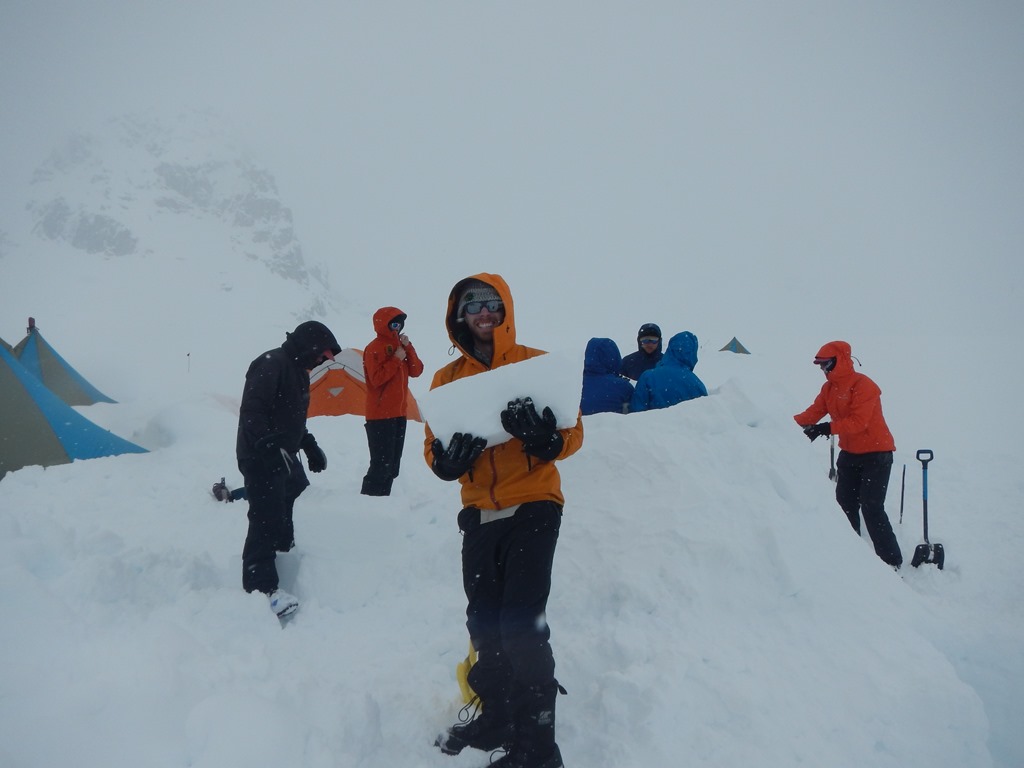 A mountaineering class from Alaska Pacific University practice their quinzee construction skills at Basecamp (NPS Photo / Roger Robinson)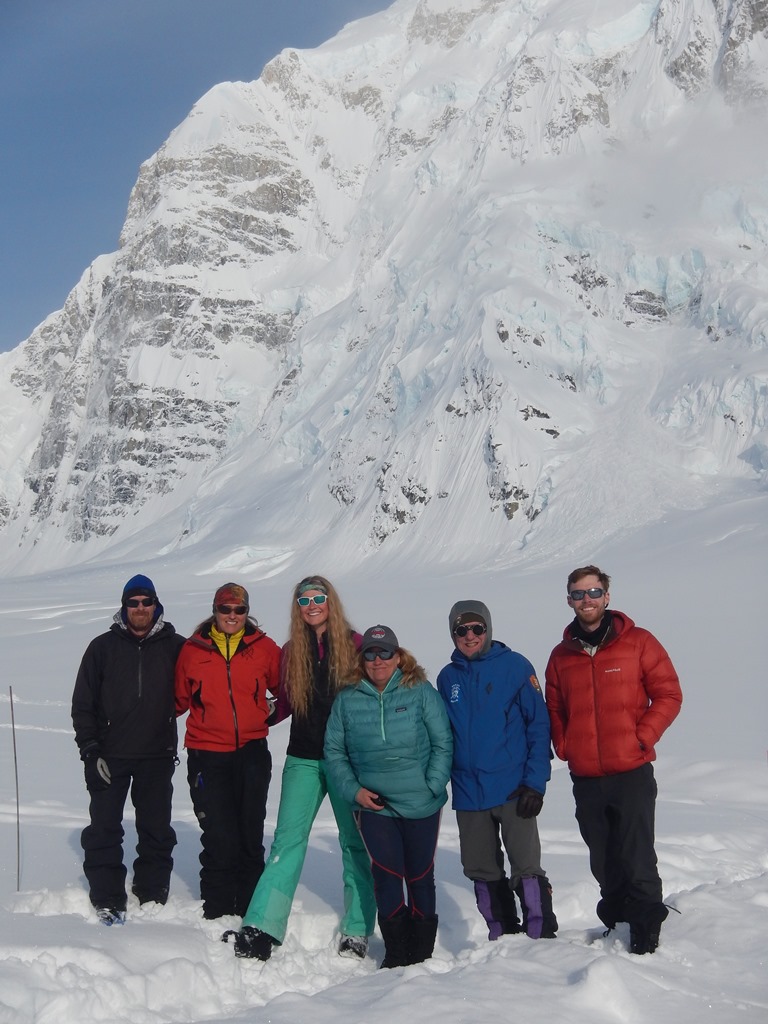 The first NPS patrol of the season join TAT/K2 basecamp manager Lisa Roderick for a group shot once all the construction work was said and done.  From left to right:  VIP Lance Taysom, VIP Cami Taysom, VIP Jena Taysom, BC Mgr Lisa Roderick, NPS mountaineering ranger Roger Robinson, NPS backcountry ranger Nate Ziegler.   (NPS Photo)