| | | |
| --- | --- | --- |
| TODAY'S STATS |     Denali     | Mt. Foraker |
| Registered Climbers | 914 | 8 |
| Climbers Currently On Mountain | 25 | 5 |
| Completed Climbs | 2 | 0 |
| Number of Summits | 0 | 0 |
| Summit Percentage | 0% | 0% |
The Walter Harper Talkeetna Ranger Station also maintains a daily automated statistics phone line, so if this blog is lagging behind and you need up-to-date registration numbers, call (907) 733-9127.
Mountain Weather

As discussed in the previous Denali Dispatch ("New Weather Stations on the Kahiltna Glacier"), weather reporting is going to look a little different this year.  Weather station telemetry data from Basecamp and the 14K camp will be directly transmitted to the MesoWest website, including temperatures, wind speed, wind direction, snowfall, and solar radiation. 

MountainWeather.com compiles a Denali Weather page, complete with links to the MesoWest telemetry data, the National Weather Service Denali Climbing Forecasts, as well as links to FAA webcams. 

Click here for a direct link to the National Weather Service Denali Climbing Forecast

Click here for a direct link to the FAA webcam on the Kahiltna Glacier.  Look for the light blue dot on the Alaska Range; when you hover over it, you'll see Kahiltna Glacier Advisory WX.

But if you're looking for a personal touch, I just got off the phone with K2/TAT Basecamp Manager Lisa Roderick, and she reports 'weirdly warm temperatures' yesterday in the 40's F. Today around 38 F with a light snowfall.
 
Route Conditions
 
Lisa at Basecamp reports that from the air, the glacier looks VERY GOOD, but time will tell.  No climbers have returned from the West Buttress yet, but we'll share more news from the Trail as it comes in.  Snow accumulation up to a foot or so is forecast today and tonight.   
A typical assortment of local climbs off the Kahiltna for this time of year:
> One team curently on the Moonflower Route;
> On Mount Frances, one team attempted the SW Ridge but didn't top out; another did reach the summit of Frances via the East Ridge;
> The NPS patrol led by Frank Preston did a successful training climb on the Control Tower;
> Teams have climbed the Mini Moonflower and Bacon and Eggs;
> Two teams have checked in and begun climbing on Foraker.
In other Basecamp news, Lisa is enjoying the company of her favorite grey-crowned rosy-finches, which she swears are the same birds that joined her last season.  Her feathered friends include Puffy, a bad-tempered male who tends to bully his sweet female companion. This year they are joined by what appears to be a younger, smaller bird. In contrast to other small birds that get blown into camp, the random rosy-finches that appear in camp each year seem to thrive.     
Ranger Update
Rangers David Weber, Mark Westman, and VIP Mike Gibbs attempted an early season climb of Mount Russell earlier this week. Stay tuned for a ranger patrol report in the days to come.  
The first Denali patrol of the season flew into Basecamp on Monday, April 29.  They spent a couple days at Basecamp getting acclimated, then headed up the trail. Tonight they are at 7,800 feet.  Ranger Frank Preston is leading the charge, accompanied by four Volunteers-in-Parks and one military PJ from the Anchorage 212th.  This first patrol of the season is not for the half-hearted -- this patrol is prepared for colder-than-average temperatures, consistent trail-breaking, and hours and hours of digging as they set up camp infrastructure at the 14,200-foot camp.  Meet the team: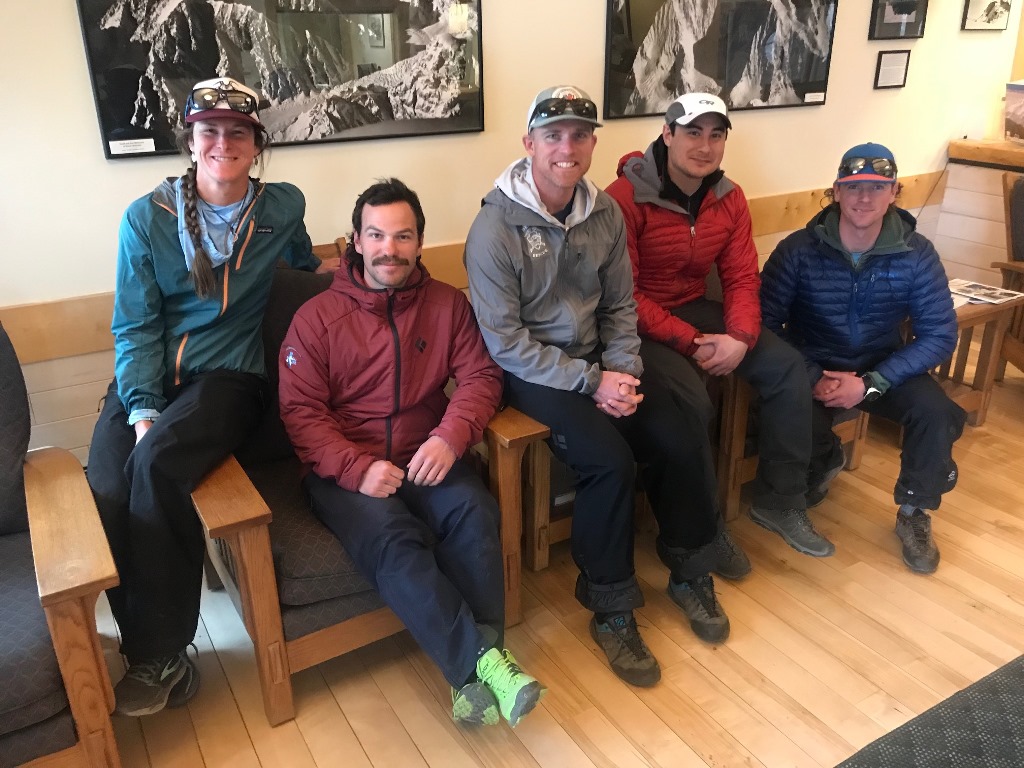 Meet the hearty souls who comprise NPS Patrol #1:  VIP Kailyn McGrath, VIP Austin Hess, NPS ranger Frank Preston, 212th PJ Bryan Daltere, and VIP James Pyke. Not pictured, VIP Drew Seitz. (NPS Photo)


Photo of the Day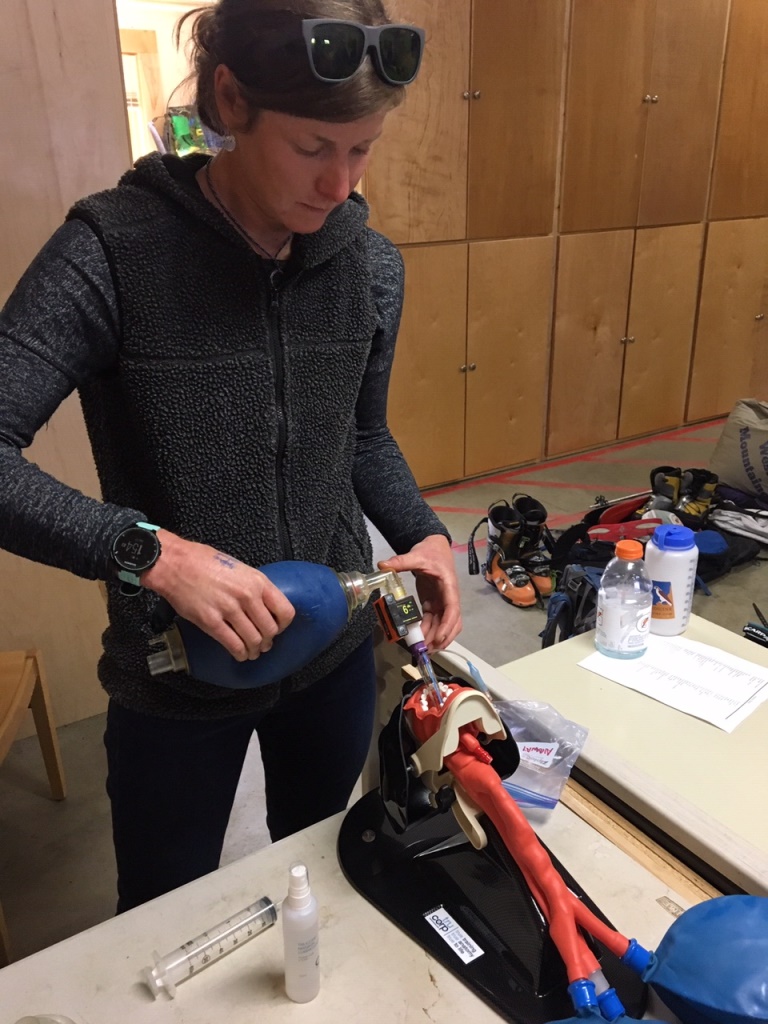 Denali's mountaineering program attracts highly trained volunteers who often bring both mountaineering skills as well as advanced medical training to the table.  Patrol VIP Kailyn McGrath, a nurse by profession, resuscitates a brand new airway mannequin at the Talkeetna Ranger Station.  (NPS Photo / Frank Preston)