| | | |
| --- | --- | --- |
| TODAY'S STATS |     Denali     | Mt. Foraker |
| Registered Climbers | 888 | 11 |
| Climbers Currently On Mountain | 210 | 8 |
| Completed Climbs | 22 | 2 |
| Number of Summits | 2 | 0 |
| Summit Percentage | 9% | 0% |
The Walter Harper Talkeetna Ranger Station also maintains a daily automated statistics phone line, so if this blog is lagging behind and you need up-to-date registration numbers, call (907) 733-9127.
Mountain Weather

Click here for today's National Weather Service Denali Climbing Forecast.  

The Kahiltna webcam will be installed as soon as weather permits, with the Ruth webcam to follow.

7,200 camp:  :  It snowed approximately 2 cm overnight, although by 8:00 am Lisa could see Mount Hunter under overcast skies. Winds were calm overnight. At 8:00 am, wind was out of the east at 2 mph, with gusts to 9 mph out of the southeast.
In the last 12 hours:
Current temp (8 am): -5 C (23 F)
High temp: -4 C  (25 F)
Low temp: -9 C  (16 F)

14,200 camp:   Skies have been mostly cloudy at 14K camp for the past 24 hours, though no snow has fallen.  Although they could hear the winds howling overhead up at 17 camp, morning windspeed was 1 mph out of the northeast, with gusts to 35 mph out of the southeast.  Yesterday, high winds prevailed throughout the day at 14K, with gusts to 44 mph.   Early season temperatures are characteristically cold,  though the sun hits camp around 10:00 am, providing some welcome warmth.
In the last 12 hours:
Current temp (8 am): -19 C (-2 F)
High temp: -18 C  (0 F)
Low temp: -21 C  (-6 F)
 
Ranger Update
 
NPS Denali (14K) Patrol #1:
  (Rgr Preston, Rgr Baldwin, Grand Teton Rgr Kreis, VIP Seitz, VIP Kasavana).  The patrol weren't able to get much work done yesterday due to constant winds. There are a total of 5 or 6 teams in camp today, most of which are staying put until winds die down.
NPS Denali (14K) Patrol #2:
  (Rgr McBrayer, VIP Desmond, VIP Martin, VIP Ramos-Leon, VIP Weinberg)  Joseph and crew are camped at 11,000-foot camp. Radio communications to the ranger team at 14K indicate winds have been howling at 11K as well. Nevertheless, the crew took a short day trip yesterday to Squirrel Hill, and they intend to move to 14K as soon as they find a half-way decent weather window.
NPS Denali (14K) Patrol #3: 
(Rgr Erickson, VIP Bracher, VIP Mock, VIP Weaver) The team was slated to fly in today, but chances of that are dwindling as the day progresses.  
NPS Basecamp (7K) Patrol #1:
  One member (VIP Collard) of the set-up patrol flew out yesterday, while the rest will remain in camp a few more days.
Route Conditions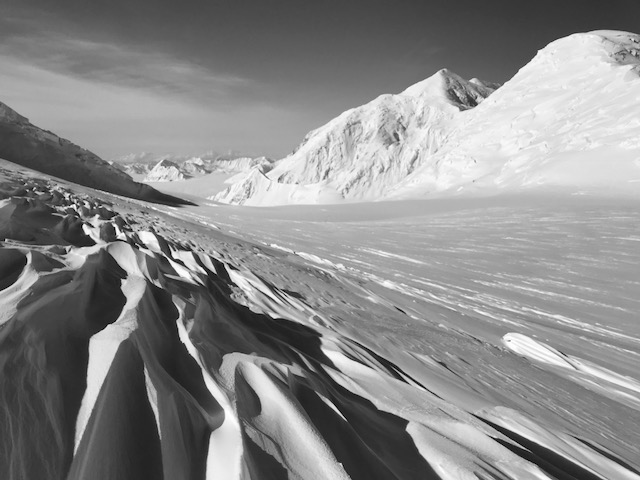 Climber Samuel Miller recently returned from the Alaska Range reporting tough early season conditions. The photo above shows the wind-scoured glacier between 10,000- and 11,000-feet on the Kahiltna Glacier.  (Photo courtesy of Samuel Miller.) 
Rangers Frank Preston and Travis Baldwin report an icy, hard-packed trail from 11,000 feet to 14,200 feet, conditions which presumably continue on up to the summit.  In the 14,200-foot basin, conditions are similar, with windswept sastrugi throughout camp. Such conditions are not uncommon at these elevations this time of the season, as the upper mountain typically starts collecting snow later into May relative to the lower mountain.  Currently, there are three teams at 14,200-camp in addition to the ranger patrol, and no teams higher on the mountain.  We will convey conditions reports for above 14K as soon as we hear them.
Photo of the Day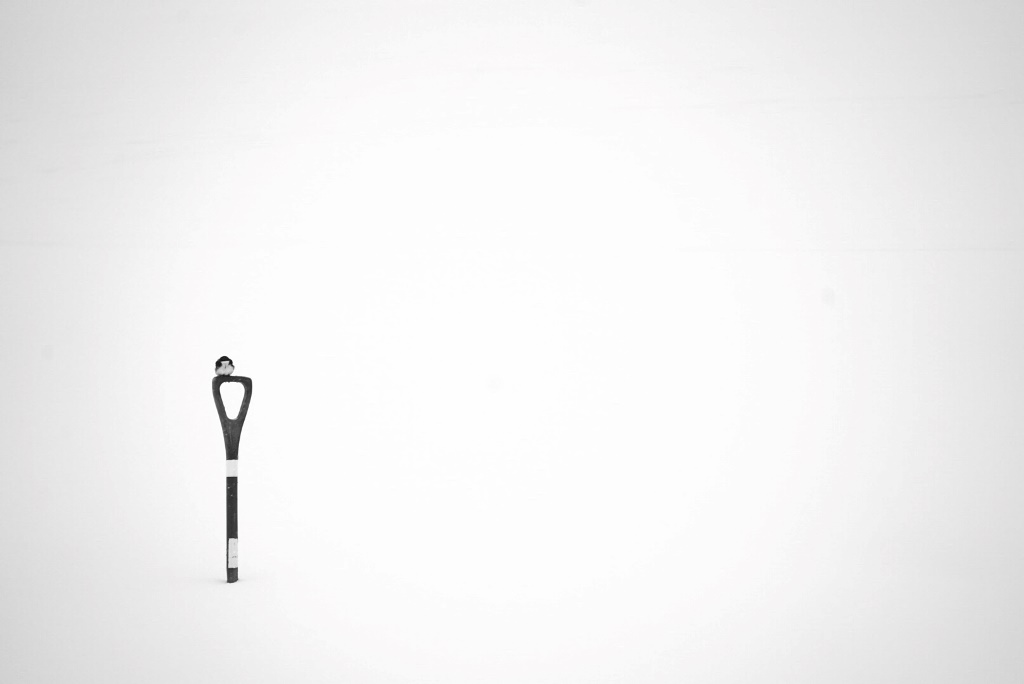 A disoriented tree swallow finds the closest thing it can to a tree branch. Small migratory birds get trapped in these weather systems often, and use climbing equipment to orient themselves. Without the color contrast of ropes, tents, and shovels for perspective, they fly right into snowbanks during complete whiteouts; most of the disoriented birds that find their way into the high mountains do not live long, despite climbers efforts to assist.  (Photo courtesy of Samuel Miller)