Though not our favorite option, this season we will be producing weekly Field Reports (as opposed to almost-daily) to provide updates from the Alaska Range.  Please tune in each week for conditions reports, statistics, images, and news from the mountains. 
| | | |
| --- | --- | --- |
| TODAY'S STATS - 5/23/21 |     Denali     | Mt. Foraker |
| Registered Climbers | 905 | 29 |
| Climbers Currently On Mountain | 349 | 15 |
| Completed Climbs | 18 | 0 |
| Number of Summits | 6 | 0 |
| Summit Percentage | 33% | 0% |
The Walter Harper Talkeetna Ranger Station also maintains a daily automated statistics phone line, so if this blog is lagging behind and you need up-to-date registration numbers, call (907) 733-9127.
Mountain Weather

(8:00 AM, Sunday, May 23)  From Gabby at 7K:  "morn. calm, clear, 14 degrees!"  From Chris E at 14K: "nuking up here. Maybe clear overhead, but it's hard to tell with so much blowing snow. Guessing gusts are close to 45-50"


Weather station telemetry data from 7K and 14K are transmitted hourly to the MesoWest website, including temperatures, wind speed, wind direction, snowfall, and solar radiation.  MountainWeather.com compiles a Denali Weather page, complete with links to the MesoWest data, the NWS Denali Climbing Forecasts, as well as links to FAA webcams. 

Click here for the National Weather Service Denali Climbing Forecast

Click here for the FAA webcam on the Kahiltna Glacier. 


Ranger Reports

West Buttress / Denali
Conditions reports from the past week:
> With marginal, wet weather both in Talkeetna and on the mountain -- many teams stuck in town trying to fly in and teams stuck at basecamp waiting to get out. About 8 inches of new snow were recorded at basecamp in the past 48hrs.  Haven't had any new reports of travel conditions since the new snow fell.
> When last NPS patrol went through the lower mountain one week ago:  from basecamp to 11,000-feet, snow-bridges covering crevasses are visibly sagging and there have been a couple of known crevasse falls. Waiting for a hard freeze to travel is one way to help mitigate that hazard. 
> Always good to keep in mind that the route down might look a lot different than on the way up.
>Up high, fixed lines above 14 are now in place.
NPS 14K Patrol #1
 - (Beren and Bomba)  How quickly a month passes, the first patrol of the season is poised to fly off the mountain Monday, May 24.  Once the patrol finished setting up camp and replacing the fixed lines, the weather turned so the team did not have the opportunity to spend time up at 17K or higher.  One medical evacuation occurred this past week, a climber with significant frostbite to 6 fingers and 3 toes was evacuated from 14K camp on May 19.
(
NPS Ranger Jake Beren, NPS Ranger Chelsea Bomba, VIP Leilani Bruntz, VIP Nadav Oakes, VIP Luke DeMuth, and VIP Dr. Charlie Duke.)
NPS 14K Patrol #2
- (Erickson)  InReach reports indicated a warm, slow, ascent to 14K over the past week.  They joined Jake and Chelsea at 14K on May 17. Got settled in just in time to assist with the aforementioned frostbite patient. Now spending quality time troubleshooting the camp phone issues. Outbound calls, easy; inbound calls, not so much. Good times!
(DENA Ranger Chris Erickson, GRTE Ranger Chris Bellino, GRTE Ranger Cody Evans, VIP Chris Berdoulay, VIP Jonah Olson.)
NPS 14K Patrol #3
- (Weber)  Next in the batter's box to fly into the Range is Denali mountaineering ranger Dave Weber and his team of 4 patrol members, including NPS climbing ranger Steve Kay from the Black Canyon of the Gunnison National Park, ranger paramedic Jon Politis from Grand Teton National Park, VIP Shane Treat, and VIP Eric Robbins.  Assuming weather cooperates, Patrol #3 flies into basecamp Monday, May 24.
NPS 7K Patrol #2
 (Dalpes) Ranger Mik Dalpes and VIP Meghan Seifert have been holding down camp all week, they fly out of basecamp on Sunday, May 23. 
NPS 7K Patrol #3  
(The Mock Weavers) The third basecamp patrol of the season is comprised of three multi-seasoned celebrity Volunteers-in-Parks -- Steve Mock (current president of Denali Rescue Volunteers (DRV)!), Ben and Katie Weaver (Ben also serves on the Board of DRV).  NPS Bionic Ranger Joe Reichert will fly up and join the Mock Weavers on Wednesday, May 26.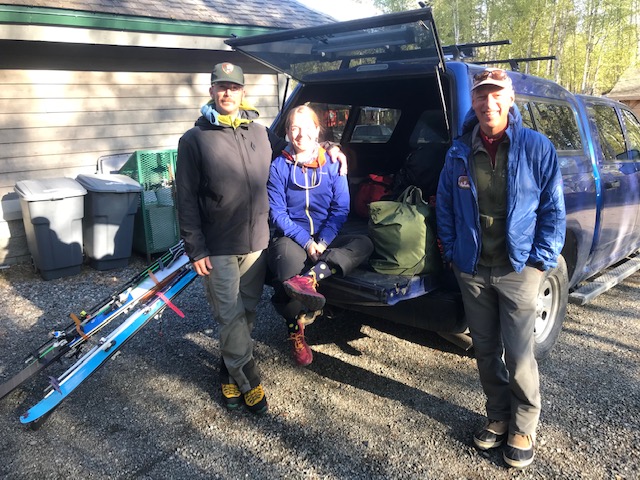 Volunteers Extraordinaire: Ben Weaver, Katie Weaver, and Steve Mock. (NPS Photo)
Learn more about 
Denali Rescue Volunteers
, an organization that helps make Denali National Park and Preserve's mountaineering operations whole! Thank you for all that you do each season, from helping equipping our volunteers, housing them before and after patrols, and supporting our recruitment process!   

Photos of the Week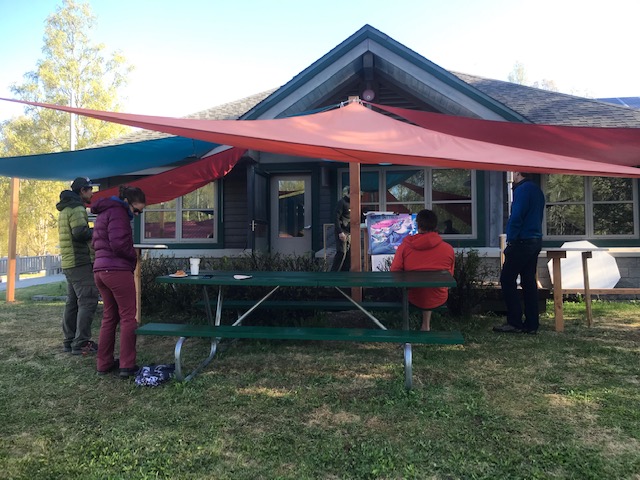 For those that haven't seen our new outdoor 'briefing room' at the Walter Harper Talkeetna Ranger Station.  (NPS Photo)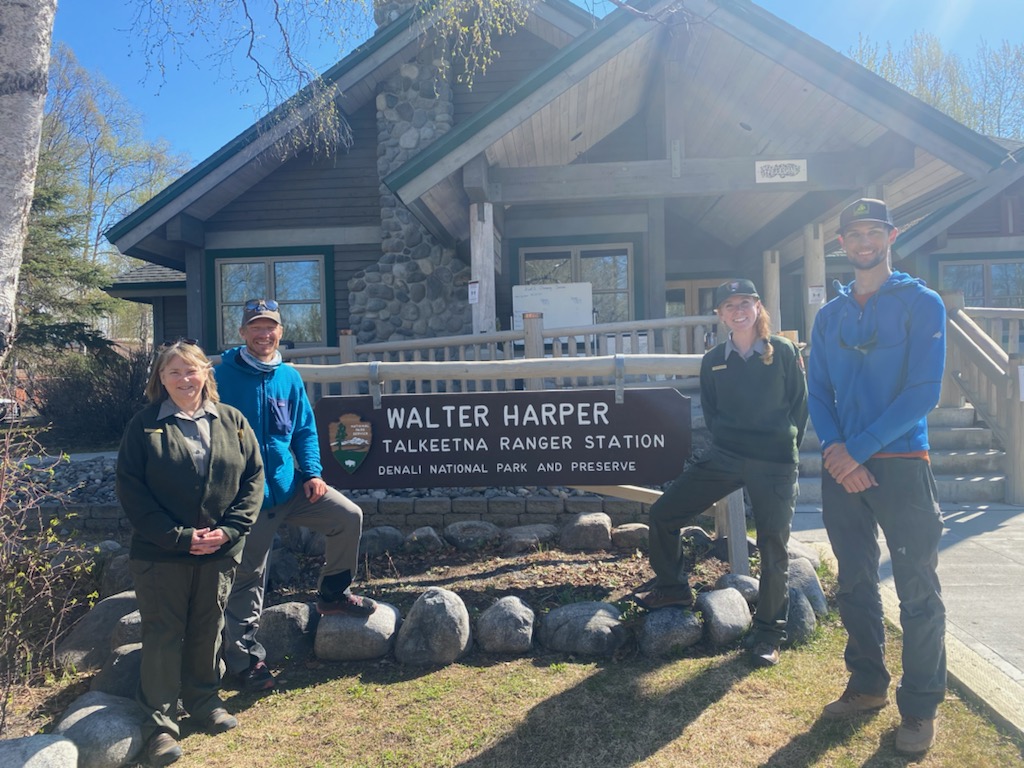 Supervisory Visitor Use Assistant (VUA) Debbie Reiswig (left) and VUA Chelsie Valetta (second from right) welcome back the Blue Jackets, one of the first climbing teams to reach the summit of Denali in 2021.  Not sure which is which, but the Blue Jackets (Taylor Amato and Ryan Petillo) flew into the Range on April 26.  Congratulations on a safe climb! (NPS Photo)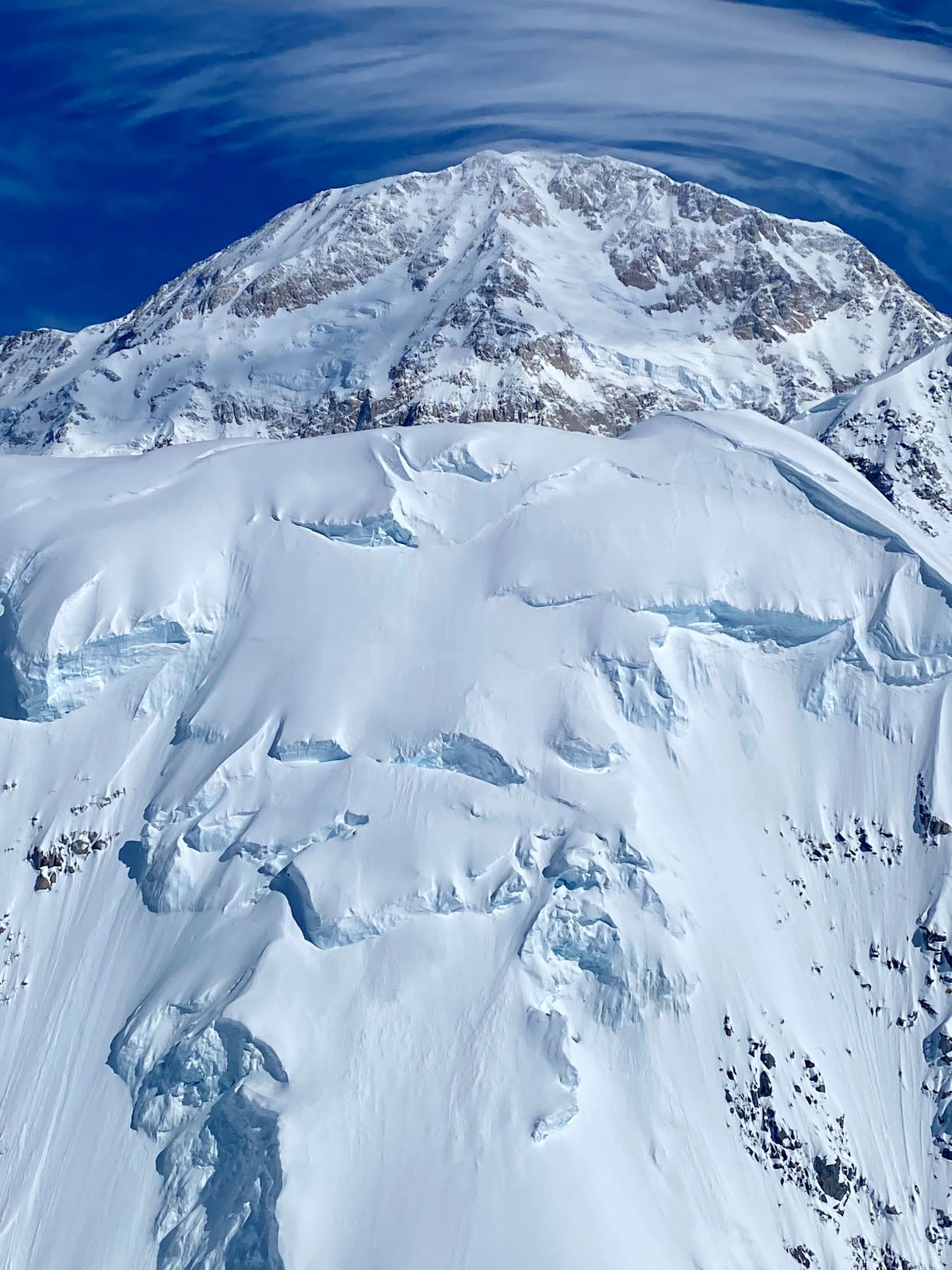 View of Denali summit over the South Buttress  (NPS Photo/Dave Weber)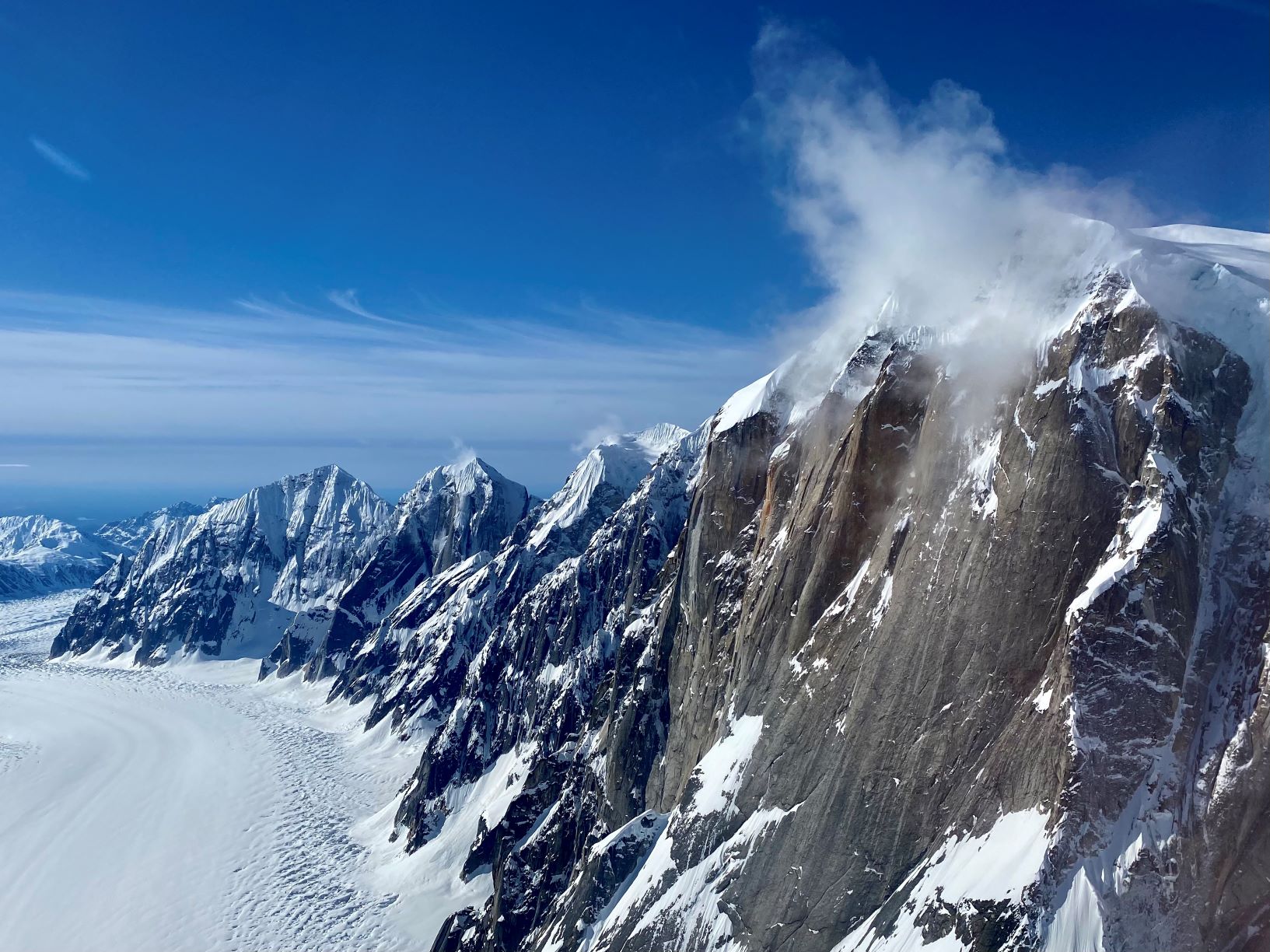 The Ruth Gorge (NPS Photo/Dave Weber)