| | | |
| --- | --- | --- |
| TODAY'S STATS |     Denali     | Mt. Foraker |
| Registered Climbers | 1,041 | 12 |
| Climbers Currently On Mountain | 271 | 9 |
| Completed Climbs | 24 | 2 |
| Number of Summits | 0 | 0 |
| Summit Percentage | 0% | 0% |
The Walter Harper Talkeetna Ranger Station also maintains a daily automated statistics phone line, so if this blog is lagging behind and you need up-to-date registration numbers, call (907) 733-9127.
Mountain Weather

Quick rundown:  Basecamp received about 3" of new snow overnight. This morning, skies were overcast, winds were light, and there was some light precipitation (snow).  At 14K, light winds and mixed visibility.

Weather station telemetry data from 7K and 14K are transmitted hourly to the MesoWest website, including temperatures, wind speed, wind direction, snowfall, and solar radiation.  MountainWeather.com compiles a Denali Weather page, complete with links to the MesoWest data, the NWS Denali Climbing Forecasts, as well as links to FAA webcams. 

Click here for the National Weather Service Denali Climbing Forecast

Click here for the FAA webcam on the Kahiltna Glacier. 

 
Route Conditions
 
Moose's Tooth
  (5/14/19) "Southwest Ridge Peak 11,300' - Heavy unconsolidated snow covering route. First 5.8 pitch completely covered in snow. Three feet of snow accumulation last few days."
See the May 14 post for additional reports.
Ranger Update
NPS 14K Patrol #1
(Preston)  Progress on the patrol's honey-do list at 14,200 camp is at a standstill.  For the first time in many years, the first patrol reached the 14K basin in advance of most of the equipment slingloads due to prolonged unflyable weather and SAR delays.  All the remaining net loads are at basecamp ready for slingloading. SO, in the mean time, Frank and his four volunteer rangers headed up to do maintenence work on the fixed lines today. 
NPS 14K Patrol #2
  (Coady) Melis' patrol is currently staged at 11,000 feet.  And they aren't lonely...lots of teams heading up the mountain. 
NPS 14K Patrol #3 -
(Erickson/Baldwin)
The next upper mountain NPS patrol is co-led by rangers Chris Erickson and Travis Baldwin. They are joined by VIP's (Volunteers-in-Parks) Ryan Baker and Josh Stratman, as well as Anchorage 212th Pararesueman (PJ) Matt Stieble.  The team of five flew into Basecamp yesterday, May 15. In addition to prepping netloads destined for 14K, they launched right into some crevasse rescue practice. They will stay at BC until Friday (tomorrow), and hopefully will assist with a slingload operation to get gear up to 14K.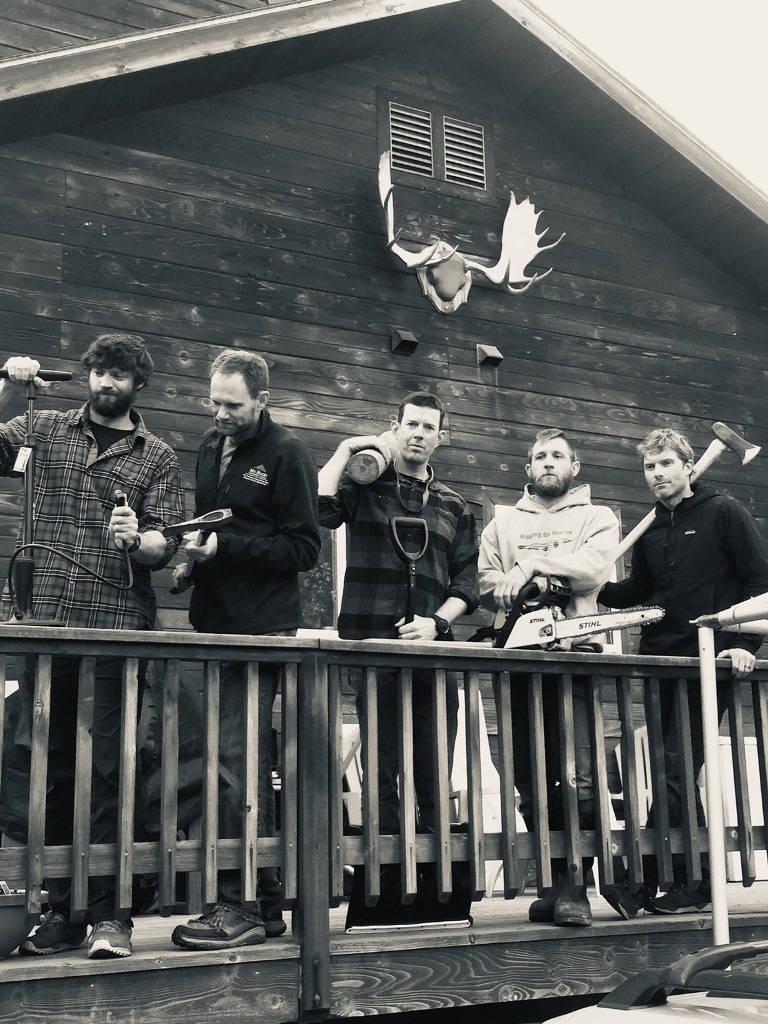 Patrol 3 getting ready to work hard. Left to right: PJ Matt Stieble, VIP Josh Stratman, Ranger Travis Baldwin, VIP Ryan Baker, and Ranger Chris Erickson.  Photocourtesy of Denali Rescue Volunteers (DRV) / Amanda Erickson
NPS 7K Patrol #3
- (Chenoweth) The next Basecamp patrol to go in will be led by South District Ranger Tucker Chenoweth, flying in on Friday, May 17. Tucker will be joined by NPS Geologists Mike Loso and Lia Lajoie, and together they will focus on weather station maintenence, including downloading data from the 7K and 10K stations and general upkeep. For instance completely digging up the 10K station, which is rumored to be completely buried in snow.
AKR Patrol #3
- Rangers Joseph McBrayer and Jake Beren got into the Range this week for a multi-day patrol of Mount Huntington's Harvard Route.  They currently are awaiting a flight out from the Upper Tokositna Glacier, which there is zero visibility and light snow.  'Warm and wet'.  
Photo of the Day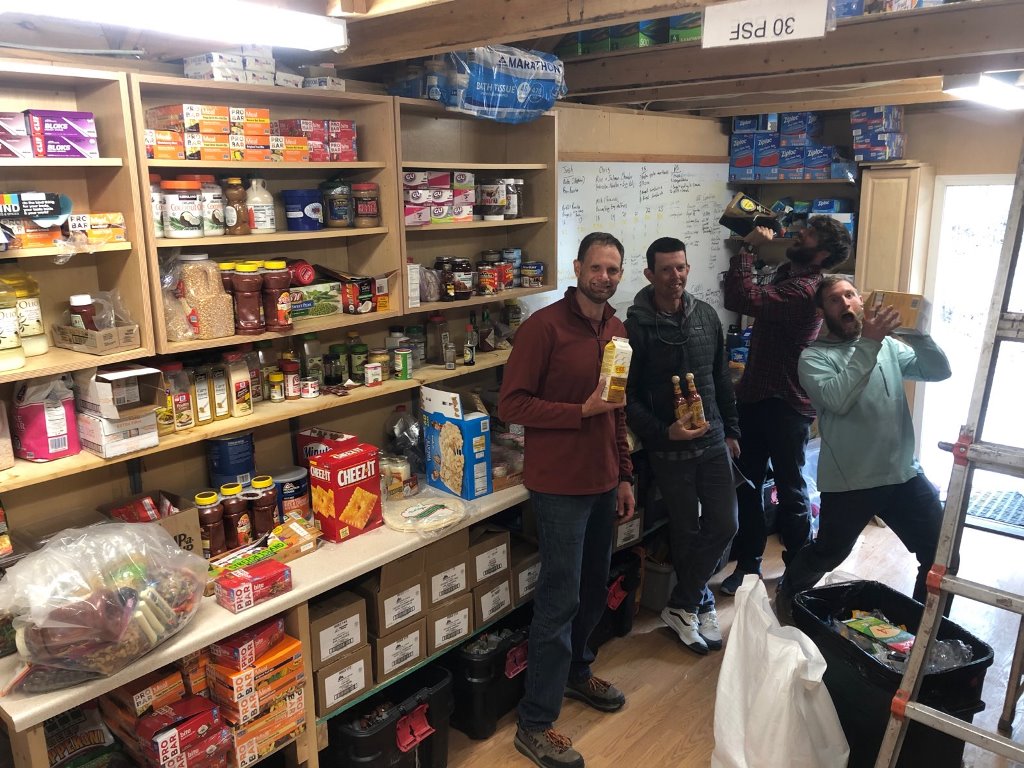 Ever wonder what the patrols eat on Denali?  This glimpse into the NPS 'food cache' in Talkeetna reveals its mostly Cheez-its and salsa and protein bars.  (NPS Photo / Chris Erickson)