| | | |
| --- | --- | --- |
| TODAY'S STATS |     Denali     | Mt. Foraker |
| Registered Climbers | 885 | 11 |
| Climbers Currently On Mountain | 172 | 8 |
| Completed Climbs | 19 | 2 |
| Number of Summits | 2 | 0 |
| Summit Percentage | 10% | 0% |
The Walter Harper Talkeetna Ranger Station also maintains a daily automated statistics phone line, so if this blog is lagging behind and you need up-to-date registration numbers, call (907) 733-9127.
Mountain Weather

Click here for today's National Weather Service Denali Climbing Forecast.  

The Kahiltna webcam will be installed as soon as weather permits, with the Ruth webcam to follow.

7,200 camp:  Catching up on the last few days of weather observations -  Lisa reported snowfall everyday from May 9 through May 13, with a collective storm total of 91 cm, or approximately 3 feet. The last two days (May 14-15) saw only trace amounts of snow coupled with high clouds.

Observations as of 8:00 am this morning, skies were obscured and it was lightly snowing again at basecamp.  The cumulative snow total overnight was 1 cm. Winds were calm, with gusts out of the east at 12 mph.

In the last 12 hours:

Current temp (8am): -7 C (19 F)
High temp: -5 C  (23 F)
Low temp: -12 C  (10 F)

14,200 camp:   Weather equipment is not up and running yet, but should be any day now. Anecdotally, the patrol at 14 camp experienced some of their finest, clear beautiful weather on Monday night, and clouds have come in and out since then.  Today, conditions are windy.
 
Ranger Update
 
NPS Denali (14K) Patrol #1:
  (Rgr Preston, Rgr Baldwin, GRTE Rgr Kreis, VIP Seitz, VIP Kasavana).  Patrol 1 reached 14,200-foot camp on Sunday night in perfect time, just a few hours after the last net-load of gear was delivered via park helicopter.  After an arduous climb to 14K, there wasn't a moment to rest however. The following morning, the team commenced with unpacking the loads; digging foundations and walls; and then assembling first the NPS cook tent, followed by the Communications tent and radio equipment.
NPS Denali (14K) Patrol #2:
  (Rgr McBrayer, VIP Desmond, VIP Martin, VIP Ramos-Leon, VIP Weinberg)  Joseph and crew are camped at 11,000-foot camp.
NPS Denali (14K) Patrol #3:  
Ranger Chris Erickson and three VIPs are currently in Talkeetna packing and going thru helo training.  Chris is joined this season by two returning VIPs - Steve Mock and Ben Weaver, as well as first season mountaineering volunteer Taylor Bracher. Taylor is a seasonal Bio Technician at Denali NP, and she has also worked for the park in past seasons as a backcountry ranger. 
NPS Basecamp (7K) Patrol #1:
  Perennial 'camp set-up' ranger Roger Robinson is in the lead once again, directing the assemblage of the NPS 7K camp. The patrol flew into basecamp on Sunday, May 13, a couple days later than planned due to weather, but they hit the ground (glacier) running. After digging the foundation and walls, the basecamp tent was constructed and the radio-phone communications were established.  This season, Roger is joined by several past and current members of the Denali National Park staff, including Deputy Superintendent Denice Swanke, Backcountry Ranger Jaz Ammon, Road Crew member Andrea Schneider, and former Denali Backcountry Ranger (now at Zion NP) Brian Moe. Last, but certainly not least, the Talkeetna staff is honored to welcome US Army Sugar Bear Francois Collard on patrol -- as a CH-47 (Chinook) pilot, Francois has overseen many seasons of Army/NPS camp insertions, i.e. dropping off all the gear, but this is his first time constructing and working at the glacier camp itself.   
Route Conditions
 
Rangers Frank Preston and Travis Baldwin report an icy, hard-packed trail from 11,000 feet to 14,200 feet, conditions which presumably continue on up to the summit.  In the 14,200-foot basin, conditions are similar, with windswept sastrugi throughout camp. Such conditions are not uncommon at these elevations this time of the season, as the upper mountain typically starts collecting snow later into May relative to the lower mountain.  Currently, there are three teams at 14,200-camp in addition to the ranger patrol, and no teams higher on the mountain.  We will convey conditions reports for above 14K as soon as we hear them.  
Photos of the Day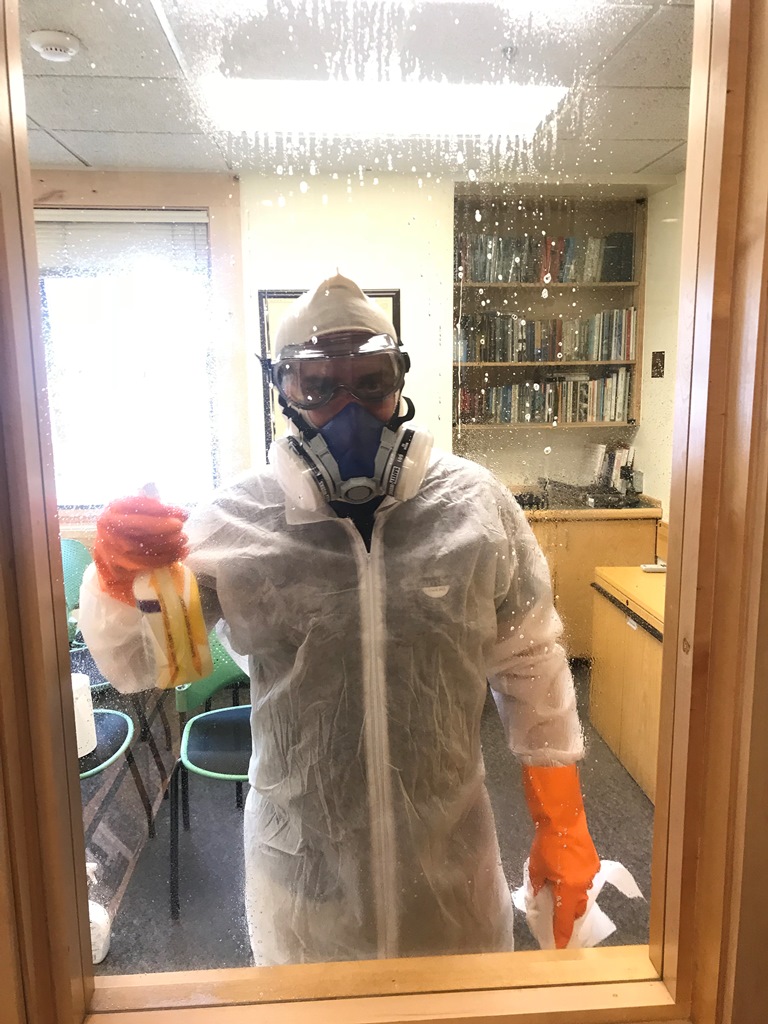 Intrepid VUA Geoff Pfeiffer enters the Hot Zone.  (NPS Photo/Melis Coady)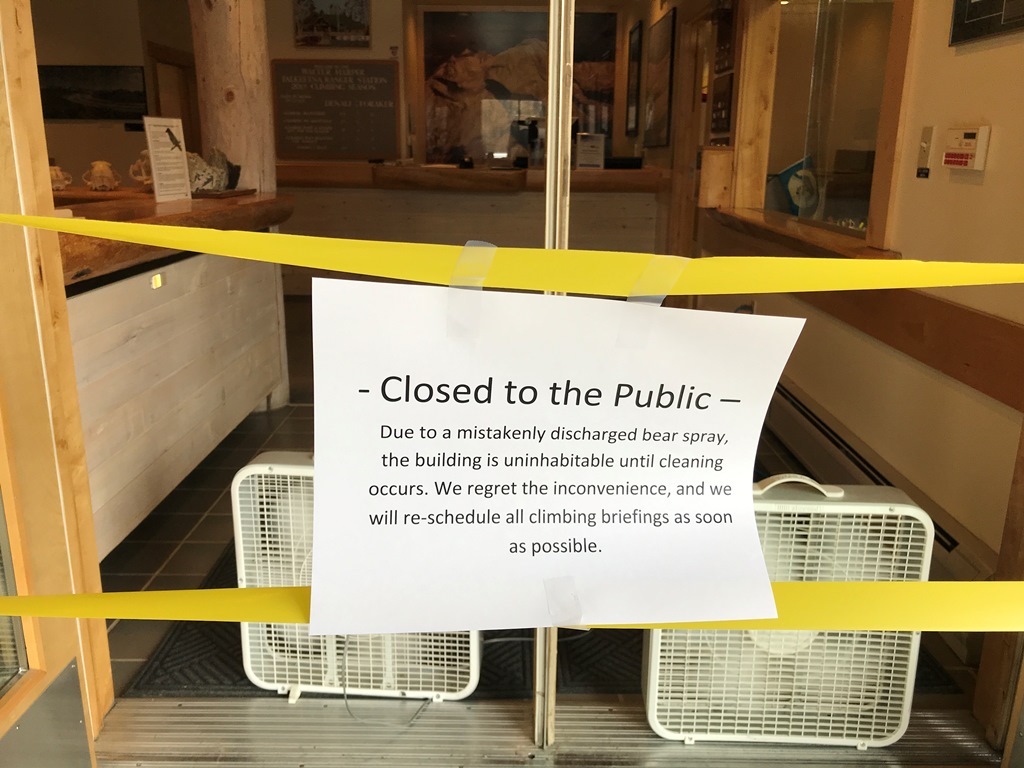 Ever wonder what it feels like to be pepper sprayed?  We didn't!  But we got to experience it anyway thanks to a (very kind and very regretful!) visitor's accidental deployment of a whole cannister of bear spray in our small briefing room yesterday afternoon. Ouch, but it was a great learning opportunity, and luckily no one received a direct hit.  Staff, visitors, and climbers evacuated the building, then set to work airing out the place.  Cleanup will continue today and tomorrow, and use of the small briefing room, including movie watching, will be on hold until the room is safely cleaned.  (NPS Photo/Maureen Gualtieri)
Some lessons learned:
> Immediately evacuate and do not re-enter until equipped with respirators, eye protection, and gloves!  Give the particles ample time to settle out of the air before breathing without a mask.  Even hours later, this stuff hurts and causes significant coughing, irritation, and inflammation. 
> Wash exposed skin immediately with
cold
water and dish soap or baby shampoo. Wash multiple times, or at least for several minutes.  And even then, don't touch your eyes!
> Don't wash the bad taste out of your mouth by drinking water...that may carry it down your esophagus.  Mouthwash! Or gargle with milk.
>  Read clean-up tips for clothing, walls, carpets, etc, preferably BEFORE an accidental deployment. (Because you never know when your local internet, telephone, AND cell service will be non-operational just when you need it most! ...like yesterday...in the hours following the bear spray event)