| | | |
| --- | --- | --- |
| TODAY'S STATS | Mt. McKinley | Mt. Foraker |
| Registered Climbers | 894 | 9 |
| Climbers Currently On Mountain | 215 | 0 |
| Completed Climbs | 9 | 4 |
| Number of Summits | 1 | 4 |
| Summit Percentage | 11% | 100% |

The Walter Harper Talkeetna Ranger Station also maintains a daily automated statistics phone line, so if this blog is lagging behind and you need up-to-date registration numbers, call (907) 733-9127. 

Weather Report
14,200 feet- As of 8:00 am this morning at 14K, rangers report cloudy skies and blowing snow.  There has been more wind than new snow (2 cm in last 24 hours), with an estimated net snow loss over the past several days.  More blue ice is observable on the headwall than 3 days ago.  Winds had generally calmed down this morning, although gusts up to 36 mph occasionally kick up from the East. 
In the last 12 hours, 
Current temp: 12 F (-11 C)
Low temp: 12 F (-11 C) 
High temp: 14 F (-10 C)   
7,200 feet - At basecamp, skies were broken and winds were calm.  Basecamp received 8 cm of new snow in the past 24 hours, most of which fell yesterday, tapering overnight.  
In the last 12 hours at 7,200-feet:
Current temp: 28 (-2 C)
Low temp: 25 F (-4 C) 
High temp: 30 F (-1 C)
SPECIAL NOTICE FROM the NWS: The National Weather Service forecasts a substantial shift in weather this weekend.  They are expecting a front on Saturday that will mean a big change including a very moist flow bringing heavy snow (feet) and very strong winds from the south - 80+ MPH above 14,000 feet.  Conditions should improve Saturday night to Sunday morning.  

National Weather Service forecast  

Ranger Update
NPS Denali Patrol #1 (Erickson, Westman, 2 PJ's, 4 VIPs) have most of the 14,200-foot camp infrastructure all in place.  
In light of the recent snowfall, the impending forecast, and the exposure inherent on the Lower Rib, NPS Denali Patrol #2 (Shain + 3 VIPs) have changed plans are returning to the West Buttress route for their ascent.  They are headed back to 7,800 camp today.   
After many days of digging, NPS Basecamp Patrol #1 (Robinson + 4 VIPs) has the Basecamp infrastructure in place, including the comms/food tent, storage, solar panels, and wind generator.  Today the group will be doing crevasse rescue training above camp.  Robinson alerts climbers and visitors to Basecamp that all human waste must be removed, and a pile of extra CMCs are available at Basecamp if needed.
Its been an epic week of orientations at the Walter Harper Talkeetna Ranger Station, with much of the heavy lifting done by rangers Joe Reichert and Dan Corn, however reinforcements have arrived back in the office today.  A busy orientation schedule is expected through the end of the month and into June.


Route Conditions
> Lots of crevasses at and above Windy Corner;
> The trail this year goes high into the rockfall area between Windy Corner and 14,200-feet; and 
> As always, climbers should be aware of avalanche potential throughout the Alaska Range, particularly in light of recent and pending snow and wind.  See past Field Reports for more info.


Photo of the Day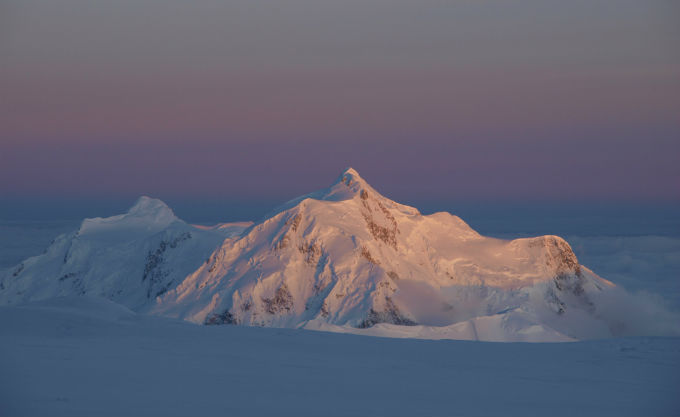 Sunset on Mount Hunter from 14,200-foot camp on Denali. (Photo courtesy of Menno Boermans)