| | | |
| --- | --- | --- |
| TODAY'S STATS |     Denali     | Mt. Foraker |
| Registered Climbers | 1,012 | 10 |
| Climbers Currently On Mountain | 215 | 8 |
| Completed Climbs | 9 | 0 |
| Number of Summits | 0 | 0 |
| Summit Percentage | 0% | 0% |
The Walter Harper Talkeetna Ranger Station also maintains a daily automated statistics phone line, so if this blog is lagging behind and you need up-to-date registration numbers, call (907) 733-9127.
Mountain Weather

Quick rundown:  Partly cloudy at both 7K and 14K this morning, a little bit (4 cm) of new snow overnight.  Periodic wind gusts at 14K.


Weather station telemetry data from 7K and 14K are transmitted hourly to the MesoWest website, including temperatures, wind speed, wind direction, snowfall, and solar radiation.  MountainWeather.com compiles a Denali Weather page, complete with links to the MesoWest data, the NWS Denali Climbing Forecasts, as well as links to FAA webcams. 

Click here for the National Weather Service Denali Climbing Forecast

Click here for the FAA webcam on the Kahiltna Glacier. 

 
Route Conditions
 
Recent reports:
Ruth Peaks
  (5/1 - 5/9, reported by Gardner/Hennessey) "Over 1 meter snow accumulation during this time. At least 50 cm settlement on glacier, expect less on north aspects.  Deep snow and large mushrooms on Rooster Comb North Buttress, better conditions on solar aspects."
Ham & Eggs, Moose's Tooth
  (5/5, reported by Dewey Brothers)  "Some ice missing from key pitches. Climbed two ice overhangs where ice had broken away underneath. A4 pitch not in. We opted for mixed variation. Great ice conditions on second half of route. Perfect snow throughout with no postholing. Stopped at col in storm and rapped 2 feet of snow since climb as of 5/9.  Snow conditions probably worse now."
Huntington, Harvard Route
  (5/1 - 5/3)  "Access couloir and upper snowfield were stable snow / some ice. Rap anchors are all good. Bergshrund was crossed with some difficulty on the far right, will get more difficult as times goes by. Rock pitches are mostly snow free.  About ~1 foot of new snow fell on 5/4. Summit ridge felt stable and didn't observe any elevated cornice hazard." 
Kahiltna Peaks
(4/27 to 5/4, reported by Will Gordon, Zack Novak) Climbed Bacon & Eggs, Mini Moonflower and SW Ridge of Frances. Great ice conditions on B&E and MM. Mini Moonflower had ice (thin) all the way through the crux. B&E had good ice but a little rotten for a few body lengths. SW Ridge of Frances had much unconsolidated snow that required extensive shoveling. I popped into a crevasse/upper bergshrund at 9,000'. Propagating bridge failure ~ 50 feet. Beware of potentially thinly covered cracks on wind loaded features even though the lower glaciers still seem well-filled.  Great ski conditions on the shady aspects. Solars had a wide variety of supportive and breakable (sp?) crusts.
Kahiltna Peaks
(4-23 to 5/9, reported by Jon Lykins, Ben Leiber, Alex Hansen) "Climbed Bacon & Eggs and SW Ridge of Frances to tower 4. Unconsolidated snow with forming windslabs on northern aspects. New snow 30 to 40 cm 5/4-5/9. Ice was good on northern aspects. 
Moonflower Buttress
(4/27 to 5/9)  "Ice is good. We can climb bergschrund easily, but heavy snow. We are digging, digging snow!  We reached twin runnel."
Little Switzerland
(4/29 - 5/13) "We had a week of splitter, skied steep terrain on all aspects. Snowpack was going isothermal on solars and developing crusts on all steep slopes. We got 5 to 6' of fresh on top of all that. Large avalanche cycle."  
Ranger Update
NPS 14K Patrol #1
(Preston) After assisting with the Windy Corner SAR over the long weekend, Frank and his four VIP's reached 14,200-foot camp on Sunday night.  After a well-deserved sleep, the crew was up and at 'em unpacking gear loads and beginning to set up the infrastructure of 14 camp.  Due to the prolonged unflyable weather last week, there are actually only a few gear loads in camp already, with the rest to be flown to 14K in over the next few days.  
NPS 14K Patrol #2
  (Coady) The patrol is currently camped at 11,000 feet, conveniently sliding into that camp just moments after Patrol #1 departed it on Sunday. 
NPS 7K Patrol - 
Roger's BC patrol flew out Sunday night, after getting stuck a few extra days.  Dave Weber's BC patrol was delayed and then cancelled for need of SAR personnel in Talkeetna. The next Basecamp patrol to go in will be led by South District Ranger Tucker Chenoweth, flying in on Friday, May 17.  
***
Injured Climber Rescued From Windy Corner
(TALKEETNA, Alaska)  Denali National Park and Preserve's helicopter pilot and mountaineering rangers performed a short-haul rescue of an injured climber and their partner from Windy Corner on Denali's West Buttress route the night of Sunday, May 12. 

One member of a two-person climbing team suffered traumatic injuries in a snowboarding fall while descending Windy Corner the afternoon of Wednesday, May 8.  The teammates were equipped with an InReach device and a satellite phone and were able to immediately convey the incident and location to the park communication center.  Extreme pain and concern for internal injuries required the team to set-up a camp at Windy Corner, a feature at 13,500 feet on Denali named for its extreme winds and a site known for rock fall hazard.

An NPS ranger patrol camped at 11,000 feet attempted to reach the party that evening, however high winds and poor visibility turned them around.  On Thursday, although weather improved lower on the mountain, high winds prevailed at Windy Corner.  The park's high altitude helicopter was able to fly over the incident site, but sustained winds over 30 mph precluded a rescue.    

A storm settled on the mountain on Friday and Saturday, with cloud cover and strong winds at Windy Corner.  Via satellite phone, the partner reported the patient was stable and they had adequate food and fuel to ride out the storm for several days.  On Saturday, a ranger and volunteer nurse from the NPS patrol at 11,000 feet reached the party and performed a medical assessment and reinforced the team with  supplies in the event the storm continued much longer. 

Weather improved the afternoon of Sunday, May 13.  The NPS ranger patrol from 11,000-foot camp reached Windy Corner and splinted and prepared the injured climber for an air evacuation.  At 7:00 pm, Denali's helicopter pilot and two rangers made a reconnaissance flight to Windy Corner.  Conditions were favorable to proceed with consecutive short-haul evacuations of the two climbers using a "screamer suit" and an attending ranger.  The rangers and two rescued climbers were then internally loaded in the helicopter and flown back to Talkeetna for further care.         

The 2019 Denali mountaineering season is considered in its early stages, with only 166 climbers currently on the mountain.  The first NPS ranger patrol of the season reached the 14,200-foot camp late Sunday night, shortly after assisting with the short-haul evacuation at Windy Corner.  No mountaineers have reported reaching the summit of either Denali or Mount Foraker.
 
 ***
Photo of the Day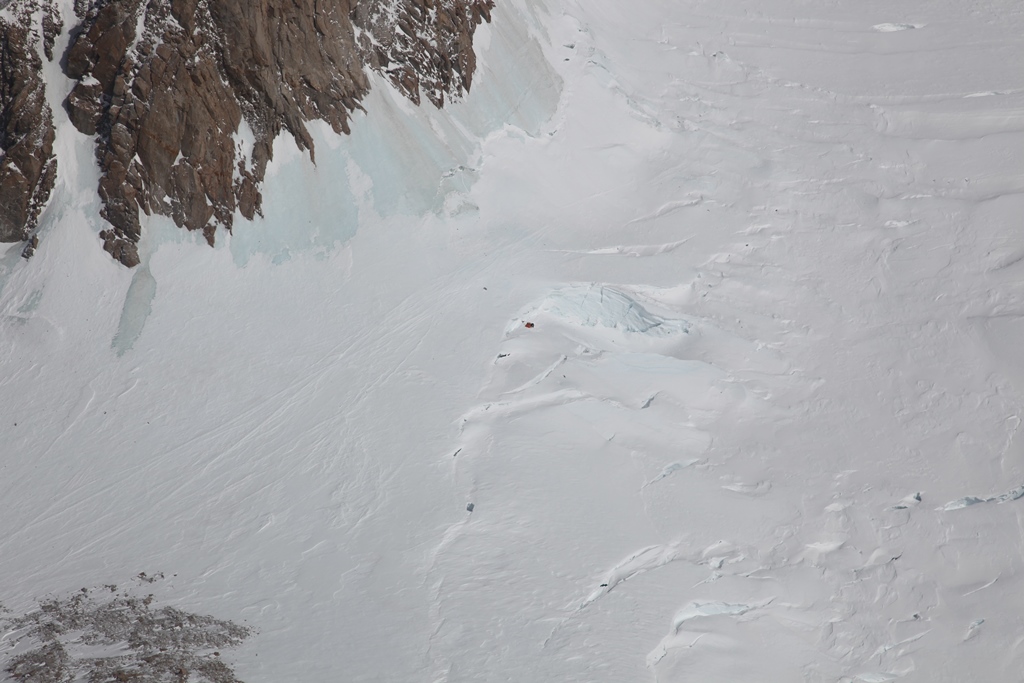 While not the most scenic perspective, this image of Windy Corner was taken during a SAR reconnaissance flight Thursday, May 16.  In the middle of the photo, just under the lip of the crevasse, the rescued party's red tent can be seen, off trail.  (NPS Photo / David Weber)