| | | |
| --- | --- | --- |
| TODAY'S STATS | Mt. McKinley | Mt. Foraker |
| Registered Climbers | 882 | 9 |
| Climbers Currently On Mountain | 191 | 0 |
| Completed Climbs | 9 | 4 |
| Number of Summits | 1 | 4 |
| Summit Percentage | 11% | 100% |

The Walter Harper Talkeetna Ranger Station also maintains a daily automated statistics phone line, so if this blog is lagging behind and you need up-to-date registration numbers, call (907) 733-9127. 

Weather Report
Clear blue skies today, though a large lenticular cloud is visible over the summit of Denali this morning. Windspeed at 7,200 feet at 8:00 am was 5 mph from the east, with gusts to 7 mph.  Temperature 19 F (-7 C).  
In the last 24 hours at 7,200-feet:
Low temp: 16 F (-9 C) 
High temp: 28 F (-2 C)
No precipitation has fallen in the past 24 hours.

National Weather Service forecast  

Ranger Update
NPS Denali Patrol #1 (Erickson, Westman, 2 PJ's, 4 VIPs) is in place at the 14,200-foot camp.  Crucial telephone communications have now been established.  The patrol will continue to build camp infrastructure. Now that a small heater is in place, the A-Star B3e helicopter will fly to 14,200-camp with cold-sensitive medical and other supplies.  Rangers and VIP medics have been treating a patient with frostbite injuries. 
NPS Denali Patrol #2 (Shain + 3 VIPs) will move from their camp at 9,100 feet on the Northeast Fork of the Kahiltna Glacier up to roughly 11,000 feet below the Couloir.  Assuming stable snow conditions, the patrol plans to ascend to 14,200-foot camp via the Lower Rib route.
NPS Basecamp Patrol #1 (Robinson + 4 VIPs) is busy constructing the NPS Basecamp infrastructure; they also spent several hours yesterday assisting a sick climber who flew out from camp for further medical care. 


Route Conditions
Following several feet of new snow coupled with windy conditions in the Alaska Range, there have been several reports of large slab avalanches in the Ruth and Kahiltna Glacier areas. The most recent was a large avalanche (SS-AFu-R5/D4-I) which took place on the West Face of Mt. Dickey above 747 Pass. The crown was between 7,500 feet and 8,000 feet.  (See News Release for more information)
Per ranger Dan Corn, "this avalanche was triggered from a shallow zone of the slab but had an average crown depth greater than 1 meter and propagated through and over crevassed terrain and small ridges. This shows that the weak layer is spatially consistent based on the distance in which propagation occurred. The weak layer is the old snow/ new snow interface with the dense slab from the most recent storm/ wind cycle making up the slab. This could vary throughout the Alaska Range but is thought to be fairly widespread.  Use caution and good safe travel protocols when traveling in and under avalanche terrain as we learn more about this avalanche problem."
The NPS Patrol #1 confirmed lots of crevasses at and above Windy Corner.  They report the trail this year goes high into the rockfall area between Windy Corner and 14,200-feet.
NPS Patrol #2 is the first team of the season to travel up the Northeast Fork of the Kahiltna, and they report 10" to 12" deep snow (boot high).


Photo of the Day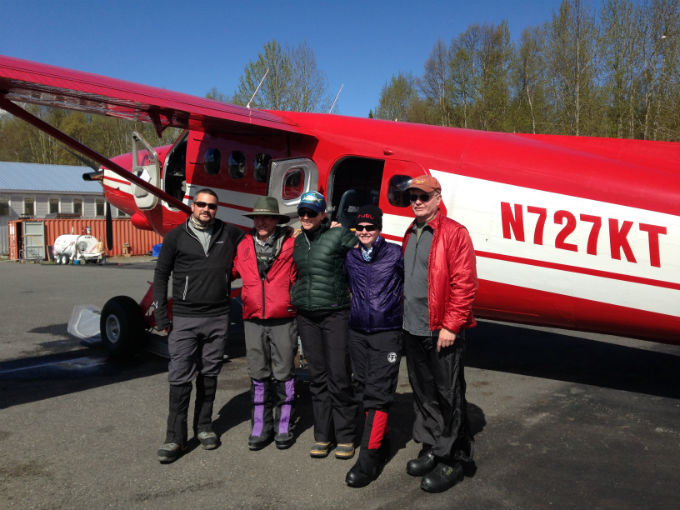 The first NPS Basecamp patrol of the season flew to the Kahiltna Glacier on Monday.  From left to right, patrol members include Ken Karstens (descendant of Harry Karstens, Denali NP's first Superintendent and member of the first pioneer expedition to reach the summit of Denali in 1913), NPS Ranger Roger Robinson, VIP Emily McGinty, and father and daughter VIP's Hannah and Martin Terwilliger.  (NPS Photo)