| | | |
| --- | --- | --- |
| TODAY'S STATS | Mt. McKinley | Mt. Foraker |
| Registered Climbers | 857 | 11 |
| Climbers Currently On Mountain | 134 | 0 |
| Completed Climbs | 2 | 4 |
| Number of Summits | 1 | 4 |
| Summit Percentage | 50% | 100% |

The Walter Harper Talkeetna Ranger Station also maintains a daily automated statistics phone line, so if this blog is lagging behind and you need up-to-date registration numbers, call (907) 733-9127. 

Weather Report
After a long weekend of snowy conditions, the skies are again clear and temperatures chilly in the Alaska Range this morning.  The recent snowstorm dropped almost 1 meter (39 inches) of new snow at the 11K camp between May 8 and 10.  At 7,200-feet, the Basecamp Manager reported 38 cm (15 inches) of total accumulation.  Today, winds at Basecamp are at 5 mph out of the east this morning, with a temperature at 8 am of 14 F (-10 C).  
In the last 24 hours at 7,200-feet:
Low temp: 9 F (-13 C) 
High temp: 28 F (-2 C)
No precipitation has fallen in the past 24 hours.

National Weather Service forecast  

Ranger Update
NPS Denali Patrol #1 (Erickson, Westman, 2 PJ's, 4 VIPs) remained camped at 11,200 feet camp on the West Buttress throughout the recent snowstorm, with quality time spent shovelling the over three feet of new snow that fell in three days time.  Although the snow stopped falling on Sunday, the patrol remained at camped at 11K to allow time for the new snow to settle.  Today (Monday), they will happily move up the mountain to the 14,200-foot basin.  Although they will enjoy a new view and a new campsite, the heavy shovelling will begin again, as they prepare and construct the critical 14,200-foot camp infrastructure.  One early and primary task in that construction will be to establish telephone communications with Talkeetna staff.
NPS Denali Patrol #2 (Shain + 3 VIPs) were delayed one day in flying into the Range.  The patrol flew in Sunday, May 10, and began their ascent that afternoon.  They spent their first night camped at 7,800-feet on the Kahiltna Glacier.
The first NPS Basecamp Patrol of the season will fly onto the Kahiltna Glacier today to set up NPS basecamp operations for the season.  As is tradition, Ranger Roger Robinson will lead the set-up of the 7,200-foot camp, with the help of four hearty volunteers.   


Route Conditions
As noted above, both the lower glacier and upper elevations of the mountain received considerable new snow during the past storm.  Climbers should remain cautious of crevasse potential between 11,200' and 14,200' on the West Buttress, as an additional crevasse fall was reported, again with no reported injuries. 

Photo of the Day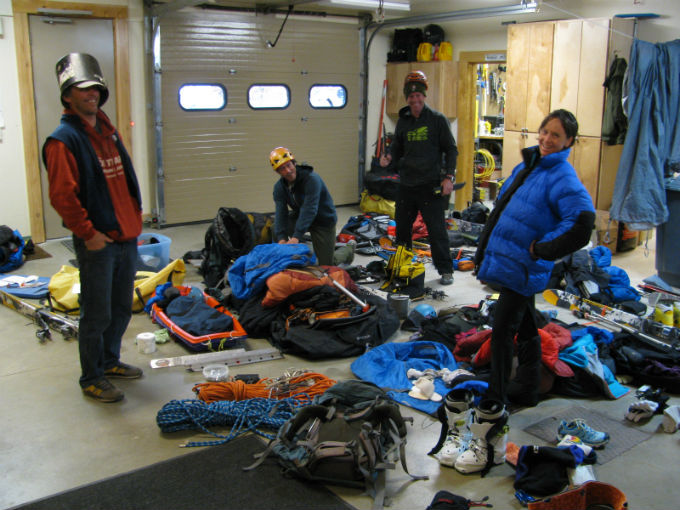 NPS Patrol #2 packs their patrol gear in the back bay of the Walter Harper Talkeetna Ranger Station before flying into the Alaska Range.  From left to right, VIP Andy Rich (testing his new stainless steel helmet-stockpot combo), NPS Ranger Mik Shain, VIP Tom Schaefer, and VIP Sue Wolff.  (NPS Photo/Gualtieri)