| | | |
| --- | --- | --- |
| TODAY'S STATS |     Denali     | Mt. Foraker |
| Registered Climbers | 990 | 10 |
| Climbers Currently On Mountain | 112 | 5 |
| Completed Climbs | 7 | 0 |
| Number of Summits | 0 | 0 |
| Summit Percentage | 0% | 0% |
The Walter Harper Talkeetna Ranger Station also maintains a daily automated statistics phone line, so if this blog is lagging behind and you need up-to-date registration numbers, call (907) 733-9127.
Mountain Weather

Quick rundown:  Yesterday evolved into a comparatively pleasant day lower on the mountain, with mostly clear skies and calmer winds on the lower glacier.  At mid- to higher elevations, winds remained strong.  This morning, clouds have built up throughout the range.


Weather station telemetry data from Basecamp and the 14K camp are now transmitted hourly to the MesoWest website, including temperatures, wind speed, wind direction, snowfall, and solar radiation.  MountainWeather.com compiles a Denali Weather page, complete with links to the MesoWest telemetry data, the National Weather Service Denali Climbing Forecasts, as well as links to FAA webcams. 

Click here for the National Weather Service Denali Climbing Forecast

Click here for the FAA webcam on the Kahiltna Glacier. 

 
Route Conditions
 
With wind and snow thwarting upward progress, still only 2 or 3 teams have reached the 14,200-foot camp on the West Buttress. The trail reviews are mixed:  Squirrel Hill is described as 'snowy and fine'.  Windy Corner is characterized as blue and icy.
Recent reports from other parts of the Range:
Ruth Peaks
  (5/1 - 5/9, reported by Gardner/Hennessey) "Over 1 meter snow accumulation during this time. At least 50 cm settlement on glacier, expect less on north aspects.  Deep snow and large mushrooms on Rooster Comb North Buttress, better conditions on solar aspects."
Huntington, Harvard Route
  (5/1 - 5/3)  "Access couloir and upper snowfield were stable snow / some ice. Rap anchors are all good. Bergshrund was crossed with some difficulty on the far right, will get more difficult as times goes by. Rock pitches are mostly snow free.  About ~1 foot of new snow fell on 5/4. Summit ridge felt stable and didn't observe any elevated cornice hazard." 
Kahiltna Peaks
(4/27 to 5/4, reported by Will Gordon, Zack Novak) Climbed Bacon & Eggs, Mini Moonflower and SW Ridge of Frances. Great ice conditions on B&E and MM. Mini Moonflower had ice (thin) all the way through the crux. B&E had good ice but a little rotten for a few body lengths. SW Ridge of Frances had much unconsolidated snow that required extensive shoveling. I popped into a crevasse/upper bergshrund at 9,000'. Propagating bridge failure ~ 50 feet. Beware of potentially thinly covered cracks on wind loaded features even though the lower glaciers still seem well-filled.  Great ski conditions on the shady aspects. Solars had a wide variety of supportive and breakable (sp?) crusts.
Kahiltna Peaks
(4-23 to 5/9, reported by Jon Lykins, Ben Leiber, Alex Hansen) "Climbed Bacon & Eggs and SW Ridge of Frances to tower 4. Unconsolidated snow with forming windslabs on northern aspects. New snow 30 to 40 cm 5/4-5/9. Ice was good on northern aspects.   
Ranger Update
NPS 14K Patrol #1
(Preston) The patrol has remained at 11,000 feet due to blowing snow.  They did make an acclimatization run to Windy Corner (see conditions report above) over the weekend.  When weather permits, they will move up to the 14,200-foot camp. 
NPS 14K Patrol #2
  (Coady) The patrol flew into Basecamp Thursday afternoon, and headed up the trail that early evening. They are currently camped at 7,800 feet. 
NPS 7K Patrol #1
(Robinson) The NPS basecamp set-up patrol has completed their mission and are intending to fly out today.
NPS 7K Patrol #2
(Weber)  Ranger Dave Weber and returning VIP Dr Katie Russell are next on deck to provide NPS patrol presence at Basecamp and the lower mountain. 
Mountaineering ranger staff both on the mountain and at the Talkeetna Ranger Station have plans in place to evacuate a two-person climbing team near Windy Corner, one of whom suffered an immobilizing injury in a 20-foot fall on ice. In the past 36 hours, high winds and intermittent blowing snow have kept both air and ground rescue teams from reaching their location.  Rangers are in regular satellite communication with the team; the injured party is in stable condition and both team members are hunkered down and waiting for the winds to ease up.   
Photo of the Day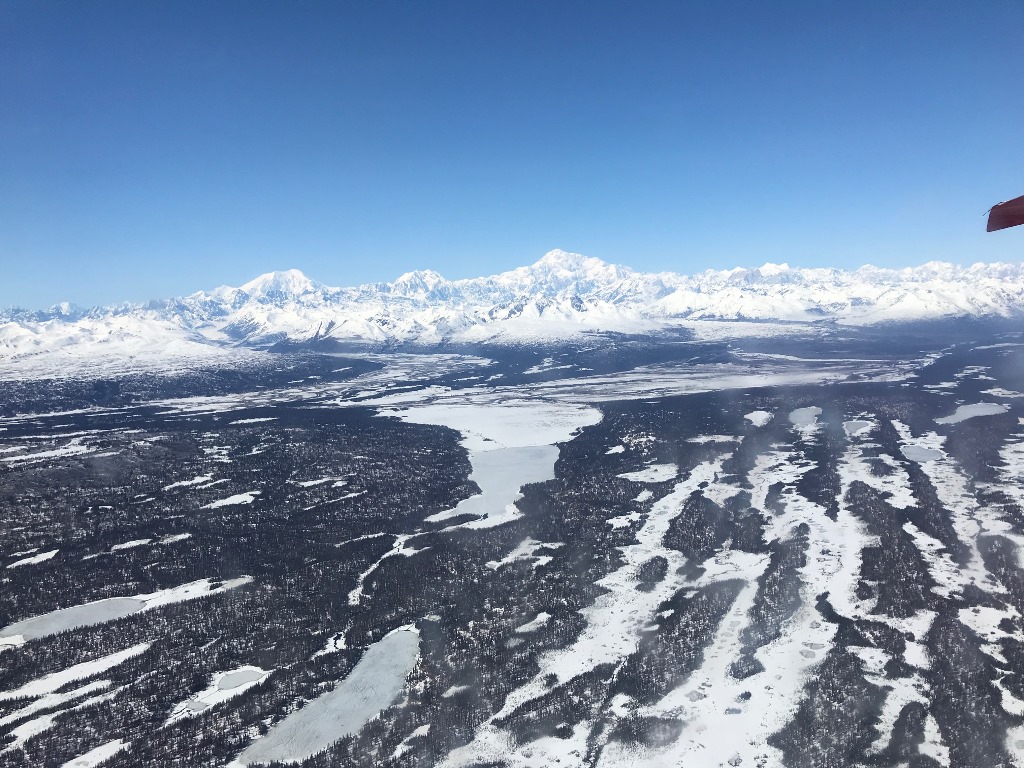 Even just last week, the approach to the Alaska Range was a wintery one.  (NPS Photo / Jake Beren)