| | | |
| --- | --- | --- |
| TODAY'S STATS | Mt. McKinley | Mt. Foraker |
| Registered Climbers | 803 | 9 |
| Climbers Currently On Mountain | 16 | 4 |
| Completed Climbs | 2 | 0 |
| Number of Summits | 1 | 0 |
| Summit Percentage | 50% | 0% |

The Walter Harper Talkeetna Ranger Station also maintains a daily automated statistics phone line, so if this blog is lagging behind and you need up-to-date registration numbers, call (907) 733-9127. 

Weather Report:
Skies were generally clear overnight, but a bank of clouds moved through Basecamp early this morning leaving a trace of new snow.  The mountains surrounding the Kahiltna Glacier were all clear and visible this morning at 8:00 am with a few clouds still moving through overhead.  Winds generally calm at 7 mph from the northeast, and the morning temperature was 18 F (-8 C).
In the last 24 hours at 7,200-feet:
Low temp: 9 F (-13 C) 
High temp: 19 F (-7 C)
National Weather Service forecast  

Ranger Update:
The first Denali patrol of the season is packed to fly in to Basecamp tomorrow. The patrol will be led by Rangers Erickson and Westman, and includes four NPS Volunteers-in-Parks (VIPs) and two Air National Guard Pararescuemen from Anchorage. 
Rangers Chenoweth and Weber are on a climbing patrol of the Sultana Ridge of Mt. Foraker.
Two Denali-bound teams (from Latvia and Spain, respectively) are checking in at the Walter Harper Talkeetna Ranger Station today.  And although no orientations are currently scheduled for tomorrow, it looks like Sunday will be a busy orientation day, as four groups arrive, including the season's first guided expedition.

Route Conditions:
Still no specific West Buttress route condition reports this early in the season, however according to climber reports around Basecamp and on Mt. Frances, snow conditions are good, with a nice firm snowpack making for easy travelling. 

Photo of the Day: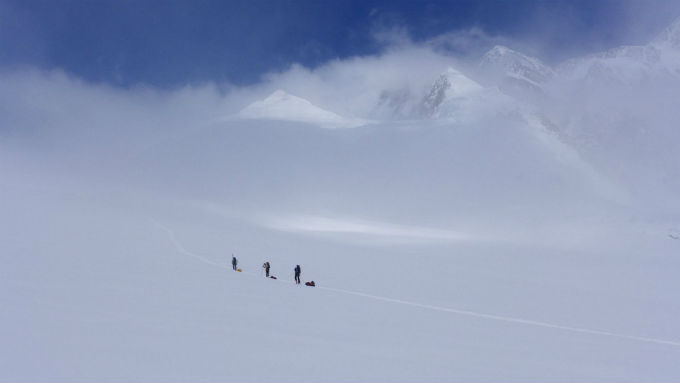 This photo was taken last year by Ranger Coley Gentzel during an early season Denali patrol.  Teams starting their ascent this early in the season tend to experience colder temperatures, but enjoy beautiful solitude. (NPS Photo/Coley Gentzel)