| | | |
| --- | --- | --- |
| TODAY'S STATS |     Denali     | Mt. Foraker |
| Registered Climbers | 1,075 | 16 |
| Climbers Currently On Mountain | 502 | 0 |
| Completed Climbs | 376 | 16 |
| Number of Summits | 162 | 7 |
| Summit Percentage | 43% | 44% |
The Walter Harper Talkeetna Ranger Station also maintains a daily automated statistics phone line, so if this blog is lagging behind and you need up-to-date registration numbers, call (907) 733-9127. 

Weather Report
7,200 feet - A beautiful morning. Lisa reports scattered clouds over basecamp, with Mount Foraker again visible, as well as the bottom half of Denali. The lower mountain did not receive any new snow overnight. Wind was 2 mph out of the east, with gusts to 11 mph out of the southeast. 
In the last 12 hours:
Current temp:  -3 C / 27 F
Low temp:  -7 C / 19 F
High temp:  -3 C / 27 F


14,200 feet -  Clear blue skies above, with a cloud ceiling down below at 9,500 feet. Wind was 3 mph out of the northeast, with mild gusts to 8 mph out of the north. No new snow overnight. 
In the last 12 hours:
Current temp:  -21 C / -6 F
Low temp:  -24 C / -11 F
High temp:  -18 C / 0 F
National Weather Service forecast

Ranger Update
NPS Denali Patrol #2 (McBrayer and 3 VIPs)  Joey, Amrit, Wes, and Chris just flew into Talkeetna as of press time (1:30 pm AK time), mesmerized by the lush greenery after a month at elevation.  
NPS Denali Patrol #3 (Corn, 4 VIPs, 2 PJ's)  Dan and crew treated a frostbite patient at 14 camp last night and this morning. The patient was evacuated with the helicopter midday today due to cold injuries to hands and feet. The patrol will welcome Mik Shain and his fellow patrol members at 14 camp sometime this afternoon. After a day or two of camp overlap, Patrol #3 will ascend to high camp.
NPS Denali Patrol #4 (Shain, 4 VIPs)  Today is Windy Corner day, and the team should arrive at 14 camp in the late afternoon.  
NPS Denali Patrol #5 (Gentzel, 3 VIPs) Ranger Coley Gentzel and his 3 volunteers Jim Donovan, Allison Mulcahy, and Jaime Musnicki flew into basecamp today. As usual, they will likely stick around camp for a day or so, acclimating and practicing crevasse rescue skills.  
NPS Basecamp Patrol #3 (Preston, 1 VIP)  Frank just completed his patrol, and is now safely back in Talkeetna.
NPS Basecamp Patrol #4 (Coady, 1 VIP)  Melis Coady enjoyed a quick one-week reprieve between her 30-day upper mountain patrol and her 10-day basecamp patrol.  Melis will be accompanied at basecamp by volunteer Bace Poplawski.


Route Conditions
Ranger Dan Corn has had his eye out for avalanche activity since the heavier snow fell over the weekend.  He hasn't seen any slab avalanches, but he has seen a few sluffs. His team was going to go take a closer look at the snow conditions this afternoon. He still cautions there is likely some avalanche potential at the fixed lines and Windy Corner.
The main glacier trail has been firmly re-established by the 50+ climbers/skiers headed down to basecamp in the last 24 hours. Reports are that the lower glacier is in great shape with all the new snow and cooler temperatures.


Photo of the Day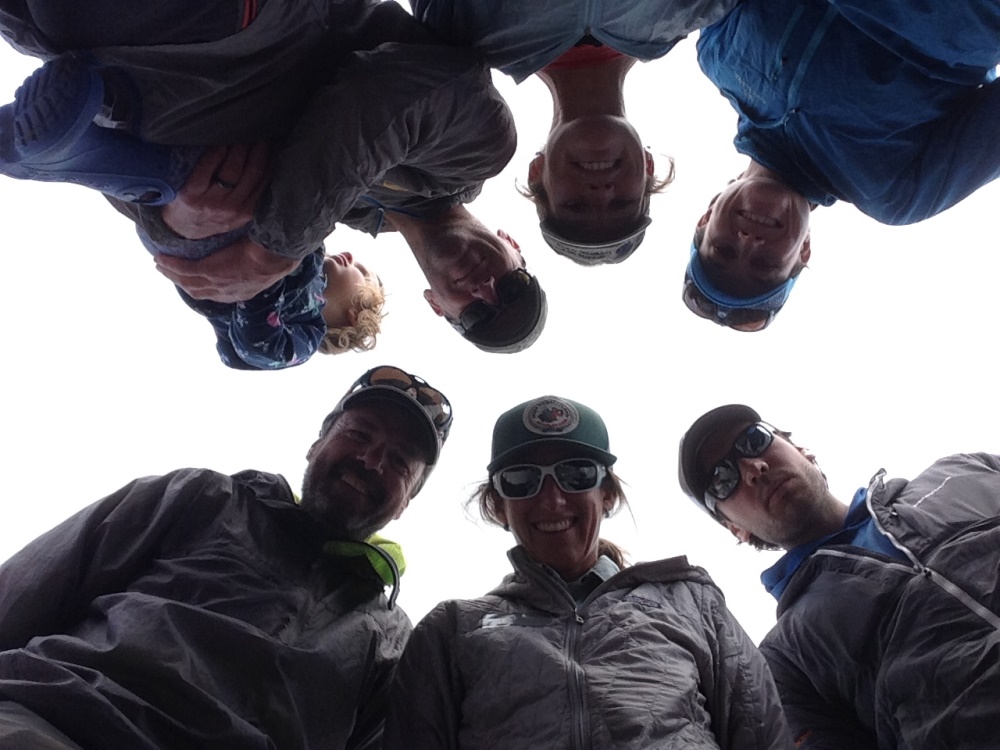 It's patrol fly day!  Pictured above is Denali Patrol #5 and Basecamp Patrol #4, clockwise from upper left:  2-year-old Anja in the arms of her father, Coley Gentzel, then Jaime Musnicki, Allison Mulcahy, Bace Poplawski, Melis Coady, and Jim Donovan. NPS Photo/Chris Erickson