| | | |
| --- | --- | --- |
| TODAY'S STATS |     Denali     | Mt. Foraker |
| Registered Climbers | 1,069 | 16 |
| Climbers Currently On Mountain | 459 | 1 |
| Completed Climbs | 374 | 15 |
| Number of Summits | 160 | 6 |
| Summit Percentage | 42% | 40% |
The Walter Harper Talkeetna Ranger Station also maintains a daily automated statistics phone line, so if this blog is lagging behind and you need up-to-date registration numbers, call (907) 733-9127. 

Weather Report
7,200 feet - Looking at the weather observations from the weekend, the lower mountain saw light snowfall on Saturday with a few convenient clearings thrown in, allowing flights to intermittently move teams in and out. Sunday afternoon brought heavy snow (~3 cm/hr). As of 8 am this morning, the storm total was 41 cm. A ight snow was coming down this morning, with the top of Mount Foraker visible from basecamp. Wind was calm, with gusts to 12 mph out of the northwest. 
In the last 12 hours:
Current temp:  -4 C / 25 F
Low temp:  -7 C / 19 F
High temp:  -2 C / 28 F


14,200 feet -  Higher on Denali, teams enjoyed a surprise weather clearing on Saturday, with beautiful skies and light winds.  By Sunday evening, it was again dumping snow and the wind picked up. In the last 24 hours at 14 camp, they've received 20 cm of snow. Winds were quite calm this morning, and they had patchy visibility...they too had a clear view of Mount Foraker from camp, but not much of anything else. 
In the last 12 hours:
Current temp:  -20 C / -4 F
Low temp:  -20 C / -4 F
High temp:  -18 C / 0 F
National Weather Service forecast

Ranger Update
NPS Denali Patrol #2 (McBrayer and 3 VIPs)  Joey and his fellow patrollers went to the summit during that unexpected burst of gorgeous weather on Saturday. Joey estimated between 50 and 60 other climbers went to the summit as well. All in all, other than high traffic, there were few if any problems up high. The patrol did some minor maintenance on the Autobahn pickets, but they found them in great shape thanks to previous maintenance work done by the Benegas Brothers Expedition. The patrol planned to descend from 14K to basecamp today, with their flight out currently scheduled for tomorrow (Tuesday).  
NPS Denali Patrol #3 (Corn, 4 VIPs, 2 PJ's)  Dan and crew have been watching the 14 camp population expand and contract, expand and contract. In the last 24 hours, there's been lots of shovelling to keep them busy. The patrol plans to move up to 17 camp as soon as Patrol #4 makes it to 14K in the next day or two.
NPS Denali Patrol #4 (Shain, 4 VIPs)  Heavy snowfall on the lower mountain meant a few extra days stuck at 7,800 camp.  This morning Mik, et al, were at 11 camp, with plans to round Windy Corner tomorrow if weather permits.
NPS Denali Patrol #5 (Gentzel, 3 VIPs) Ranger Coley Gentzel and his 3 volunteers are all in Talkeetna packing and training...poised for a Tuesday fly-in.  We'll introduce everyone tomorrow.
NPS Basecamp Patrol #3 (Preston, 1 VIP)  Frank has been doing lots of shovelling lately, and will hand off his shovel to Ranger Melis Coady, who heads in with one volunteer tomorrow.
NPS Basecamp Patrol #4 (Coady, 1 VIP) also heads in tomorrow, weather permitting. 


Route Conditions
Ranger Dan Corn advises that the heavy snow from yesterday has some slab avalanche potential on the upper mountain. He cautions there is likely some snow-loading at the fixed lines and Windy Corner.
On the lower mountain, consistent new snow and cooler temperatures has been great for the long term health of the snowpack, but the route is not well-wanded at the moment.  Teams headed out of basecamp might be doing some route-finding as well as trail-breaking.

Photo of the Day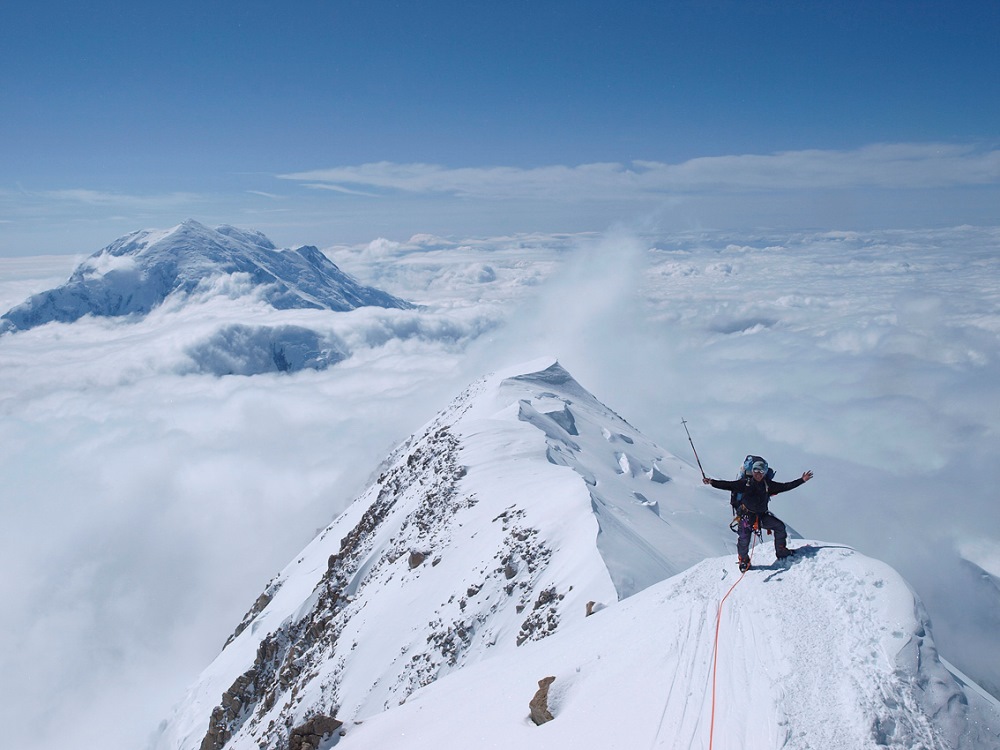 A beautiful, calm summit day from a few years back, as captured by photographer and mountaineering volunteer Menno Boermans. We are excited to see Menno return to Denali next week!  Photo courtesy of Menno Boermans.