| | | |
| --- | --- | --- |
| TODAY'S STATS |     Denali     | Mt. Foraker |
| Registered Climbers | 1,028 | 7 |
| Climbers Currently On Mountain | 530 | 0 |
| Completed Climbs | 327 | 7 |
| Number of Summits | 152 | 0 |
| Summit Percentage | 46% | 0% |
The Walter Harper Talkeetna Ranger Station also maintains a daily automated statistics phone line, so if this blog is lagging behind and you need up-to-date registration numbers, call (907) 733-9127.
Mountain Weather

Click here for today's National Weather Service Denali Climbing Forecast.  

And here for the Kahiltna webcam:  https://avcams.faa.gov/  

7,200 camp:  Scattered clouds, with parts of all high mountains visible from Lisa's tent.  Winds were generally calm, with gusts to 13 mph out of the east. A trace of snow fell overnight.
In the last 12 hours:
Current temp (8 am): -1 C (30 F)
High temp:  -1 C  (30 F)
Low temp: -3 C  (27 F)
14,200 camp:   Camp is sunny and calm this morning, situated in the sweet spot between a 'sick cloud deck at 12,000 feet and big wind banners above 17,000 feet'.  Winds were out of the northeast between 6 and 7 mph.  They woke up to 6 cm of new snow, the first real snowfall since May 25.
In the last 12 hours:
Current temp (8 am): -17 C (1 F)
High temp: -16 C  (3 F)
Low temp: -19 C  (-2 F)
 
Ranger Update
 
NPS Denali (14K) Patrol #3: 
(Rgr Erickson,
Rgr Beren
, VIP Bracher, VIP Mock, VIP Weaver)  Patrol is camped at 17,200 feet, and I've only learned today that ranger Jake Beren is up there with them, and has been for the past several days. Luckily, because its been busy up high: Chris and Jake counted 95 climbers who went for the summit on Monday. The high traffic meant long, slow summit days for those who stuck to their plan. Bottlenecks at all the likely spots, Autobahn, summit ridge, meant 18 to 19-hour summit days in many cases.  As a result, the patrol assisted in the evacuation of two frostbitten climbers from high camp on Tuesday morning (see SAR Activity below)
NPS Denali (14K) Patrol #4:
  (Rgr Chenoweth, NPS Loso, NPS Sykes, VIP Kreiger) As mentioned above, Jake moved up to high camp several days ago to assist Patrol #3, and he will remain with them for the duration.  Meanwhile, patrol #4's weatherstation work is complete, and the rest of the team (Tucker, Mike, Jim, and Korinne) are flying off the mountain today after having assisted with the SARs noted below.    
NPS Denali (14K) Patrol #5:
  (Rgr Weber, VIP Treat, VIP Malone, VIP Scheele, VIP Byers, PJ Kirby)  Off to a busy start at 14 camp, just the way they like it.  Since their first 48 hours in camp has been tied up with search and rescue coordination, today they've begun to settle in and do some meet-and-greets around camp.    
NPS Basecamp (7K) Patrols #4:
  (Rgr Westman, VIP Weaver) Mark and Katie were busy at basecamp yesterday, helping transport patients from the park helo to LifeMed air ambulance and to fixed wing aircraft, as needed.  Eagle Eye Mark spent much of the morning looking through the spotting scope onto the South Face, helping solve the mystery of the mistakenly triggered InReach alert.   
Search and Rescue Activity
 
Talkeetna rangers received two early wake up calls yesterday morning (Tuesday, June 5) concerning climbers in need.  Almost simultaneously, rangers were alerted to a guided client at the 17,200-foot camp who returned from a long summit day with severe frostbite to both hands and both feet, likely attributed to long waits during a high traffic day in which 95 climbers were counted travelling between high camp and the summit. Around the same time as the frostbite call, the Rescue Coordination Center contacted rangers regarding an InReach SOS call triggered on the South Face of Denali.  

The frostbite patient was determined by rangers at 17K and 14K to be a strong candidate for urgent thrombolytic frostbite therapy, a specialized treatment that begins at Mat-Su Regional Medical Center and continues at the Burn Center at the University of Utah. Excellent flying conditions Tuesday morning enabled the park helicopter pilot to land at 17K, internally load and evacuate the patient to the 7,200-foot basecamp, where he was transferred directly to a LifeMed air ambulance. 

Meanwhile, clues were beginning to accumulate indicating that the InReach SOS was an inadvertent activation, i.e. a false alarm, and that the climbing party in question was safe and sound.  In fact, due to repeated satellite 'pings', along with a ranger tracking them in a spotting scope from basecamp, the climbing team was discovered to be steadily ascending their intended climbing route, unaware that their InReach device was activated in their backpack. After the earlier frostbite patient was released to LifeMed, the park helicopter pilot flew a reconnaissance mission to the upper mountain and affirmed the climbers were not in need of rescue.

However, by that time one of the frostbite patient's mountain guides was determined to have also suffered frostbite to his feet during that long summit push.  The cold injuries were less extensive than those of the client, however the guide could not safely descend on his own and was evacuated to Talkeetna.      

Route Conditions
 
"The most beautiful West Buttress trail I've ever seen in my life,"
says
Denali Ranger Joey McBrayer, following a descent from 17K to 7K over the past two days.
And Ranger Dave Weber was likewise superlative in his description of his ascent, having enjoyed "the best Windy Corner travel conditions this ranger has ever seen."    
Basecamp manager Lisa Roderick also relays continual reports that the lower glacier trail condition is in excellent shape, though climbers have generally transitioned to night travel schedules, as per usual this time of the season.  
Photo of the Day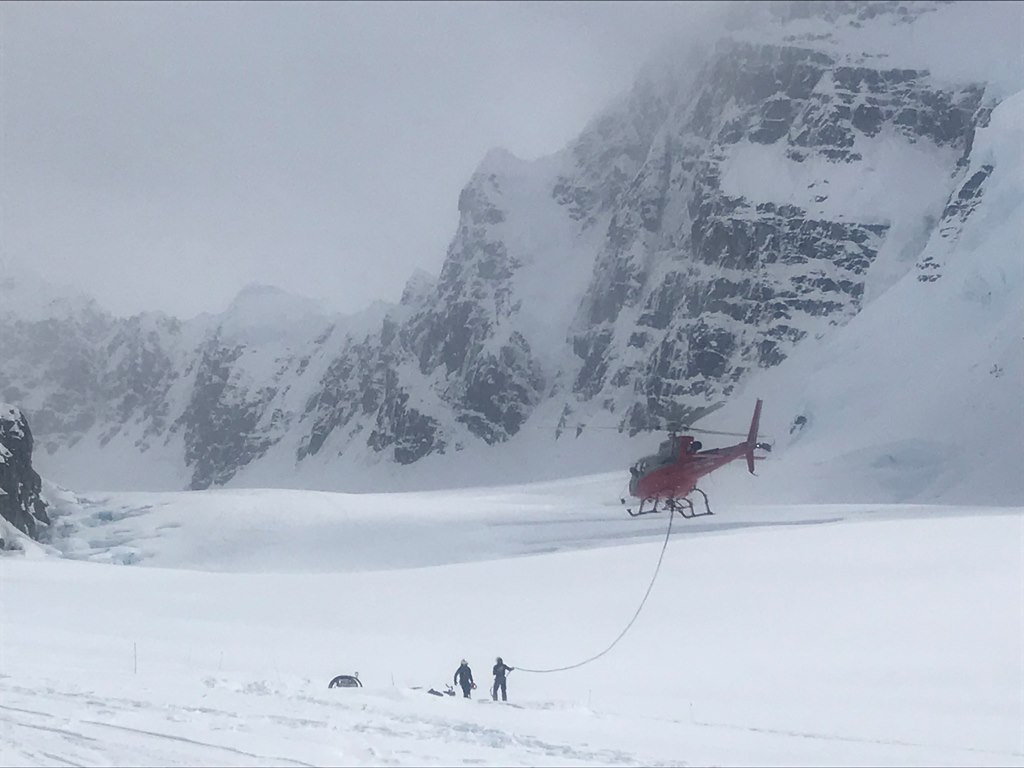 A ranger with a short-haul training rope in hand appears to be taking the high altitude helicopter out for a walk.  (NPS Photo/Melis Coady.)