Though not our favorite option, this season we will be producing weekly Field Reports (as opposed to almost-daily) to provide updates from the Alaska Range.  Please tune in each week for conditions reports, statistics, images, and news from the mountains. 
| | | |
| --- | --- | --- |
| TODAY'S STATS - 6/12/21 |     Denali     | Mt. Foraker |
| Registered Climbers | 997 | 28 |
| Climbers Currently On Mountain | 449 | 15 |
| Completed Climbs | 369 | 13 |
| Number of Summits | 193 | 3 |
| Summit Percentage | 52% | 23% |
The Walter Harper Talkeetna Ranger Station also maintains an almost daily automated statistics phone line, so if this blog is lagging behind and you need up-to-date registration numbers, call (907) 733-9127.
Mountain Weather

Saturday, June 12, 7:30 AM InReach report from Gabby Faurot at 7K:  "g'day! 27 degrees, 10 down glacier winds (been a bit blustery all night), bright and clear!


Weather station telemetry data from 7K and 14K are transmitted hourly to the MesoWest website, including temperatures, wind speed, wind direction, snowfall, and solar radiation.  MountainWeather.com compiles a Denali Weather page, complete with links to the MesoWest data, the NWS Denali Climbing Forecasts, as well as links to FAA webcams. 

Click here for the National Weather Service Denali Climbing Forecast

Click here for the FAA webcam on the Kahiltna Glacier. 


Ranger Reports

West Buttress / Denali conditions
Today's report from Travis at 14K:  "It was a whiteout for almost the whole day (on Friday, as they moved from 11 camp to 14), but thankfully no wind and not too much snow - just poor visibility. The conditions from 11 to 14 are great - good bootpack and not too icy or too deep."
Down here at 350 feet elevation in Talkeetna, it's starting to feel like climbing season is almost over because climber orientations have slowed to a trickle. In reality, with 449 climbers on the mountain today, we're still in peak season ON Denali, which is where it counts most.  Despite the numbers, it was another relatively quiet week on the mountain, with the exception of this morning. Three rescue/evacuations were completed by noon:
On Monday, June 7, a 70-year-old climber fell several feet while descending the fixed lines, breaking multiple ribs. Due to unflyable weather, he spent five nights in the medical tent, albeit in stable condition. He was evacuated from the 14,200-foot camp the morning of Saturday, June 12.
 
After ascending the Upper West Rib, a 38-year-old member of a six-person team was showing signs and symptoms of HACE and HAPE on the Football Field at 19,000 feet early morning Saturday, June 12. His teammates contacted the NPS for rescue assistance using an InReach.  In clear and calm weather, Temsco Helicopter Pilot Andy Hermansky short-hauled the climber to the 7,200-foot basecamp using a rescue basket at the end of a 200-foot line. He was evacuated to Talkeetna along with the patient with broken ribs (see bullet above).
 
A climber with moderate frostbite on nine out of ten of his fingers was evacuated from the 17,200-foot high camp on Saturday morning.
 
NPS 14K Patrol #3 (Weber)
   The patrol hosted hundreds of climbers at the 14,200-foot camp this last week, with a break in weather finally allowing for some upward movement on Thursday.  They also hosted the aforementioned patient in the medical tent for much the week. Now that Travis and Chrissie and their patrol have reached 14, Patrol #3 will likely head up to high camp after they get a good night's sleep.  
(DENA Ranger Dave Weber, BLCA Ranger Steve Kay, GRTE Ranger Jon Politis, VIP Shane Treat, VIP Eric Robbins) 
NPS 14K Patrol #4 (Baldwin/Oken)
 The patrol rolled into 14 camp Friday evening June 11, just in time to assist with the early morning flurry of activity on the upper mountain. 
(DENA Ranger Travis Baldwin, DENA Ranger Chrissie Oken, VIP Jed Purcell; VIP Scotty Barrier; and PJ Chris Krebs)
NPS 14K Patrol #5 (Chenoweth/Dossin)
  South District Ranger Tucker Chenoweth is thrilled beyond words to be back on patrol again!  He is joined by Ranger Galen Dossin, VIP Darcy Chenoweth (sister of Tucker, returning for her third mountaineering patrol), and Air National Guard Pararescueman (PJ) Dan Stikeleather on his first Denali patrol.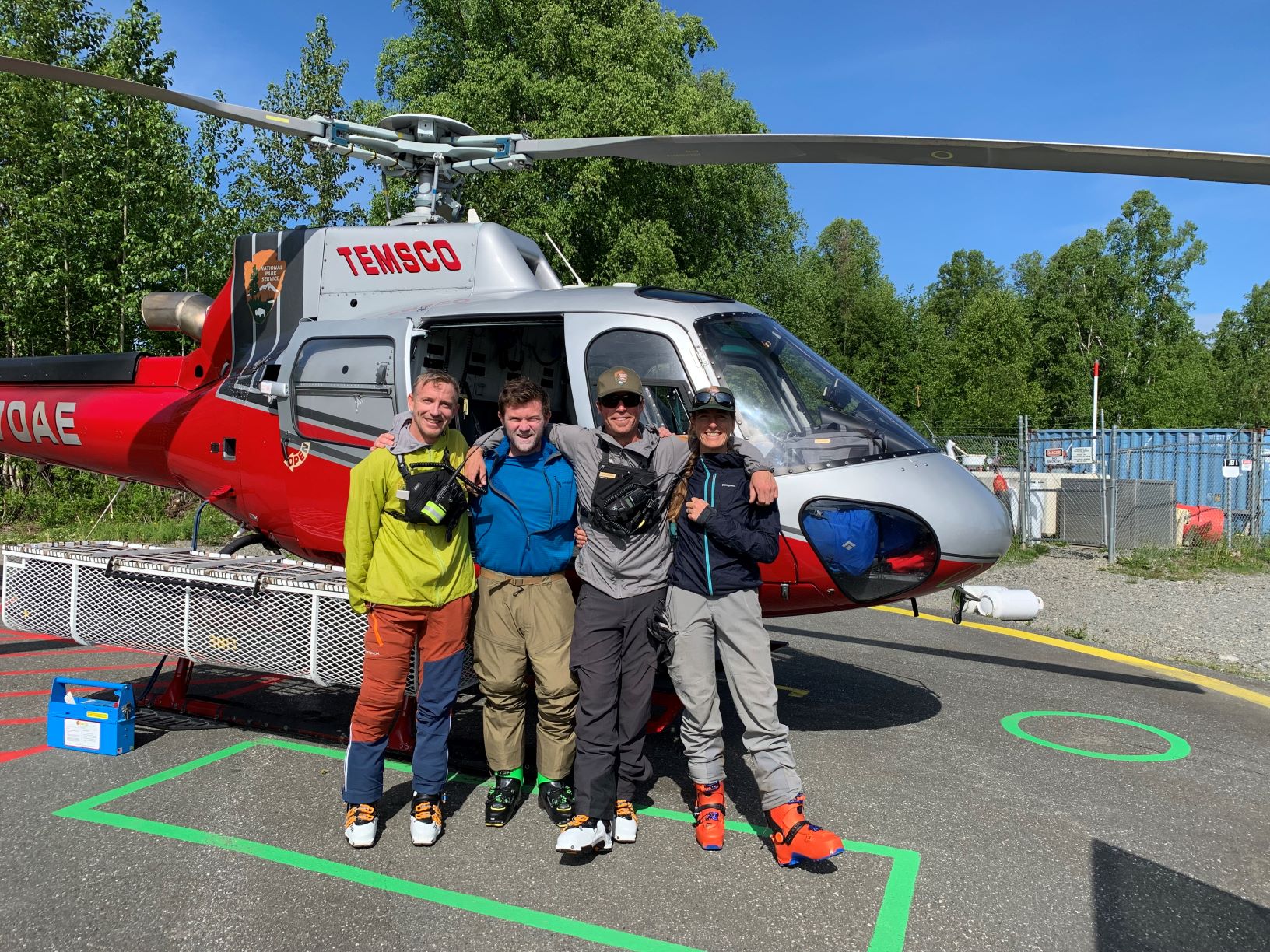 From left to right Ranger Galen Dossin, PJ Dan Stikeleather, South District Ranger Tucker Chenoweth, VIP Darcy Chenoweth  (NPS Photo)
NPS 7K Patrol #4 
Ranger Jake Beren and his volunteer Ian Hatchett spent about one week at the Kahiltna Basecamp, flying out Monday, June 7. 
Learn more about Denali Rescue Volunteers, an organization that helps make Denali National Park and Preserve's mountaineering operations whole! Thank you for all that you do each season, from helping equipping our volunteers, housing them before and after patrols, and supporting our recruitment process! 

Photos of the Week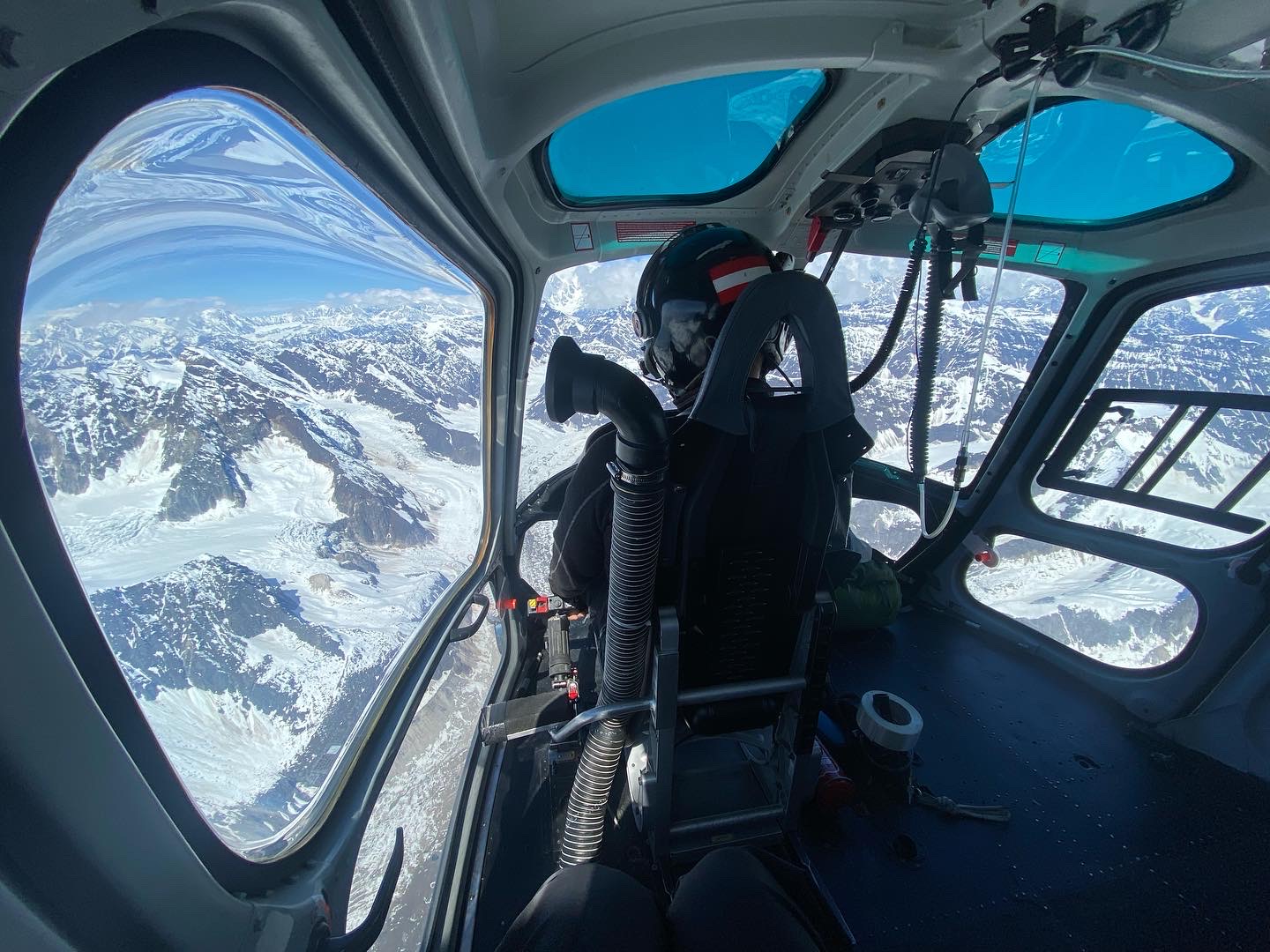 Temsco Pilot Andreas (Andy) Hermansky in the driver's seat.  (NPS Photo/Chelsie Valetta)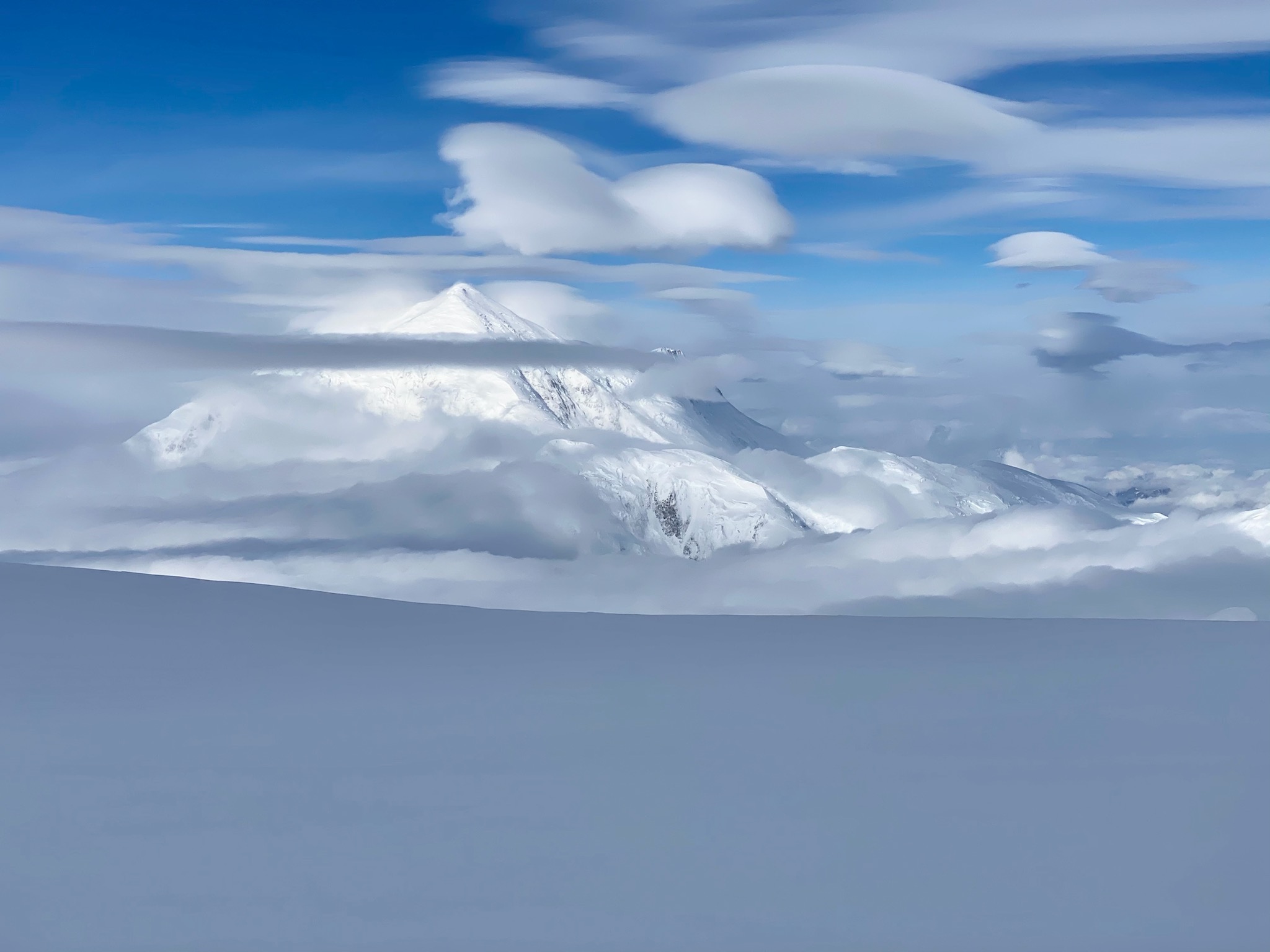 Lenticulars to the west of 14 camp on Thursday morning.  (NPS Photo/Dave Weber)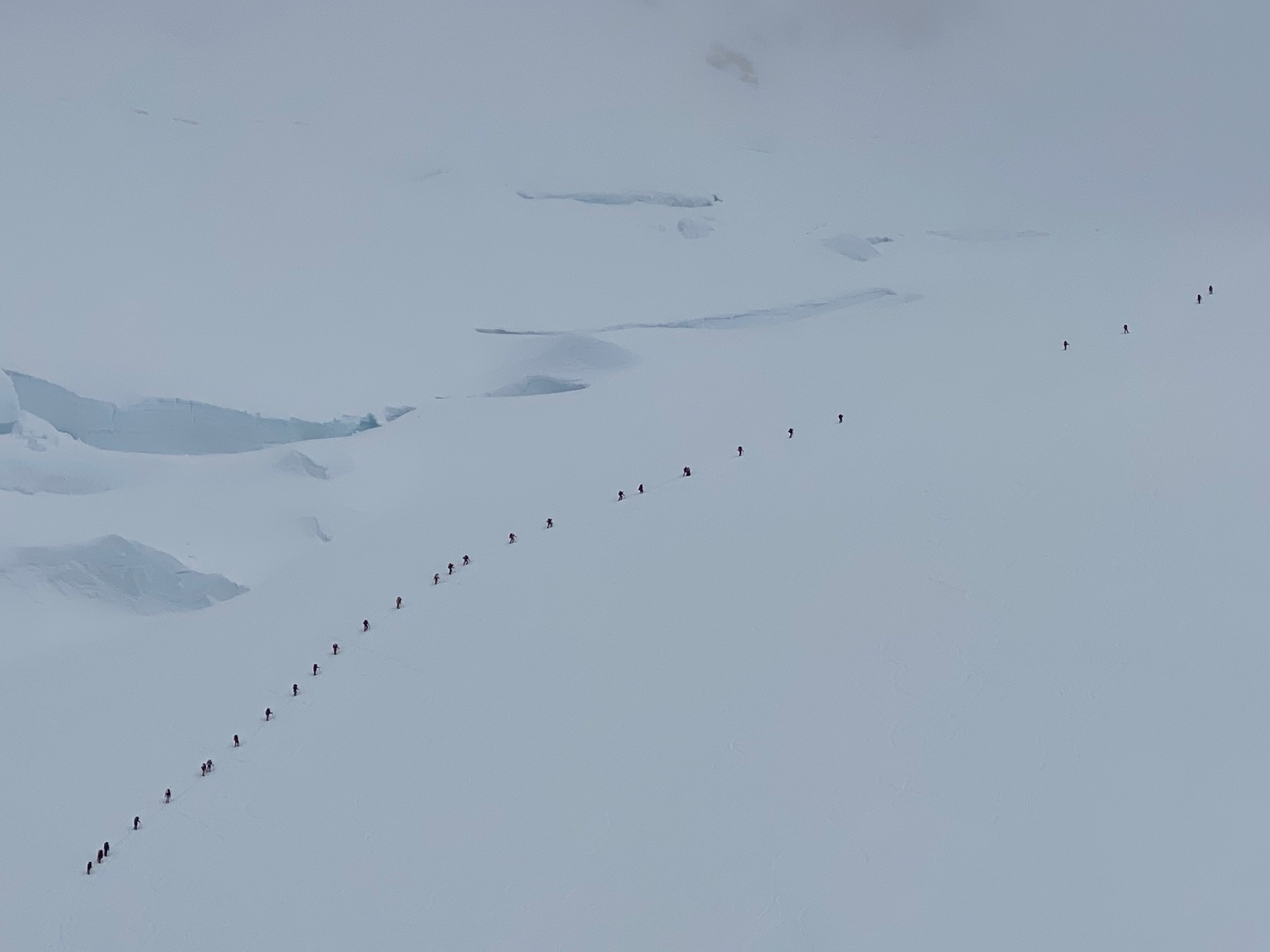 Onward and upward.  Another long line of climbers heads uphill, taking advantage of a break in the weather to ferry loads and/or re-position to high camp.  (NPS Photo/Dave Weber)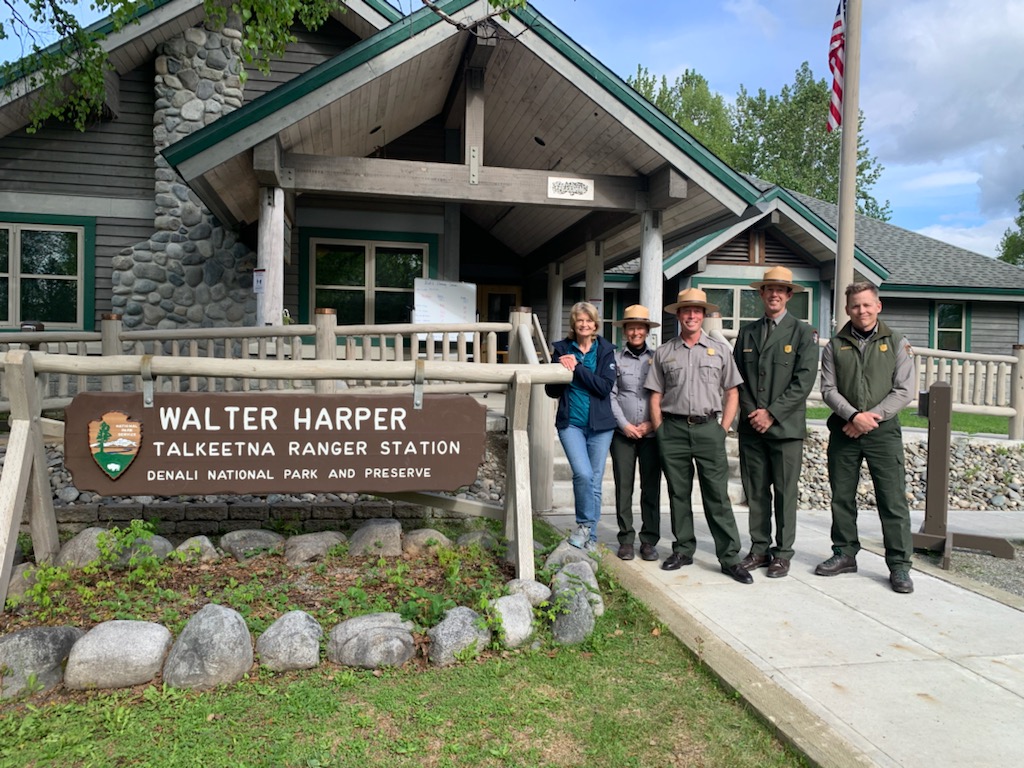 Walter Harper Talkeetna Ranger Station staff enjoyed a visit from U.S. Senator Lisa Murkowski over Memorial Day weekend.  Senator Murkowski wrote the legislation in 2013 that re-named the station to honor Athabaskan Walter Harper, the first person to reach the summit of Denali on June 7, 1913. From left to right, Senator Murkowski, Ranger Mik Dalpes, South District Ranger Tucker Chenoweth, Ranger Travis Baldwin, and Ranger Mark Westman.