| | | |
| --- | --- | --- |
| TODAY'S STATS |     Denali     | Mt. Foraker |
| Registered Climbers | 1,181 | 16 |
| Climbers Currently On Mountain | 535 | 2 |
| Completed Climbs | 346 | 11 |
| Number of Summits | 159 | 0 |
| Summit Percentage | 45% | 0% |
The Walter Harper Talkeetna Ranger Station also maintains a daily automated statistics phone line, so if this blog is lagging behind and you need up-to-date registration numbers, call (907) 733-9127.
Mountain Weather

Quick rundown:  Winds that have prevailed the last couple days/nights have died down, today is beautiful, clear, and calm at all elevations.

Weather station telemetry data from 7K and 14K are transmitted hourly to the MesoWest website, including temperatures, wind speed, wind direction, snowfall, and solar radiation.  MountainWeather.com compiles a Denali Weather page, complete with links to the MesoWest data, the NWS Denali Climbing Forecasts, as well as links to FAA webcams. 

Click here for the National Weather Service Denali Climbing Forecast

Click here for the FAA webcam on the Kahiltna Glacier. 
 
Route Conditions
 
Ranger Melis Coady reports the lower glacier to be in 'dreamy' condition - just perfect for travel. She said there weren't any visible crevasses between Basecamp and 11K, which is rare indeed for this time in the season. In fact great snow conditions have perhaps led to some climbers to forget that crevasses could a problem -- with at least a dozen crevasse falls cited between Windy Corner and 14K.   
Ranger Reports
NPS 14K Patrol #3 -
(Erickson/Baldwin) Winds have finally died down on the upper mountain, and lots of teams headed up the Autobahn this morning.  Lots.  Like more than 100.  Most of the patrol was likely to head uphill as well.
NPS 14K Patrol #4
 - (Weber)  Both Weber and Gault's patrols went ice climbing out of 14K yesterday after they got a welcome re-supply and visit from helo pilot Andy Hermansky.  Today, legendary handyman (VIP) Shane Treat spent about 5 hours on solar panel maintenence.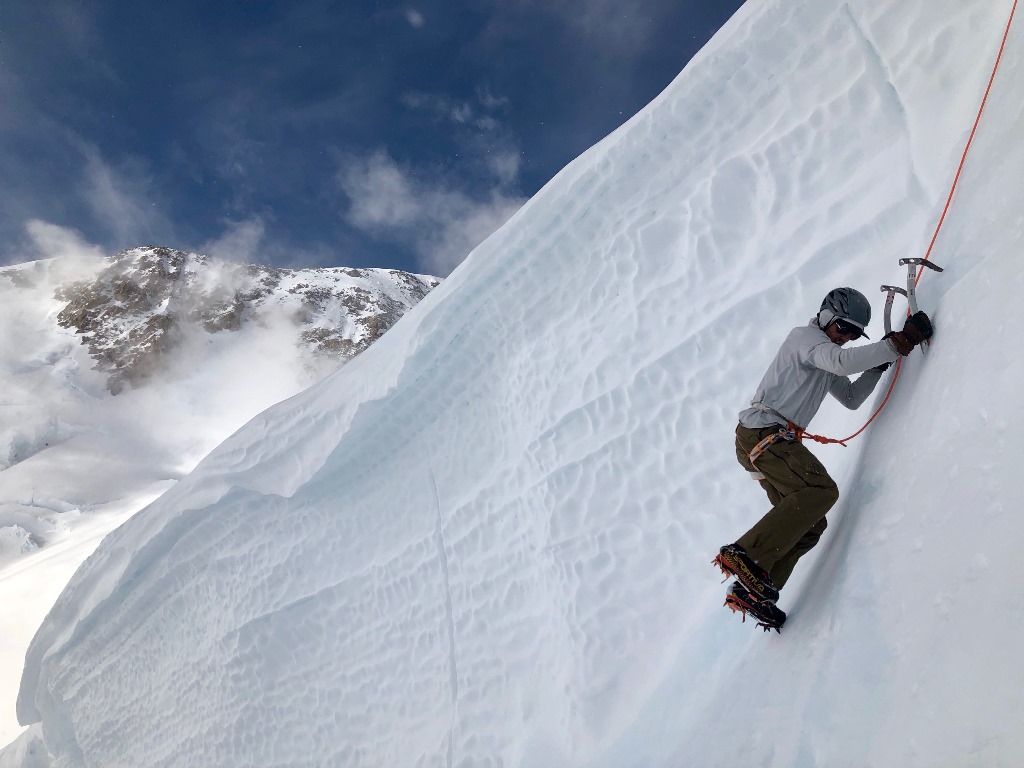 VIP Shane Treat takes advantage of a quiet afternoon in camp to get some ice climbing in out of 14K. (NPS Photo - David Weber)
NPS 14K Patrol #5
- (Gault) As mentioned above, Patrol #5 did some ice climbing yesterday to stretch their legs and hone some skills. Today everyone's around camp. Sounds like a lot of teams from 14K took advantage of yesterday's nice mid-mountain weather to head up the fixed lines to cache gear. 
NPS 14K Patrol #6
- (Westman) Mark, Keshar, Rebekka, and Justin are moving to 11,000-foot camp today. 
NPS 7K Patrol #5
 - (Preston) Frank and Rebecca left Basecamp at 5:00 am towards Mt. Hunter's NW Basin and Cat's Ears and will do some climbing if weather permits. 
One of the 'Tims' from the NPS Radio Shop flew up to the Sultana repeater on Mount Foraker today, accompanied by Ranger Joey McBrayer and pilot Andy Hermansky.  Nice to hear all the clear radio traffic from rangers at all elevations on the mountain from here at the ranger station in Talkeetna.  
***For more tales from the hill, check out Denali Rescue Volunteers (DRV) on Facebook and Instagram.***

Photo of the Day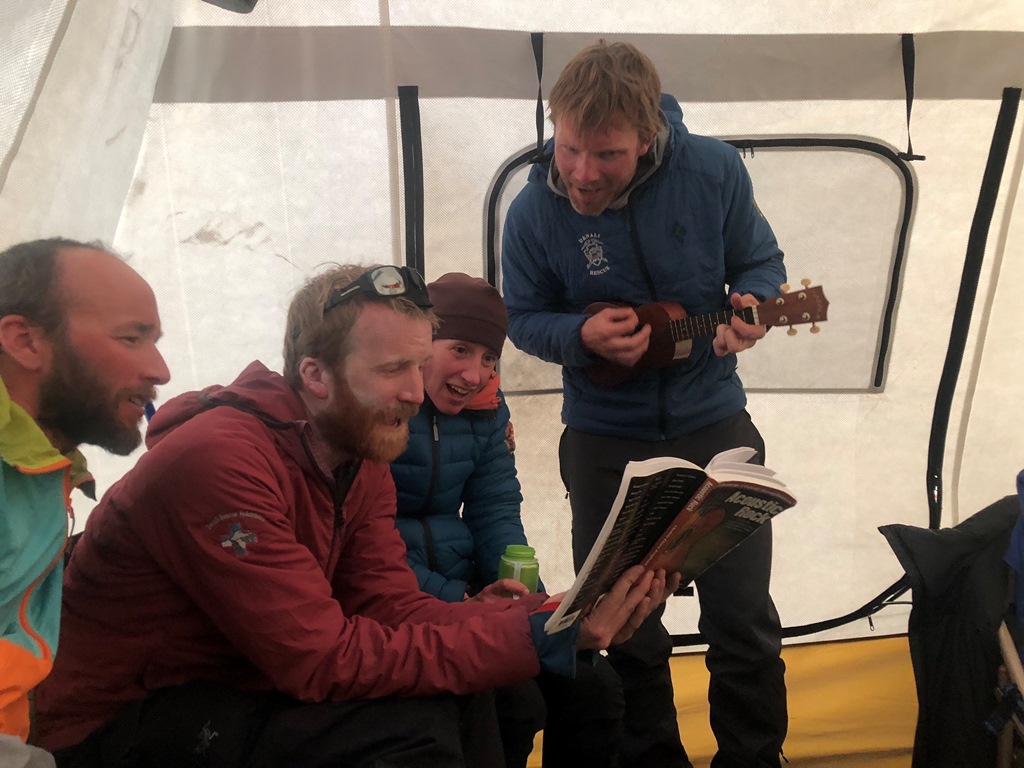 This one time, at band camp, volunteers Sam and Charlie joined rangers Melis and Chris for a killer ukelele session.  Photo courtesy of Hannah Trim.