| | | |
| --- | --- | --- |
| TODAY'S STATS |     Denali     | Mt. Foraker |
| Registered Climbers | 1,117 | 9 |
| Climbers Currently On Mountain | 213 | 0 |
| Completed Climbs | 901 | 7 |
| Number of Summits | 393 | 0 |
| Summit Percentage | 44% | 0% |
The Walter Harper Talkeetna Ranger Station also maintains a daily automated statistics phone line, so if this blog is lagging behind and you need up-to-date registration numbers, call (907) 733-9127.
Mountain Weather

Click here for today's National Weather Service Denali Climbing Forecast.  

And here for the Kahiltna webcam:  https://avcams.faa.gov/  

7,200 camp:   Low clouds over basecamp, winds were calm, mild gusts to 3 mph out of the northeast. And snow was falling -- the overnight accumuluation as of 8 am this morning was 3 cm.
In the last 12 hours:
Current temp (8 am): 1 C (34 F)
High temp:  1 C  (34 F)
Low temp: -1 C  (30 F)
14,200 camp:  Scattered high cumulous clouds, with a cap sitting on the summit. Their wind ranged between 2 and 5 mph out of the northeast. It was not snowing on the upper mountain this morning, but they did wake up to 2 new cm of snow that fell in the previous 12 hours.  The 'storm total' for the past 24 hours was 20 cm. 
In the last 12 hours:
Current temp (8 am): -17 C (1 F)
High temp: -13 C  (9 F)
Low temp: -19 C  (-2 F)
 
Ranger Update
 
NPS Denali (14K) Patrol #5:
  (Rgr Weber, VIP Treat, VIP Malone, VIP Scheele, VIP Byers, PJ Kirby)   All done! Dave and his patrol are back in the land of plenty. Although we heard many complaints of rough weather from the past several weeks, they didn't come from Dave's patrol They enjoyed the heavy snow and even caught a break with several calm, clear days at high camp, enabling a gorgeous summit day for all.
NPS Denali (14K) Patrol #6:
 (Rgr Coady, VIP Atkins, VIP Atkins, VIP Nissenbaum, VIP Senden) Melis and her volunteers are the lone rangers on the upper mountain these days, and there's been no rest for the weary!  The patrol split in two to cover more ground, with VIP's Dale, Sam, and Kirby spending time at high camp (and the summit!) for the past several days.  Last night at midnight, the the three intrepid volunteers received unexpected company in the form of a road-weary expedition who attempted to summit Denali from 14K round-trip. In addition to intense fatigue, they had signs of HAPE and frostbite 21 hours into their 'summit day', an increasingly common and distressing trend. (Note, its a whole lot harder than anyone thinks.  Blog post forthcoming on the topic!) After that team headed down, Dale, Sam, and Kirby inventoried the 17,200-foot rescue cache; tied down all the NPS supplies/equipment for the long, cold, windy winter; and then removed and carried down 50 pounds of extra abandoned gear and trash left by teams at high camp this season.  Incredible work!  Meanwhile, down at 14,200-foot camp, Melis and VIP Jenny had their hands full as well with two medical consultations followed by replacement of 500 feet of fixed lines, and capped off by removing 60 pounds of trash and supplies left at the top of the 16K ridge -- big thanks go out to Alpine Ascents International guides David Gottlieb and Michael Hutchinson for their help as well.
Following their banner day of good works, today the whole team is reunited at 14 camp, eating pancakes and no-bake cheesecake in honor of VIP Dale Atkins' 57th Birthday!  
NPS Denali (14K) Patrol #7 - the Clean-up Crew:
  Rangers Joe Reichert, Mark Westman, and Pat Gault Coady, are joined by Volunteers Lesley Seale and Beth Cleary for the last-but-not-least upper mountain patrol of the season. Its a short, but meaty patrol whose mission is to get up to 14 camp and clean up, break down, fly off all the camp infrastructure. And then as all patrols do towards the latter half of the season...clean up melted out caches that tend to appear later and later in the summer.  The team flew in yesterday, but intend to move up out of the rain zone as soon as possible.  
Route Conditions
 
The snow just keeps on falling and refreshing the upper mountain -- the route is STILL described as featuring mid- to late-May conditions. Last night, Melis counted 49 tents at 14 camp, and she's fairly certain there is nobody below 14K with the exception of her relief crew (Patrol #7).    

Photo + Video of the Day
A big thank you to Jeffrey and Priti Wright, climbers who recently completed an ascent of the Cassin Ridge and shared their
360-degree Google Street View
from the summit of Denali.  They also shared a
video of their ascent
on Vimeo!  
In the mean time, here is a pretty picture taken by budding semi-professonal (i.e. unpaid) iPhone photographer and mountaineering ranger Dave Weber, who just took this remarkable shot on his descent a day or so ago.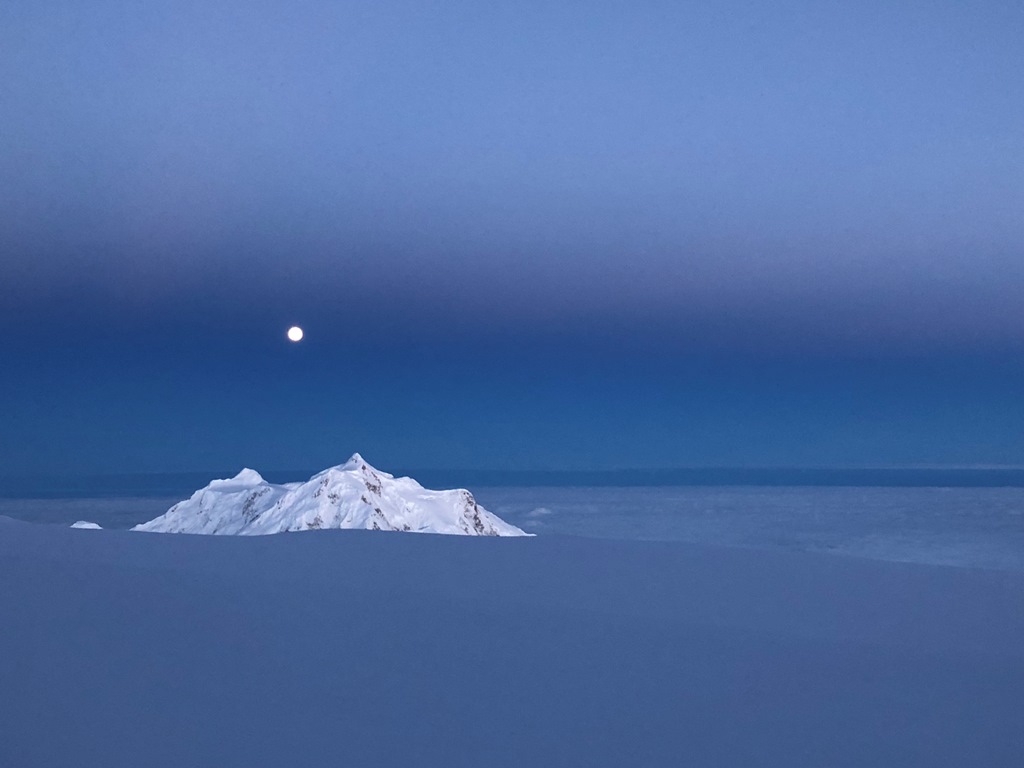 NPS Photo / Dave Weber