Though not our favorite option, this season we will be producing weekly Field Reports (as opposed to almost-daily) to provide updates from the Alaska Range.  Please tune in each week for conditions reports, statistics, images, and news from the mountains. 
| | | |
| --- | --- | --- |
| TODAY'S STATS - 7/3/21 |     Denali     | Mt. Foraker |
| Registered Climbers | 1,018 | 28 |
| Climbers Currently On Mountain | 127 | 0 |
| Completed Climbs | 895 | 28 |
| Number of Summits | 501 | 7 |
| Summit Percentage | 56% | 25% |
The Walter Harper Talkeetna Ranger Station also maintains an almost daily automated statistics phone line, so if this blog is lagging behind and you need up-to-date registration numbers, call (907) 733-9127.
Mountain Weather

Saturday, July 3 - Report from 7K: "good morning! 31 degrees, calm, trace of new snow, low clouds over and around basecamp"

Weather station telemetry data from 7K and 14K are transmitted hourly to the MesoWest website, including temperatures, wind speed, wind direction, snowfall, and solar radiation.  MountainWeather.com compiles a Denali Weather page, complete with links to the MesoWest data, the NWS Denali Climbing Forecasts, as well as links to FAA webcams. 

Click here for the National Weather Service Denali Climbing Forecast

Hooray, at last the Kahiltna Webcam is up and running well!  >>> Click here for the FAA webcam on the Kahiltna Glacier. 


Ranger Reports

West Buttress / Denali conditions
When asked about the conditions on their descent from 14K on Saturday, June 26, ranger Travis Baldwin said: 
"The trip down last week had a bit of everything. The snow from 14k to 11k was stripped by the wind and very firm. Below 11k the snow was good and soft, but we were in a full whiteout all the way to camp 1 at 7,800 and were navigating with GPS (brought me back to my blog post from a few years ago -
A Recipe for Pea Soup
, haha).  From 7,800 to basecamp the glacier was in good shape with not too many crevasses open, but as warm as it's been I foresee it deteriorating in the next couple weeks. Base camp was completely empty except for us and Gabby which was a little eerie."
After a week or two of near-blissful quiet, this last week saw a flurry of late season incidents – including two seperate evacuations for back injuries – one from 11K on Sunday June 27 (the same one mentioned in last week's field report) and one at high camp (17K) on July 1.  In other incidents, a climber was evacuated from 17K with severe abdominal distress on June 29, and two climbers from separate parties were evacuated together on June 30, one with reported symptoms of HACE at 17K and one with a blown out knee at 14K.
NPS 14K Patrol #4 (Baldwin/Oken)
  Travis, Chrissie, Jed, and Scotty flew out to Talkeetna as scheduled on Sunday, June 27.  As we were ships passing in the night as they each headed out on their long stretch of days off, look forward to some stories and photos in the next week.  
(DENA Ranger Travis Baldwin, DENA Ranger Chrissie Oken, VIP Jed Purcell; VIP Scotty Barrier; and PJ Chris Krebs).
NPS 14K Patrol #5 + #6 (Dossin/Beren)
  Galen and Dan spent most of the week camped up at 17K, and they were the only NPS patrol this 2021 season with the opportunity to reach to the summit.  From high camp, they assisted on a couple evacuations, while Jake, Cody, and CJ minded the fort at 14K.  In addition to coordinating multiple evacs and patients from 14K, the trio squeezed in a few trips up the fixed lines and/or to high camp. As of yesterday, July 2, all five are camped at 14,200-feet and have begun the task of dismantling the camp infrastructure.  Weather dependent, the 14K camp extraction will commence as early as tomorrow, July 4.
(DENA Ranger Galen Dossin, PJ Dan Stikeleather merged with DENA Ranger Jake Beren, VIP Cody Lockhart, VIP C.J. Malcolm)
Learn more about Denali Rescue Volunteers, an organization that helps make Denali National Park and Preserve's mountaineering operations whole! Thank you for all that you do each season, from helping equipping our volunteers, housing them before and after patrols, and supporting our recruitment process! 

Photos of the Week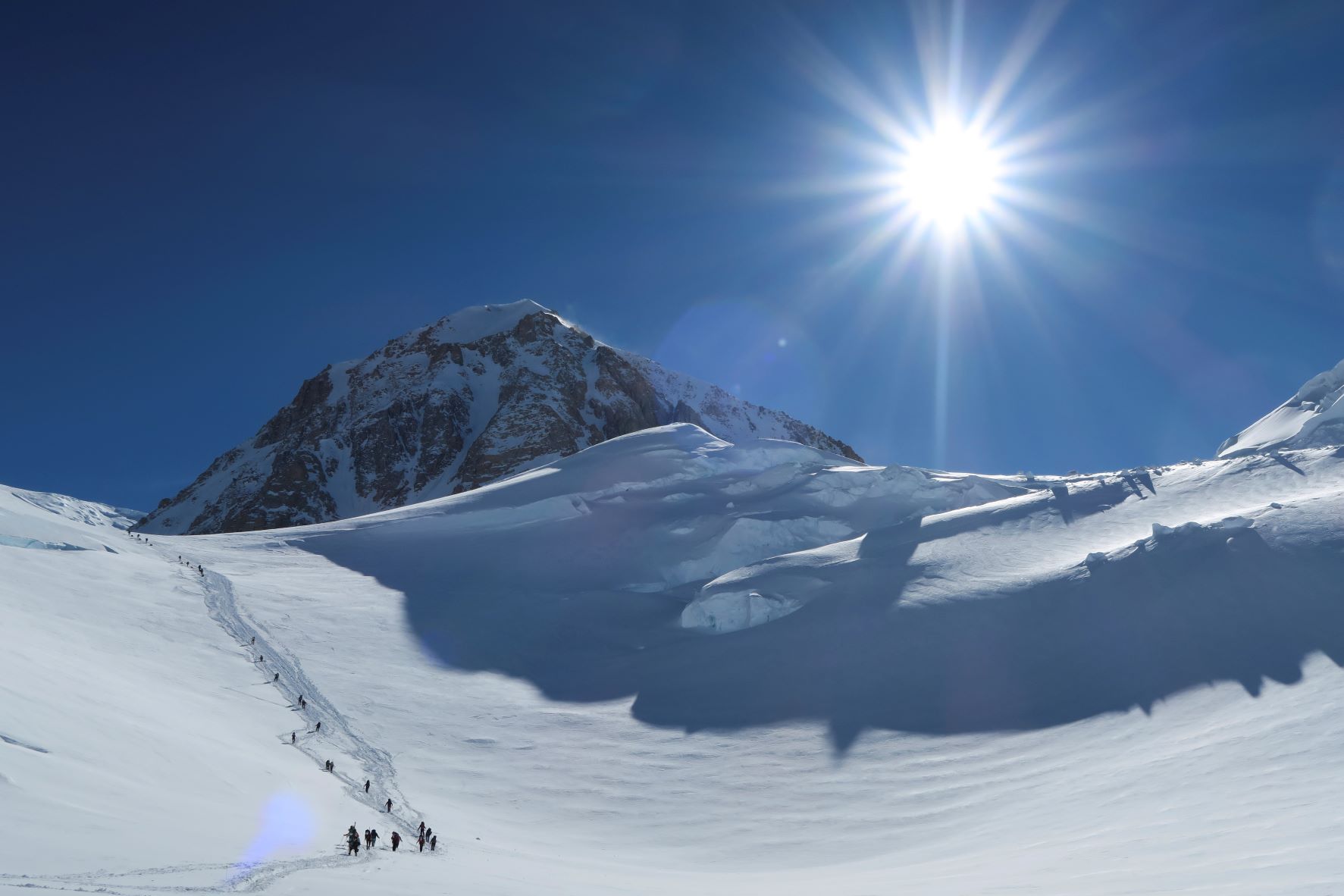 BEAUTY:  A view of Motorcycle Hill (11,000-feet+) from several years back. 
(Photo courtesy of Menno Boermans)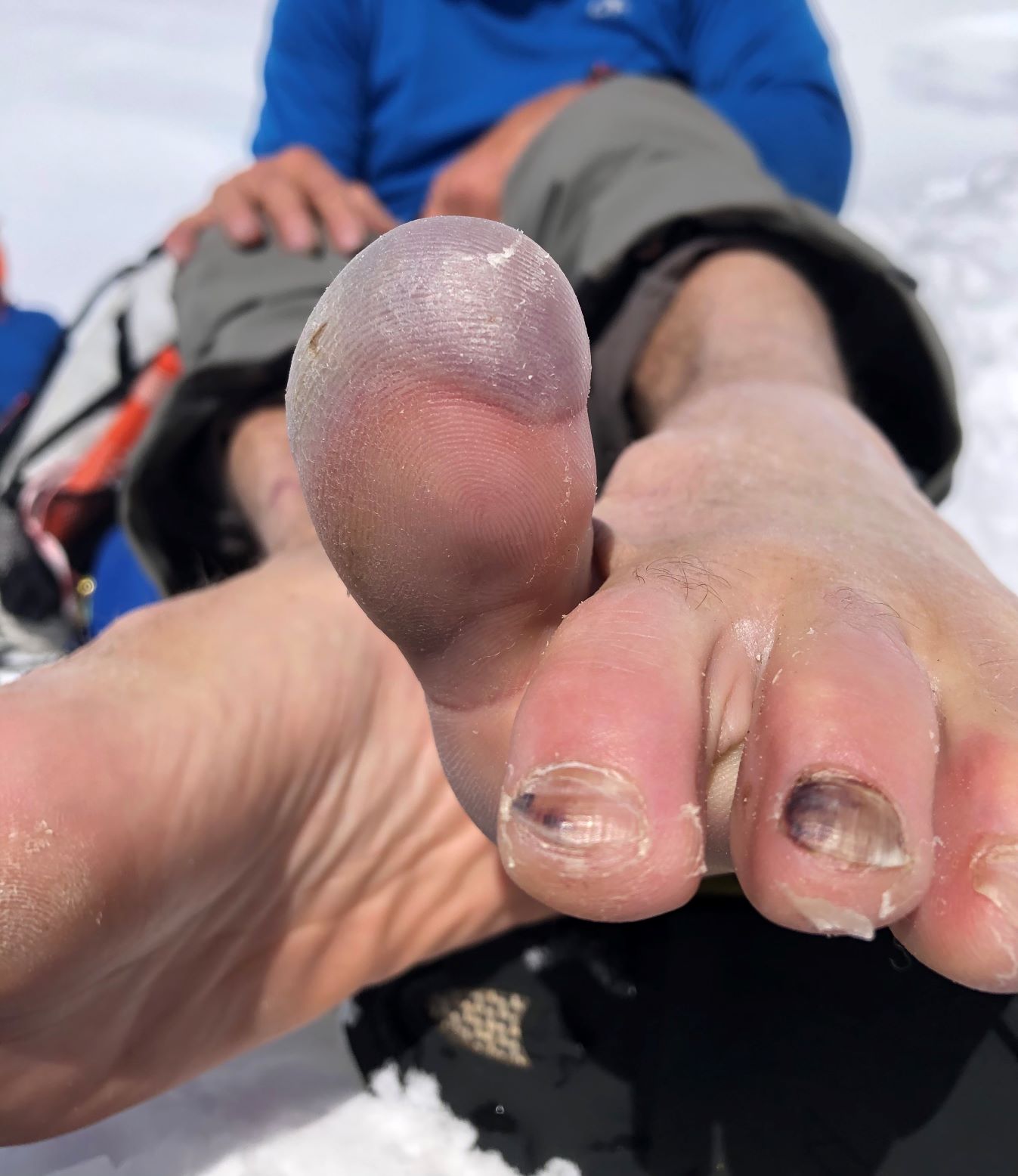 THE BEAST:  In an image from a May 2021 patrol, a climber with frostbite shares his pain. 
(NPS Photo/Chris Erickson)