| | | |
| --- | --- | --- |
| TODAY'S STATS |     Denali     | Mt. Foraker |
| Registered Climbers | 1,238 | 19 |
| Climbers Currently On Mountain | 253 | 0 |
| Completed Climbs | 965 | 19 |
| Number of Summits | 581 | 6 |
| Summit Percentage | 60% | 32% |
The Walter Harper Talkeetna Ranger Station also maintains a daily automated statistics phone line, so if this blog is lagging behind and you need up-to-date registration numbers, call (907) 733-9127.
Mountain Weather
Allison at 7K says:  "Looks good up here! High clouds, cap on Foraker & Denali, 40 deg, low 38, steady light downglacier wind, runway firm/crusty."

Jake at 14K says they had a beautiful night last night, today is looking even better than yesterday. 

Weather station telemetry data from 7K and 14K are transmitted hourly to the MesoWest website, including temperatures, wind speed, wind direction, snowfall, and solar radiation.  MountainWeather.com compiles a Denali Weather page, complete with links to the MesoWest data, the NWS Denali Climbing Forecasts, as well as links to FAA webcams. 

Click here for the National Weather Service Denali Climbing Forecast

Click here for the FAA webcam on the Kahiltna Glacier. 


Ranger Reports
NPS 14K Patrol #7
- (Beren)  Jake and crew have been having a great time, have done a few consultations on the medical end with HAPE and frostbite (all walking injuries who have descended) and bumped to the 13,4 Cache site for some cleanups.  This morning he estimated 30+ people heading up the fixed lines by 0930, 1 team of 3 headed to W Rib.   
NPS Muldrow Patrol #8 -
 (McBrayer)  Joey and team made the big move over from the Upper Harper Glacier to the 17,200-foot high camp yesterday.  Today was to be a quasi-rest day spent retrieving their cache from Denali Pass later today.  High camp is filling up with climbers waiting for a window to walk higher. Winds have been blowing a bit up high lately, but today might be a tad calmer near the summit.
Junior Ranger Patrol #937
- (Pfeiffer and Baldwin) Rangers Geoff Pfeiffer and Travis Baldwin kicked the ranger station's renowned Junior Ranger program into high gear today with the launch of a brand new Feat of Strength for aspiring rangers. Kids can now have an idea what it takes to place an ice screw during a climb of the Cassin Ridge.
An aspiring Junior Ranger places an ice screw in a block of ice.  NPS Photo / Geoff Pfeiffer
***For more tales from the hill, check out Denali Rescue Volunteers (DRV) on Facebook and Instagram.***

Photo of the Day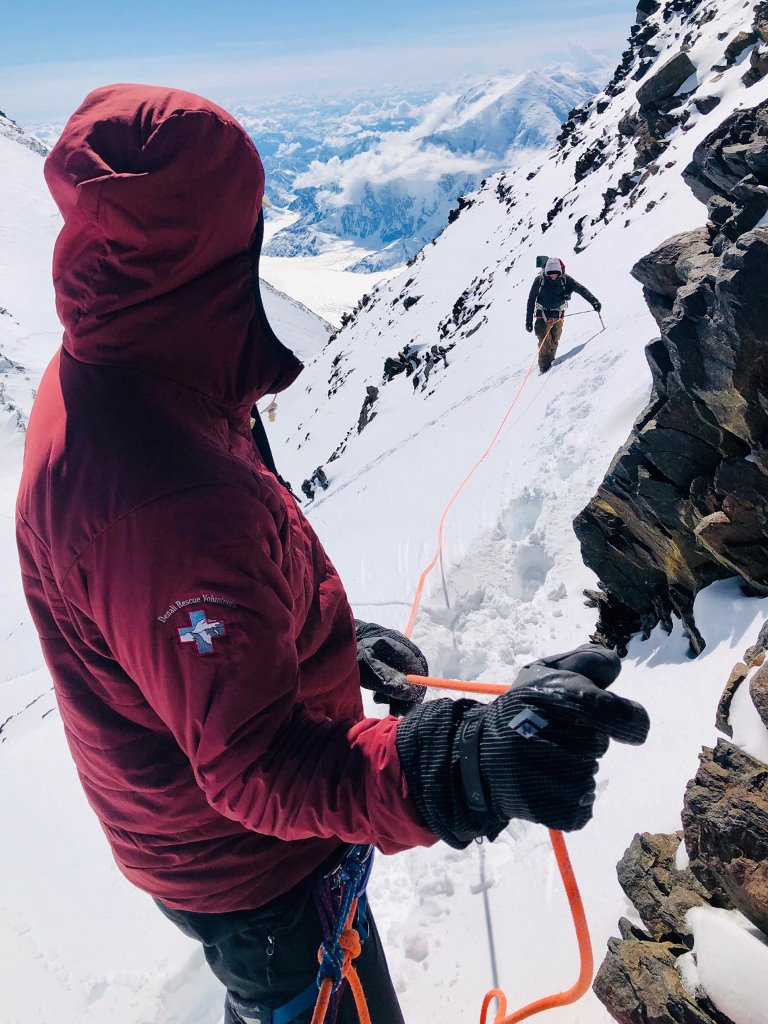 Grand Teton NP climbing ranger and patrol member Vic Zeilman belays VIP Shane Treat up a ridge during a recent summit of Denali's North Buttress.  Mount Foraker stands in the distance. NPS Photo / Dave Weber