| | | |
| --- | --- | --- |
| TODAY'S STATS | Mt. McKinley | Mt. Foraker |
| Registered Climbers | 1,087 | 15 |
| Climbers Currently On Mountain | 211 | 0 |
| Completed Climbs | 863 | 15 |
| Number of Summits | 482 | 6 |
| Summit Percentage | 56% | 40% |

The Walter Harper Talkeetna Ranger Station also maintains a daily automated statistics phone line, so if this blog is lagging behind and you need up-to-date registration numbers, call (907) 733-9127. 

Weather Report
14,200 feet - Skies are overcast and winds are calm. 'Thin whiteout' conditions thanks to a light snowfall, with a trace of snow accumulation overnight.
In the last 12 hours:
Current temp:  16 F (-9 C)
Low temp:  9 F (-13 C)
High temp:   21 F (-6 C)   
7,200 feet -  It's cloudy today, with a mix of snow and rain falling on Basecamp. They received a trace of of mixed precipitation overnight. Winds are calm.
In the last 12 hours:
Current temp: 37 F (3 C)
Low temp: 36 F (2 C)
High temp: 43 F (6 C) 
National Weather Service forecast  

Ranger Update
NPS Denali Patrol #5 (McBrayer, 4 VIPs)  Joey McBrayer and his volunteer crew cleaned up the raven-strewn garbage and re-buried caches at the 7,800-foot camp during their descent from 14K last evening. They are now resting up at Basecamp, waiting for decent weather for a flight back to Talkeetna.   
NPS Denali Patrol #6 is (Gentzel, Corn, 4 VIPs)  Dan Corn and 3 VIPs are now positioned at high camp, where they report light snow this morning and calm winds.  Coley Gentzel and one VIP are back at 14,200-foot camp where life is slow, snowy, and quiet today.  
NPS Basecamp Patrol #6 (Weber + 1 VIP) Dave Weber is enjoying the company of Patrol #5 at Basecamp today. Weber's patrol will begin packing up Basecamp infrastructure in the days to come.

Route Conditions
Rangers report that the lower glaciers are STILL in surprisingly great shape for travel despite the long warm spell.  And now temperatures have chilled again, with a light snow falling this morning. Crevasses are opening, but more slowly compared to other years. 
Rangers and Volunteers cleaned up the mess at 7,800-feet yesterday, but they report that the glacier is getting thin at 9,600-feet, with caches starting to reach the surface. 


Photo of the Day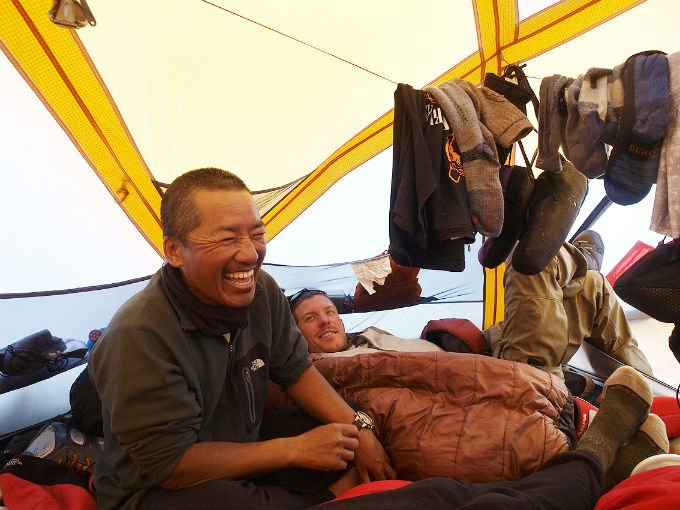 Tent-bound NPS volunteers enjoying some down time.  Photo courtesy of Menno Boermanns