| | | |
| --- | --- | --- |
| TODAY'S STATS |     Denali     | Mt. Foraker |
| Registered Climbers | 1,113 | 9 |
| Climbers Currently On Mountain | 243 | 0 |
| Completed Climbs | 857 | 7 |
| Number of Summits | 370 | 0 |
| Summit Percentage | 43% | 0% |
The Walter Harper Talkeetna Ranger Station also maintains a daily automated statistics phone line, so if this blog is lagging behind and you need up-to-date registration numbers, call (907) 733-9127.
Mountain Weather

Click here for today's National Weather Service Denali Climbing Forecast.  

And here for the Kahiltna webcam:  https://avcams.faa.gov/  

7,200 camp:   Yuck, a mix of snow and rain was falling at 8:00 am this morning at basecamp.  Winds were calm, with a mild gust to 4 mph out of the west.  Their overnight total of new precip was 5 cm of snow.
In the last 12 hours:
Current temp (8 am): 0 C (32 F)
High temp:  0 C  (32 F)
Low temp: -1 C  (30 F)
14,200 camp:  Skies were obscured, with a light snow falling at 8:00 am.  Winds were calm, but occasional gusts of 17 mph out blew out of the south.  The storm total (last 24 hours) of snow accumulation was 25 cm.  
In the last 12 hours:
Current temp (8 am): -13 C (9 F)
High temp: -15 C  (5 F)
Low temp: -13 C  (9 F)
 
Ranger Update
 
NPS Denali (14K) Patrol #5:
  (Rgr Weber, VIP Treat, VIP Malone, VIP Scheele, VIP Byers, PJ Kirby)   The patrol was about 30 minutes out of 14K camp at 4:40 today, having descended from high camp after a short but sweet stay.  All patrol members enjoyed a beautiful summit day on Monday!
NPS Denali (14K) Patrol #6:
 (Rgr Coady, VIP Atkins, VIP Atkins, VIP Nissenbaum, VIP Senden) The team has been shovelling quite a bit lately, though otherwise doing well.  Overall, they haven't had too much company lately as most of the climbers on the mountain have either been up at high camp, or down below at 11,000-foot camp. Only 4 tents at 14K yesterday.  Nevertheless, they did treat a climber with HAPE overnight last night in the medical tent.  Feeling better after a night on oxygen, the patient will be descending the mountain on foot with his team.    
NPS Basecamp (7K) Patrol #6:
  Ranger McBrayer is still holding down the fort, waiting for conducive flying weather to return home.  He reports that the first crevasse fall of the season (no injuries) happened occurred yesterday, as warmer temperatures rolled in.
Down at the ranger station, the LAST pre-climb orientation of the season was scheduled for today! The end is nigh...  
Route Conditions
 
Still plenty of new snow accumulation in the past two days (38 cm at 14 camp) at least on the upper mountain.  Melis reported lots of sluff avalanches due to the recent snow.
On the lower mountain, as mentioned above, the first crevasse fall of the season happened last night. As a result, night travel is highly recommended.

Photo of the Day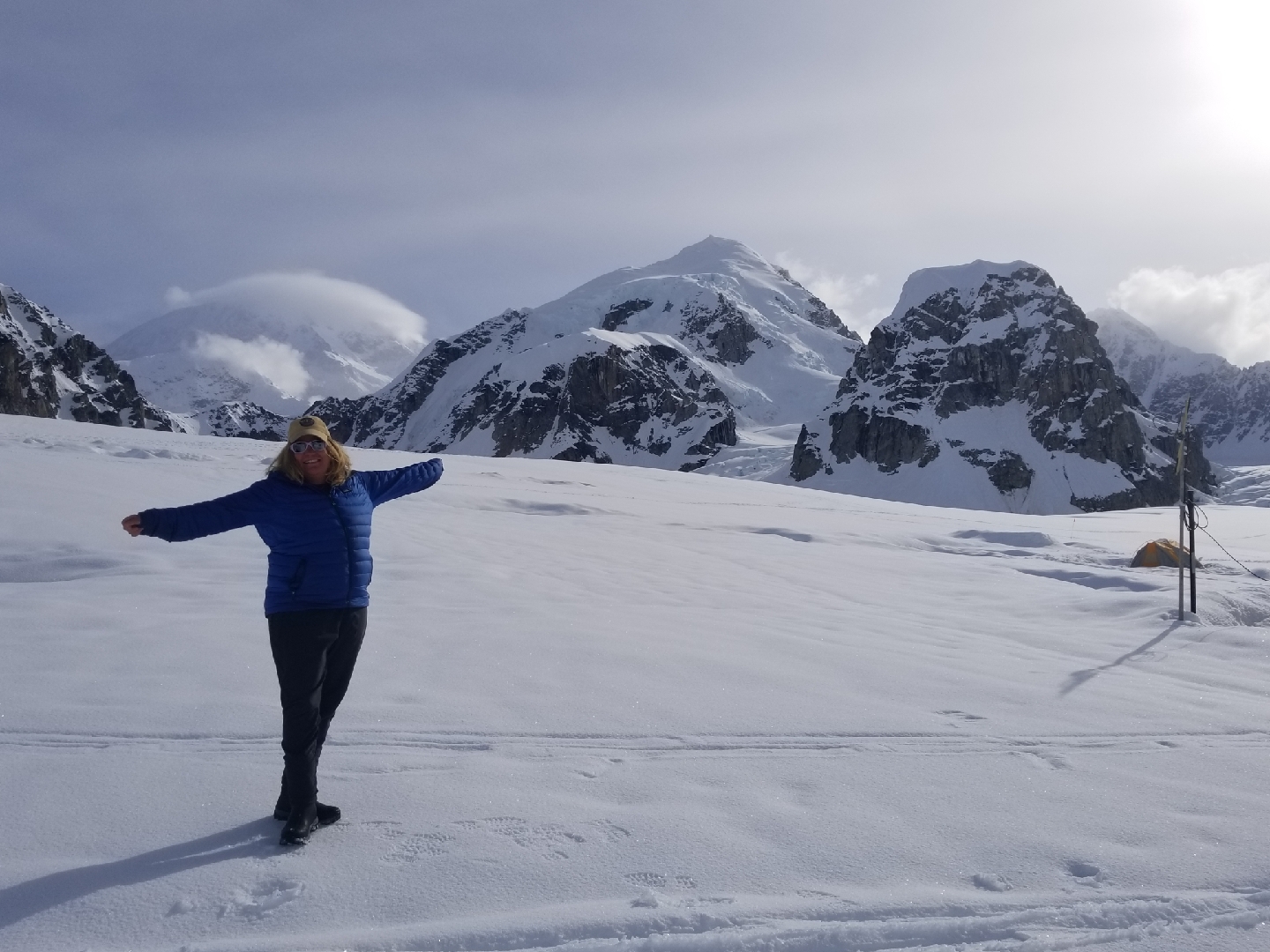 Basecamp manager Lisa Roderick proudly presents Lisa's Peak, the snow-capped peak in the backdrop, just above her outstretched left hand.  (NPS Photo)