| | | |
| --- | --- | --- |
| TODAY'S STATS | Mt. McKinley | Mt. Foraker |
| Registered Climbers | 1,087 | 15 |
| Climbers Currently On Mountain | 236 | 0 |
| Completed Climbs | 809 | 15 |
| Number of Summits | 447 | 6 |
| Summit Percentage | 55% | 40% |

The Walter Harper Talkeetna Ranger Station also maintains a daily automated statistics phone line, so if this blog is lagging behind and you need up-to-date registration numbers, call (907) 733-9127. 

Weather Report
14,200 feet - As of this morning, 14 camp had clear skies overhead, with some cumulus cloud below 10,000 feet.  The upper mountain is still remarkably calm in terms of wind, with a steady 6 mph breeze 'gusting' to 8 mph from the northeast. Yesterday afternoon a few clouds rolled through leaving a trace of new snow, and  the maximum temperature reached -1 C, or 30 F at 14,200 foot camp.
In the last 12 hours:
Current temp:  9 F (-13 C)
Low temp:  9 F (-13 C)
High temp:   14 F (-10 C)   
7,200 feet - Basecamp rangers are looking at broken clouds today and the smoke haze seems to be decreasing.  Windspeed was 1 mph from the east, with gusts to 14 mph from the southeast. 
In the last 12 hours:
Current temp: 41 F (5 C)
Low temp: 37 F (3 C)
High temp: 41 F (5 C) 
National Weather Service forecast  

Ranger Update
NPS Denali Patrol #5 (McBrayer, 4 VIPs)  Joey McBrayer and his volunteer crew are descending to Basecamp later today. If weather cooperates, they fly back to Talkeetna tomorrow.  
NPS Denali Patrol #6 is (Gentzel, Corn, 4 VIPs)  Dan Corn and 3 VIPs are now positioned at high camp, with Coley Gentzel and one VIP at 14,200-foot camp to maintain radio communications, do camp chores, and continue with the camp pack-up effort. 
NPS Basecamp Patrol #6 (Weber + 1 VIP) Dave Weber and his VIP Katie Russell are working on clean-up of the lower glacier today.
After today, the climber orientation schedule looks quite barren for the rest of the season.  The last wave of expeditions are checking in today, with only a smattering of small teams yet to come.

Route Conditions
Upper mountain weather has remained very mild, with groups ascending on their planned schedules. Summit winds have been 10 mph or less for many days. Daily fog has been keeping the temperatures cool at 14K and helping to reduce rockfall at Windy Corner. 
The lower glaciers remain in surprisingly good condition for travel for this time of year (at least at night) thanks to the snow that fell in May and a consistent daily breeze. Crevasses are opening, but more slowly compared to other years. During the peak heat of the day, the Kahiltna glacier is getting increasingly soupy, as is not uncommon as July approaches.
A report came in that ravens have left a mess at 7,800-feet, busting into some caches and garbage that were not buried deep enough. Rangers from either basecamp or on the descent from 14K will be attending to that mess today. 


Photo of the Day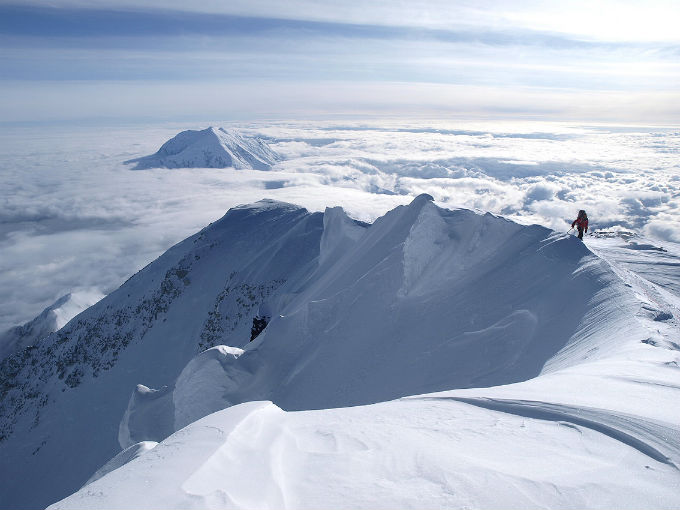 Despite a slow start to the season, in recent weeks climbers have enjoyed calm, clear days at the summit. Photo Courtesy of Menno Boermanns.