| | | |
| --- | --- | --- |
| TODAY'S STATS |     Denali     | Mt. Foraker |
| Registered Climbers | 1,238 | 19 |
| Climbers Currently On Mountain | 279 | 0 |
| Completed Climbs | 939 | 19 |
| Number of Summits | 561 | 6 |
| Summit Percentage | 60% | 32% |
The Walter Harper Talkeetna Ranger Station also maintains a daily automated statistics phone line, so if this blog is lagging behind and you need up-to-date registration numbers, call (907) 733-9127.
Mountain Weather

Weather station telemetry data from 7K and 14K are transmitted hourly to the MesoWest website, including temperatures, wind speed, wind direction, snowfall, and solar radiation.  MountainWeather.com compiles a Denali Weather page, complete with links to the MesoWest data, the NWS Denali Climbing Forecasts, as well as links to FAA webcams. 

Click here for the National Weather Service Denali Climbing Forecast

Click here for the FAA webcam on the Kahiltna Glacier. 


Ranger Reports
NPS 14K Patrol #6
- (Westman)  After a weekend that included a day trip to the West Rib and treatement of a climber with Acute Mountain Sickness (AMS), Mark, Rebekka, Keshar, and Justin are headed down from 14 camp to Basecamp today. Plans are to fly home to Talkeetna tomorrow (Tuesday).  
NPS 14K Patrol #7
- (Beren)  Jake reports 'hot' temperatures at high camp this week, which might be a slight exaggeration. Over the weekend, the team assisted a patient with HAPE from Denali Pass down to 17K where he was evacuated via helo.  
NPS Muldrow Patrol #8 -
 (McBrayer)  Joey, Kakiko, Yoshiko, Jen and Mike spent the weekend at Brown's Tower.  Today we are uncertain if they are staying another night or moving a little higher. Earlier conveyed plans indicate they intend to reach 17K high camp on the West Buttress by tomorrow (Tuesday).  
NPS Ranger Melis Coady checked back Ecuadorian climber Karl Egloff on Friday, June 21 after his record-breaking speed climb of the West Buttress. Egloff and this teammates reported that he completed a round trip climb of the West Buttress route in a total of 11 hours, 44 minutes.  (The speedy ascent to the summit was reportedly completed in 7 hours, 40 minutes.)  The previous record for a round trip speed climb was set in 2014 at 11 hours, 48 minutes by Killian Jornet.  Because the NPS has no way of verifying times of any such feats, Denali National Park does not officially maintain any records on speed ascents. Therefore, this info is being shared anecdotally, as reported to us.  (NPS Photo / Geoff Pfeiffer)
***For more tales from the hill, check out Denali Rescue Volunteers (DRV) on Facebook and Instagram.***

Photo of the Day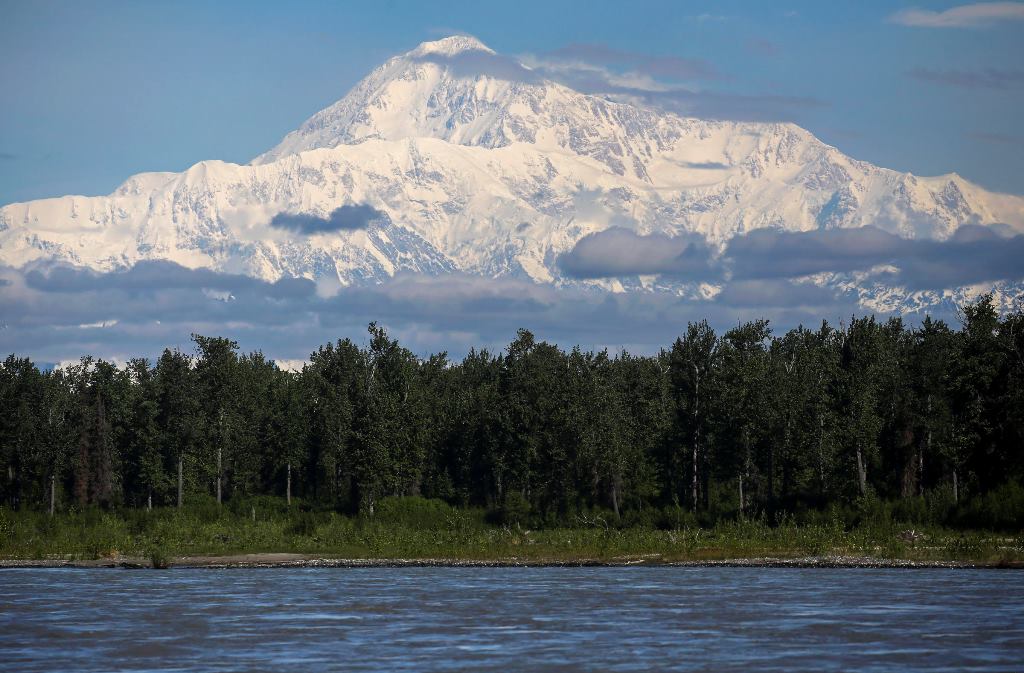 Denali appears to float above the trees as viewed at the confluence of the Susitna, Chulitna, and Talkeetna Rivers.  NPS Photo / Emily Mesner