| | | |
| --- | --- | --- |
| TODAY'S STATS |     Denali     | Mt. Foraker |
| Registered Climbers | 1,111 | 9 |
| Climbers Currently On Mountain | 277 | 0 |
| Completed Climbs | 801 | 7 |
| Number of Summits | 350 | 0 |
| Summit Percentage | 44% | 0% |
The Walter Harper Talkeetna Ranger Station also maintains a daily automated statistics phone line, so if this blog is lagging behind and you need up-to-date registration numbers, call (907) 733-9127.
Mountain Weather

Click here for today's National Weather Service Denali Climbing Forecast.  

And here for the Kahiltna webcam:  https://avcams.faa.gov/  

7,200 camp:   Clear skies coupled with some ground fog on the Kahilta Glacier. They received a trace of snow overnight. Winds were 7 mph out of the east, with gusts to 9 mph.
In the last 12 hours:
Current temp (8 am): -4 C (25 F)
High temp:  -1 C  (30 F)
Low temp: -5 C  (23 F)
14,200 camp:  Melis also reports clear skies at 14K, though from her location she can see scattered clouds below 8,000 feet.  Winds were calm, picking up to a max gust of 4 mph out of the southeast.
In the last 12 hours:
Current temp (8 am): -19 C (-2 F)
High temp: -17 C  (1 F)
Low temp: -20 C  (-4 F)
 
Ranger Update
 
NPS Denali (14K) Patrol #5:
  (Rgr Weber, VIP Treat, VIP Malone, VIP Scheele, VIP Byers, PJ Kirby)   Yesterday afternoon, Patrol #5 headed to High Camp, joined by around 50 to 60 antsy climbers who have been stuck at 14K for the last several weeks (some as many as 16 days) enduring the storm and snow.  Today, a good half of those climbers are headed to the summit (including Dave and all his VIPs) under clear skies and 'not a breath of wind'.
NPS Denali (14K) Patrol #6:
 (Rgr Coady, VIP Atkins, VIP Atkins, VIP Nissenbaum, VIP Senden) After 7 nights at 11K, Melis and her four volunteers took advantage of the change in weather to head up to 14K yesterday. They are delighted by the change of scenery, the blue skies, and the calm winds.    
NPS Basecamp (7K) Patrol #6:
  Ranger McBrayer flew into 7K on Thursday, and he has had the NPS ranger tent to himself, i.e. no volunteers. To cure his loneliness, helo pilot Andy Hermansky and Ranger Chris Erickson flew into basecamp today.  In an effort to locate a new radio repeater site (the Crosson location has provided inconsistent coverage), Andy flew Joey and Chris to ~10 potential radio repeater sites around the Range. After repeated radio checks, Chris was excited to report 3 'all-star' locations, 2 or 3 moderately successful ones, and 4 sites that got ruled out.  
Route Conditions
 
Melis has declared the "Great Typhoon of 2018" to be over and done with!  The National Weather Service accurately predicted it's arrival, issued several days of severe weather warnings, and climbers up and down the mountain listened and paid heed. The last six days or so saw little to no movement on the mountain as climbers hunkered down and took turns shoveling.  At times, Melis thought the glacier was trying to bury them alive as the mountain was blanketed with unrelenting snow.
In a post-typhoon assessment, Chris Erickson (who flew all over the range today), says the Kahiltna Glacier is in the best shape he's ever seen for late June.  It looks like it does the second week in May, and from above, he could barely see any crevasses at Heartbreak Hill.  Lisa at Basecamp confirms, saying every climber returning to Basecamp the last day or two says the trail is in amazing condition.  

Photo of the Day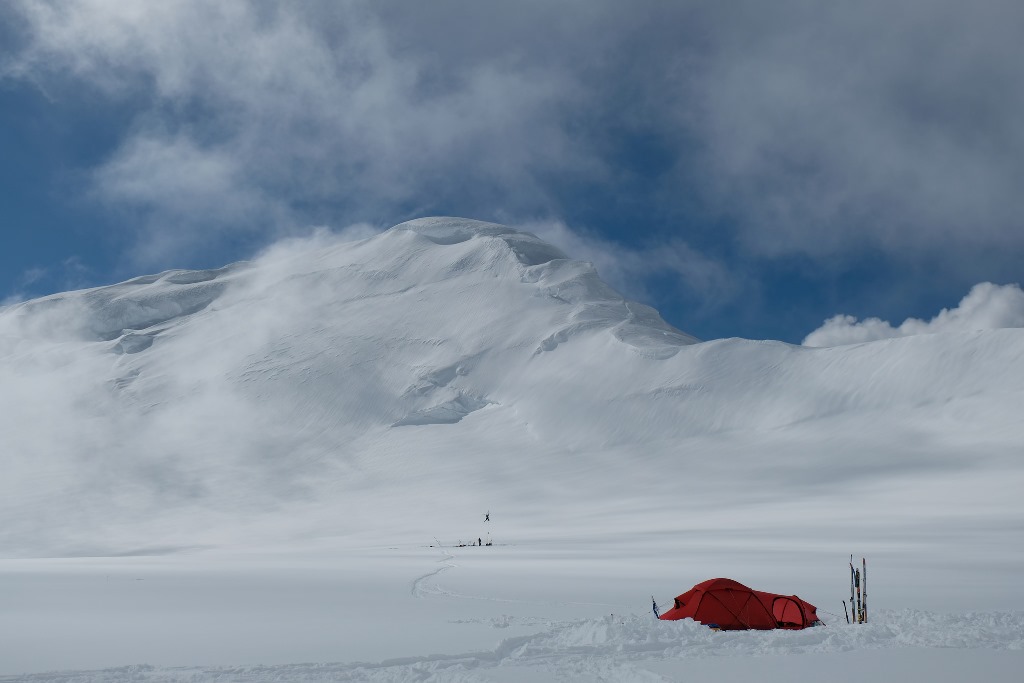 Climber Scott Larson of Expedition 'Sending the Gnar' contributed this photo from the 9,800-foot camp. With Mount Capps in the backdrop, the image captures a recent NPS patrol member climbing a weather antenna.