| | | |
| --- | --- | --- |
| TODAY'S STATS |     Denali     | Mt. Foraker |
| Registered Climbers | 1,111 | 9 |
| Climbers Currently On Mountain | 310 | 0 |
| Completed Climbs | 768 | 7 |
| Number of Summits | 346 | 0 |
| Summit Percentage | 45% | 0% |
The Walter Harper Talkeetna Ranger Station also maintains a daily automated statistics phone line, so if this blog is lagging behind and you need up-to-date registration numbers, call (907) 733-9127.
Mountain Weather

Click here for today's National Weather Service Denali Climbing Forecast.  

And here for the Kahiltna webcam:  https://avcams.faa.gov/  

7,200 camp:  A rain/snow mix gave way to clear skies yesterday afternoon and allowed nearly 70 climbers to fly back to Talkeetna who had been waiting on weather.  The clouds and precipitation have moved back in to the area, currently, and base camp is experiencing rain.
In the last 12 hours:
Current temp (8 am): 2 C (35 F)
High temp:  6 C  (41 F)
Low temp: 2 C  (35 F)

 

14,200 camp:  10cm new snow last night; overcast with moderate wind (29 mph gusts) this morning.  Numerous climbers at 11,000ft are hopeful to move to 14,000ft today as the most recent storm abates.

In the last 12 hours:
Current temp (8 am): -11 C (12 F)
High temp: -10 C  (14 F)
Low temp: -12 C  (9 F)
Ranger Update
 
NPS Denali (14K) Patrol #5:
  (Rgr Weber, VIP Treat, VIP Malone, VIP Scheele, VIP Byers, PJ Kirby)  Lots of new snow has distilled camp activities to two:  Shoveling and skiing.  Both are reported to be great ways to pass the time. 
NPS Denali (14K) Patrol #6:
(Rgr Coady, VIP Senden, VIP Nissenbaum, VIP D. Atkins, VIP S. Atkins)  The team continues to patiently wait for good conditions to move to 14,000ft.  Last night around 7:00pm, the team responded to a call for help near Windy Corner.  The call ultimately was unfounded, however the team was excited to finally get out of camp after a week long storm.
NPS Basecamp (7K) Patrol #6:
  (Rgr Joey McBrayer).  Joey flew in yesterday to replace Rgr Westmand and VIP Goss.  Joey's primary mission is to break down the 7,200ft base camp during his week-long stay.  Yes, it's that time of the year already!   
Search and Rescue Activity
One false alarm of a reportedly overdue party near Windy Corner.  Thankfully the report was unfounded.  
Route Conditions
 
New snow continues to leave the Kahiltna Glacier in great shape.  However, rain falling at base camp can erode snow bridges very quickly.  The upper mountain has been stripped of most of its snow by the recent wind events and remains in "firm" conditions. 

Photo of the Day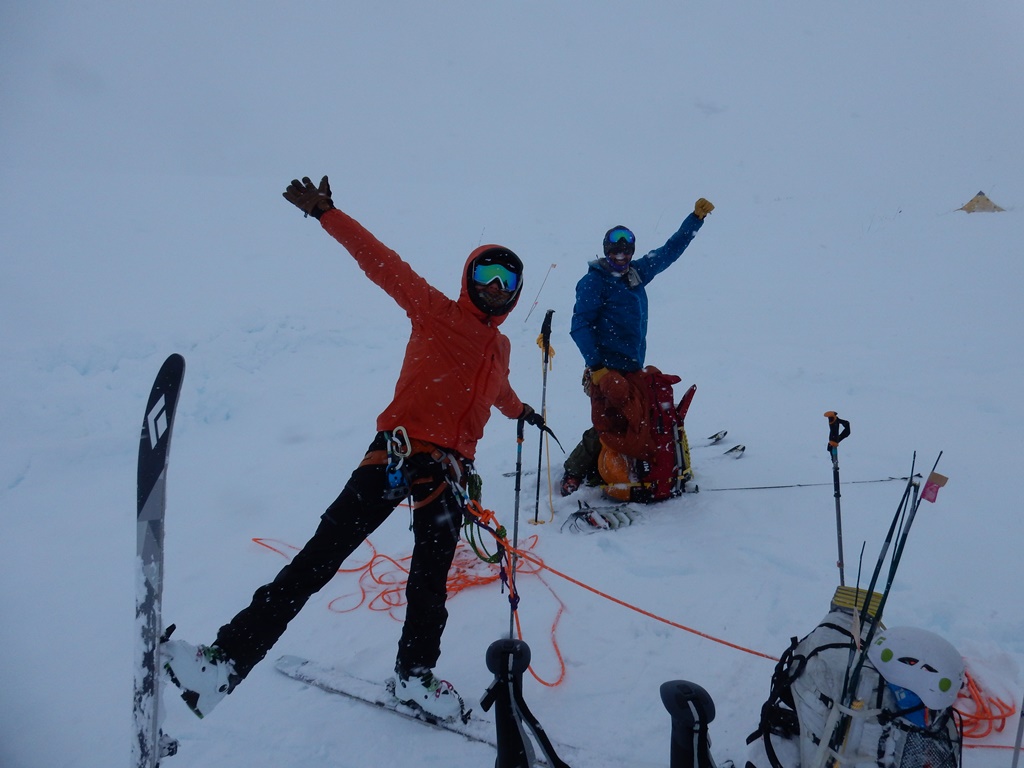 Volunteer Taylor Bracher and Ranger Jake Beren negotiate the Kahiltna Glacier in a whiteout, June 10, 2018.  (NPS Photo/Chris Erickson)