Though not our favorite option, this season we will be producing weekly Field Reports (as opposed to almost-daily) to provide updates from the Alaska Range.  Please tune in each week for conditions reports, statistics, images, and news from the mountains. 
| | | |
| --- | --- | --- |
| TODAY'S STATS - 6/26/21 |     Denali     | Mt. Foraker |
| Registered Climbers | 1,023 | 28 |
| Climbers Currently On Mountain | 284 | 0 |
| Completed Climbs | 736 | 28 |
| Number of Summits | 418 | 7 |
| Summit Percentage | 58% | 25% |
The Walter Harper Talkeetna Ranger Station also maintains an almost daily automated statistics phone line, so if this blog is lagging behind and you need up-to-date registration numbers, call (907) 733-9127.
Mountain Weather

Saturday, June 26 - From Lisa at 7K: "Looks nice up here. Planes coming. Broken skys, can see Denali. I am flying out."   On that note, Gabby flew in this morning to relieve Lisa for one last time this season.  Lisa will fly back in in a week and the two of them will disassemble the K2/TAT Basecamp for the season.  


Weather station telemetry data from 7K and 14K are transmitted hourly to the MesoWest website, including temperatures, wind speed, wind direction, snowfall, and solar radiation.  MountainWeather.com compiles a Denali Weather page, complete with links to the MesoWest data, the NWS Denali Climbing Forecasts, as well as links to FAA webcams. 

Click here for the National Weather Service Denali Climbing Forecast

Hooray, at last the Kahiltna Webcam is up and running well!  >>> Click here for the FAA webcam on the Kahiltna Glacier. 


Ranger Reports

West Buttress / Denali conditions
Typical late season conditions -- warm ambient temperatures by day, not always freezing overnight. The lower glacier has received some rain over the past week, impacting the structural integrity of snow bridges. Cracks are opening up, though no huge gapers to speak of.  'Heads Up' travelling conditions, with a few climbers (mostly on snowshoes) popping through. Conditions shift to freezing nightly at approximately 11 camp and above. 
It was another relatively quiet week, SAR-wise, on the mountain.  A climber with symptoms of HAPE was evacuated today (Saturday, June 26) from the 14,200-foot camp; rangers are also in communication with a climber with a back injury at the 11,000-foot camp, but cloud cover sitting over that camp during this morning's flight prevented a landing.
NPS 14K Patrol #4 (Baldwin/Oken)
  Patrol #4 spent a few nights at high camp this past week, then back to 14K in time to greet Jake, Cody, and CJ on their ascent.  At press time, Travis, Chrissie, Jed, and Scotty were poised to descend to 7K at any minute, with a flight scheduled to fly out to Talkeetna on Sunday.  PJ Chris Krebs served as medical attendant for a HAPE patient evacuation from 14K on Saturday morning. 
(DENA Ranger Travis Baldwin, DENA Ranger Chrissie Oken, VIP Jed Purcell; VIP Scotty Barrier; and PJ Chris Krebs).
NPS 14K Patrol #5 + #6 (Dossin/Beren)
  Happy Birthday Jake!!!!  Ranger Jake turns a year older today, and he received a big bag of gummy bears to celebrate.  Today when the station called to sign him happy birthday, he was out celebrating on a ski above 14 camp.  The now-merged patrol will work this week on gradually organizing and disassembling the 14 camp infrastructure in preparation for end of season fly-off.  In the mean time, several hundred climbers still remain on the mountain, so they won't be moving too quickly.  
(DENA Ranger Galen Dossin, PJ Dan Stikeleather merged with DENA Ranger Jake Beren, VIP Cody Lockhart, VIP C.J. Malcolm)
NPS 7K - The Mostly Joe Show - (Reichert) 
Ranger
Joe Reichert flew into 7K this morning on the helo flight to evacuate a sick climber from 14K.  He will remain a night or two at the NPS 7K tent, packing up camp for eventual fly-off.  It's mostly just Joe, though he should have company tonight when he welcomes the descending Baldwin/Oken patrol from 14K.   
Learn more about Denali Rescue Volunteers, an organization that helps make Denali National Park and Preserve's mountaineering operations whole! Thank you for all that you do each season, from helping equipping our volunteers, housing them before and after patrols, and supporting our recruitment process! 

Photos of the Week
Not your typical work commute...Ranger Jake Beren and VIP Ian Hatchett fly out of basecamp a few weeks back. 
(NPS Photo / Chelsie Valetta)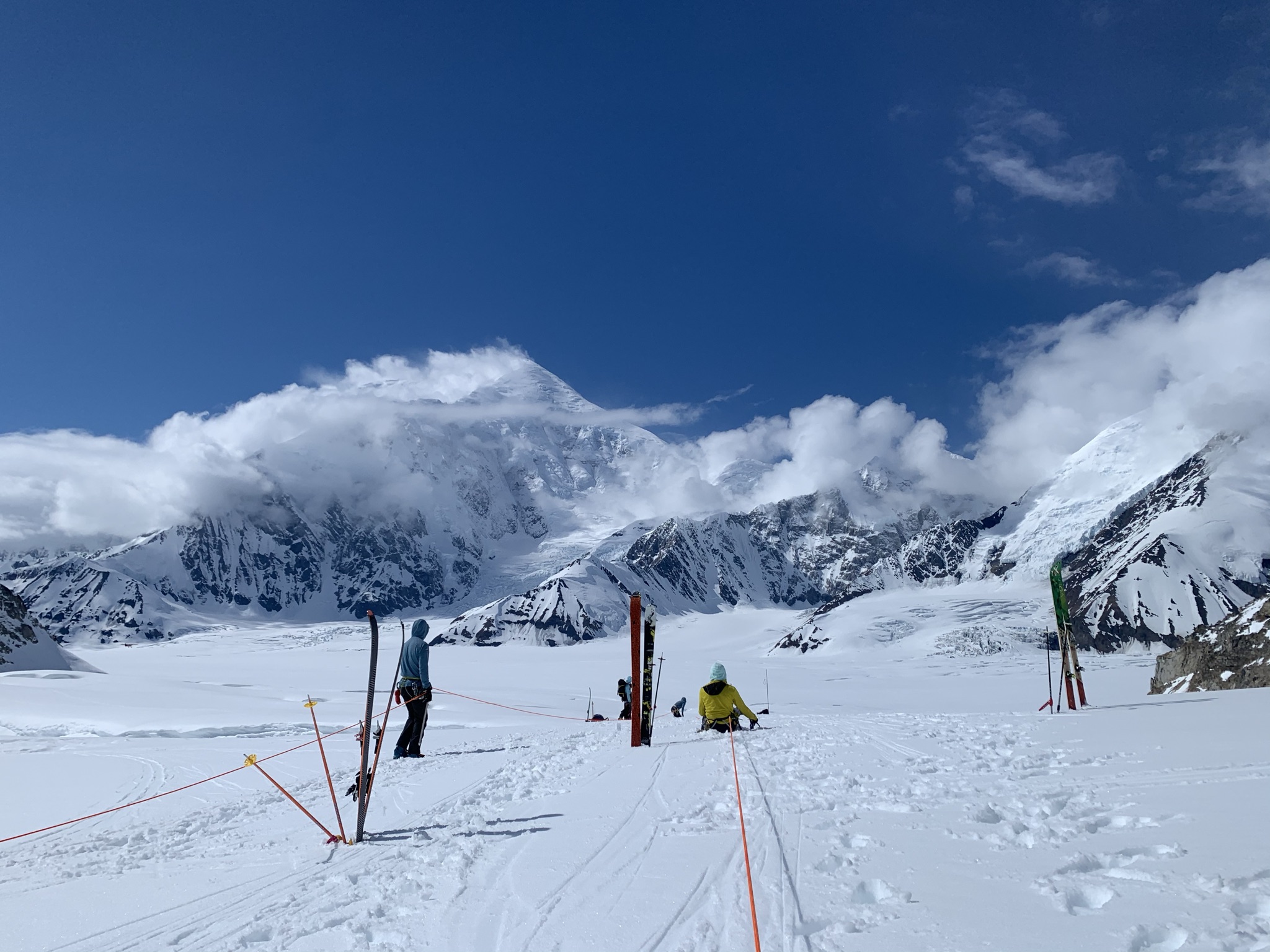 Practice makes perfect -- rangers and volunteers routinely practice rope rescue skills in one of the crevasses above basecamp. 
(NPS Photo / Sam Aaronson)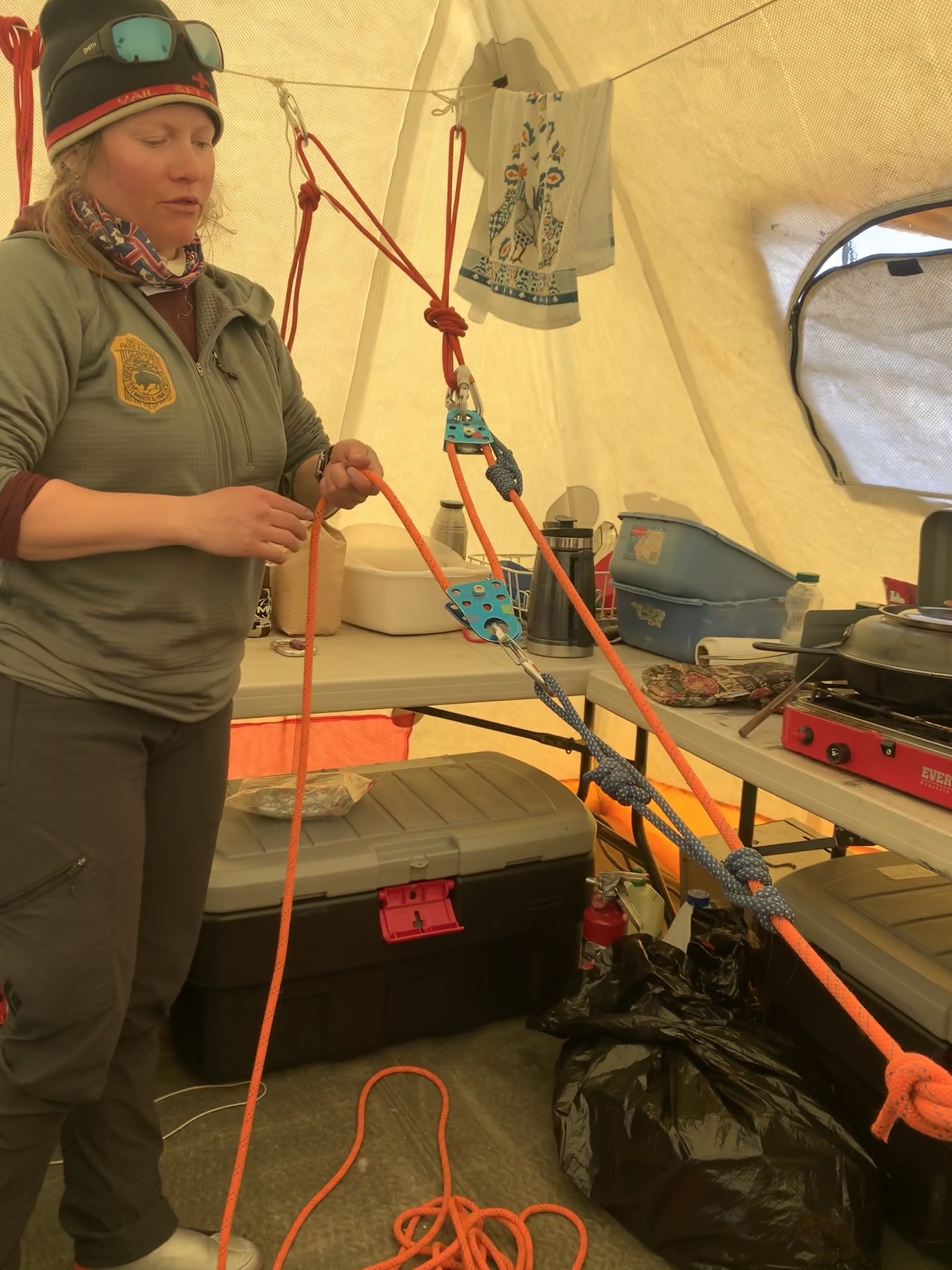 And sometimes rangers and volunteers even practice their rope rescue skills while making dinner. 
(NPS Photo / Sam Aaronson)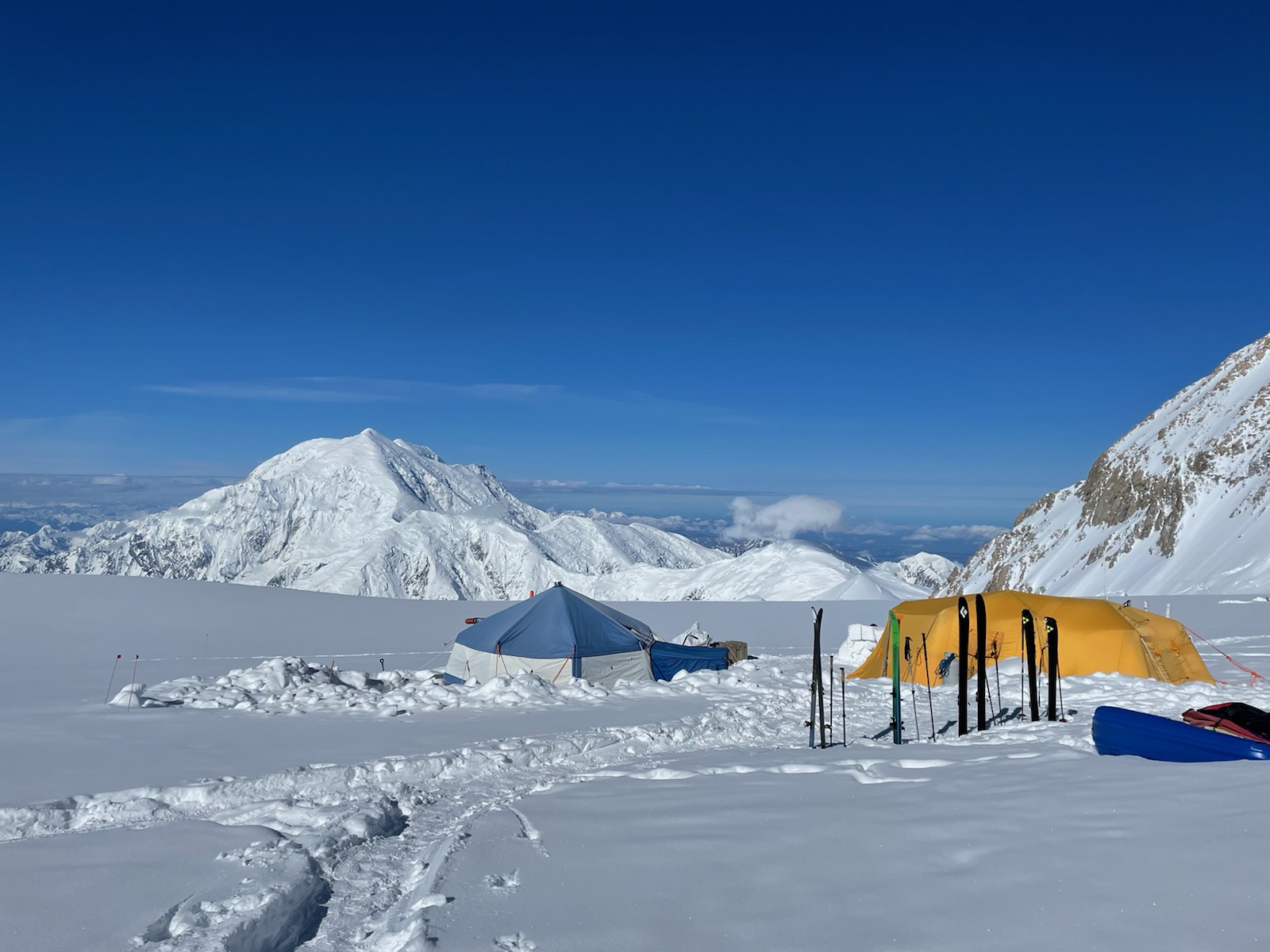 Good morning, 14 Camp!  
(NPS Photo / Chrissie Oken)