| | | |
| --- | --- | --- |
| TODAY'S STATS |     Denali     | Mt. Foraker |
| Registered Climbers | 1,239 | 19 |
| Climbers Currently On Mountain | 364 | 4 |
| Completed Climbs | 816 | 15 |
| Number of Summits | 473 | 2 |
| Summit Percentage | 57% | 13% |
The Walter Harper Talkeetna Ranger Station also maintains a daily automated statistics phone line, so if this blog is lagging behind and you need up-to-date registration numbers, call (907) 733-9127.
Mountain Weather

Quick report - Beautiful day on much of the mountain, though a wind cloud is sitting on the summit.

Weather station telemetry data from 7K and 14K are transmitted hourly to the MesoWest website, including temperatures, wind speed, wind direction, snowfall, and solar radiation.  MountainWeather.com compiles a Denali Weather page, complete with links to the MesoWest data, the NWS Denali Climbing Forecasts, as well as links to FAA webcams. 

Click here for the National Weather Service Denali Climbing Forecast

Click here for the FAA webcam on the Kahiltna Glacier. 


Ranger Reports
NPS 14K Patrol #6
- (Westman)  The patrol is back at 14 camp and will remain there through early next week. Currently there are ~50 climbers headed towards the fixed lines. They estimate close to 100 climbers already at high camp.
NPS 14K Patrol #7
- (Beren)  The 14K medical tent has seen some steady traffic this week, and after a moderate HAPE patient was evacuated yesterday morning, the whole patrol decided to take a day trip to 17K.  Now that Mark's crew is down at 14K, they plan to make the move up to high camp tomorrow or the next day. 
NPS Muldrow Patrol #8 -
 (McBrayer)  They made a carry to 13,000 feet yesterday, in unbelievable weather.
NPS 7K Patrol #7 -
(Reichert)  Patrol flies out today. Yesterday saw some activity at basecamp yesterday afternoon when helo pilot Andy flew to the top of Mount Hunter to pick up the two ice core scientists along with this season's core samples. This year's sampling was taken from somewhat shallower depths than in past years.  The scientists will study snow accumulation patterns from the past 10 to 20 years. 
TEMSCO helicopter pilot Andreas Hermansky is getting lots of flying in yesterday and today. Joined by ranger Travis Baldwin, yesterday morning they evacuated both a HAPE patient at 14K and a climber with a knee injury at 11K, flying them both back to Talkeetna together.  In the afternoon, Andreas flew back into the range to in support of the Mount Hunter science team.  Today, Andy heads back into the Little Switzerland/Granite Glacier area for some combination short-haul training and glacier clean-up work with rangers Chris Erickson and Frank Preston.  
***For more tales from the hill, check out Denali Rescue Volunteers (DRV) on Facebook and Instagram.***

Photo of the Day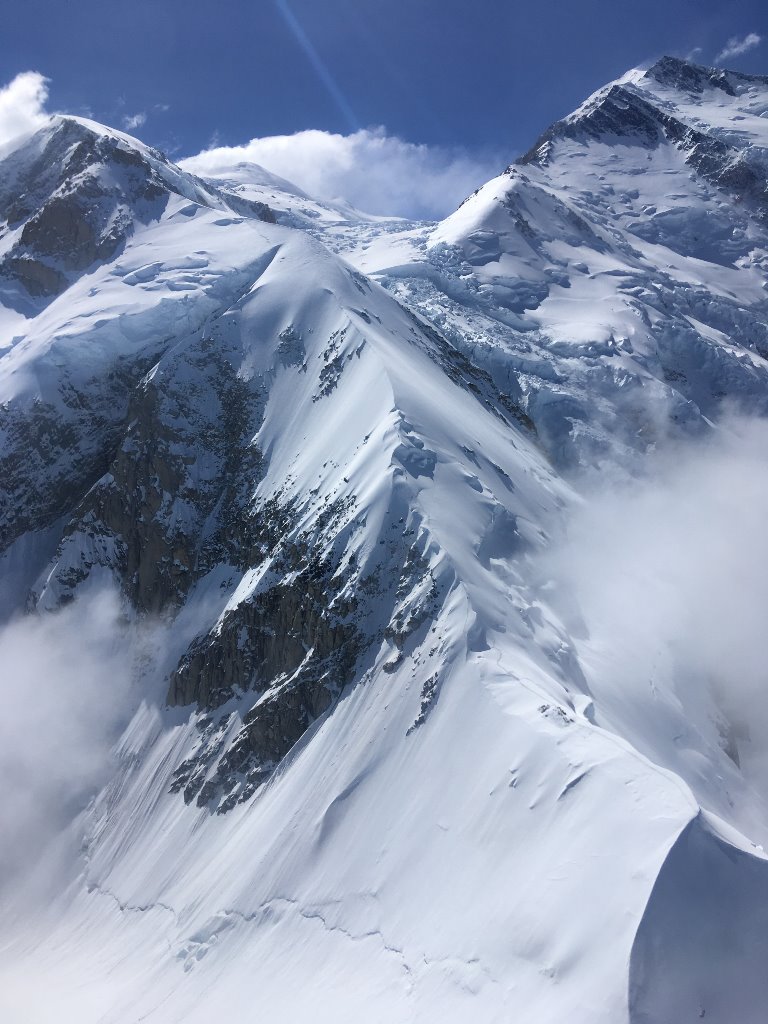 A 
Talkeetna Air Taxi pilot snapped this image of Karstens Ridge during a scenic flight yesterday.  Those with good vision can make out a large camp along the lower section of the ridge, with tracks along the ridge. At least two climbers can be seen along the ridge above camp. Photo courtesy of Will Boardman.